Hands-Free Baby gates with foot pedal are recommended for parents who have their hands full all the time.
Such a gate is easier to open without using your hands, as you just need to press on the pedal and walk through.
Best Choice
Good Choice
Don't Miss
Also Consider
Munchkin® Easy Close Pressure Mounted Baby Gate for Stairs, Hallways and Doors,...
Summer Multi-Use Decorative Extra Tall Safety Pet and Baby Gate, 28.5"-48" Wide,...
Regalo Easy Step 38.5-Inch Wide Walk Thru Baby Gate, Includes 6-Inch Extension...
30-40.5'' Walk Thru Baby Gate for Stairs, Auto-Close Safety Dog Gate, Metal...
Their unique design is usually a big benefit for those occupied with the young ones and other household chores.
You can easily walk-thru through your hands full of groceries, diaper bags, or with a fussy child in your arms. It is also great for parents with twins as the hands-free operation allows them to open while holding both of them.
The pedals are usually designed in a way that they are easier for adults to operate but difficult for children to do so.
These gates are ideal for doorways and for other areas such as the bottom of stairs. In addition, some of them also come with an additional locking system at the top, that you can use to operate with your hands if need be.
Top Best Hands-Free Baby Gate With Foot Pedal
1. Step to Open Summer Gate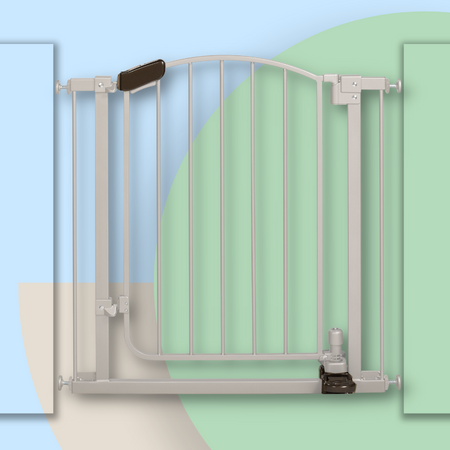 This Summer gate comes with a double-sided foot pedal that you have to step on, in order to unlock and open. It is made of solid metal material and has a silver modern finish. It comes with an extra grip handle at the top that is hand-operated. The foot lock and lock handle are constructed of hard plastic.
It fits openings from 30 inches to 45 inches wide. It is 32 inches in height. The walkthrough door is 22.5 inches in width. The door swings open in either direction and lock automatically behind you. It is pressure mounted, functions perfectly and is also very easy to put together.
2. KidCo Pinnacle Hands-Free Design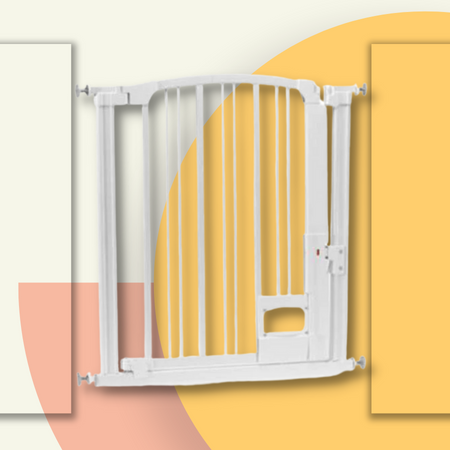 This KidCo Pinnacle gate comes with the foot lever that you have to step on in order to have the lock released, and then you hit the gate with your knee or you push it with your hand, to have it opened.
The walkway door swings open in both ways and also self-closes automatically. It has a locking indicator where red color indicates that the gate is locked and secure, while green color indicates that it is opened and ready for use.
It is pressure mounted. It is made of tubular steel material and has a non-toxic finish. It is white in color. It stands at 31 inches tall and fits areas that are 29 to 37 inches wide. Extra extensions that make it possible to extend the width can be bought separately.
3. North States Slide-Step and Lock Open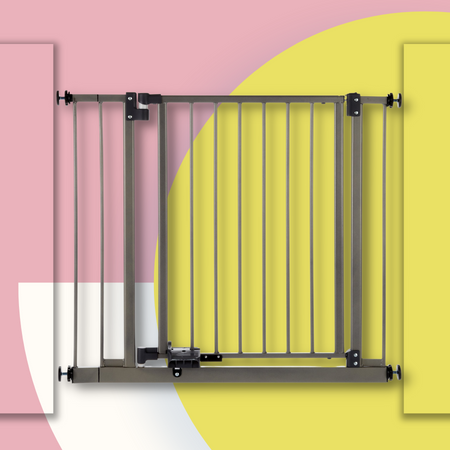 This slide-step and lock open design comes with two locking systems. It has the pedal which you have to slide, step on and then push open. At the top, there is a childproof latch for a one-handed operation. The walk-thru door is about 21.5 inches wide. It swings open in both directions and has a stay-open feature.
It features heavy-duty metal construction and has a light-brown color. It is 29 inches tall and fits areas that are 31.25 inches to 38.5 inches wide. It is easy to use and set up by pressure mounting. Tension knobs and two extensions are included with the purchase.
What to look for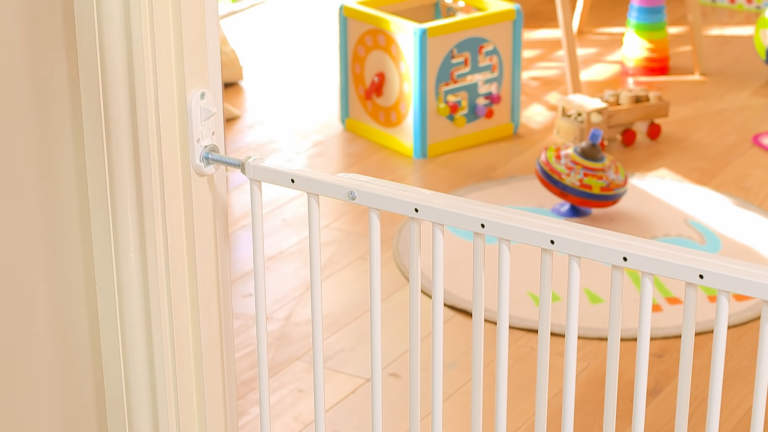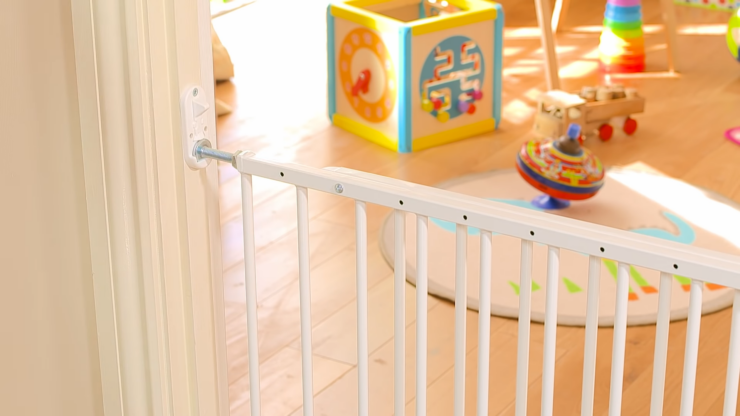 When looking for a hands-free baby gate with a foot pedal, there are a few things to consider. Make sure to find a gate that is sturdy and will not collapse under pressure. Also, a gate that has a foot pedal so you can easily move it from one side of the room to the other.
It is important that a gate is easy to open and close with one hand. Don't forget hoe important is to have an adjustable height so you can customize it to fit your child's height.
Finally, you want a gate that is easy to install and uninstall.
FAQ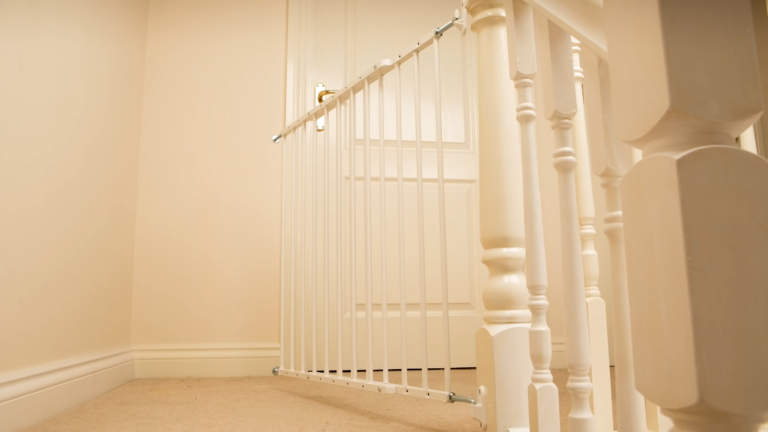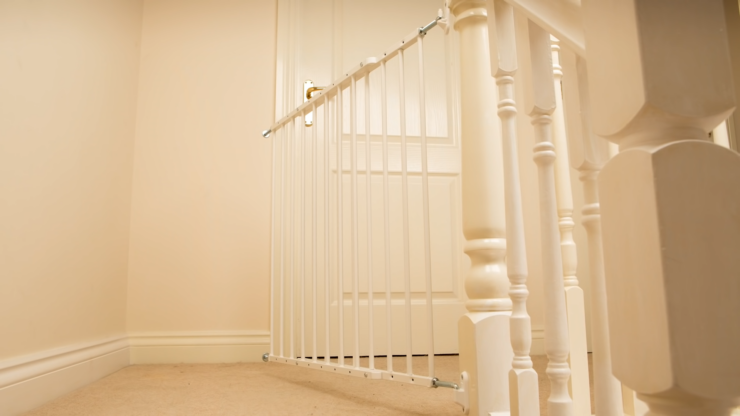 1. At what age do you stop using baby gates?
If your child is still very young, a baby gate may be a good option. As your child grows, you may want to reconsider using baby gates. This is because baby gates can restrict your child's movement and can lead to frustration.
If you have a toddler, you may want to start using gates only if there is a specific activity that needs to be restricted. For example, if your toddler is constantly climbing furniture, you may want to install a gate at the bottom of the stairs.
As your child gets older, you may find that he or she can manage better without gates. If this is the case, feel free to remove them from specific areas of your home.
2. How do you connect baby gate to banister?
There are a few ways to connect a baby gate to a banister. One way is to attach the baby gate directly to the banister with screws or bolts. Another way is to use a bracket that attaches to the banister and the baby gate.
3. What can I use as a baby gate?
If you're looking for a removable gate that can serve as a baby gate, you may want to consider using a playpen as a temporary solution. A playpen is a portable, foldable structure that allows young children to play safely within a designated area. They can also be used as an indoor security barrier during overnight visits.
4. Can you use pet gates for babies?
Yes, you can use pet gates for babies. Gates can help keep babies safe while they are playing in a room, and they can also help keep them from getting into dangerous areas.
5. Where should I put baby gates?
If you have a small home or are tight on space, you may want to consider using a baby gate to keep your little one contained. Here are some places to put a baby gate:
Above the sofa in the living room for when you're watching TV or reading;
In the corner of the playroom so your child can't get out onto the furniture;
On the stairs so your child can't go down without your permission;
Near the door to help keep your toddler inside while you're out;
In between two pieces of furniture in a nursery so your child cannot get across;
At the top of a stairway so they can't go down without your help.
Conclusion
Finding the best hands-free baby gate can be a daunting task, but thankfully, we have compiled a list of some of the best options available. Each option on our list has its own unique features that make it stand out from the rest.
Whether you are looking for a gate that opens and closes with a foot pedal or one that uses magnets to secure shut, we have you covered. So whether you are looking for an inexpensive option or something more luxurious, our list should have something for you.
Here are some other great choices for you to check out: