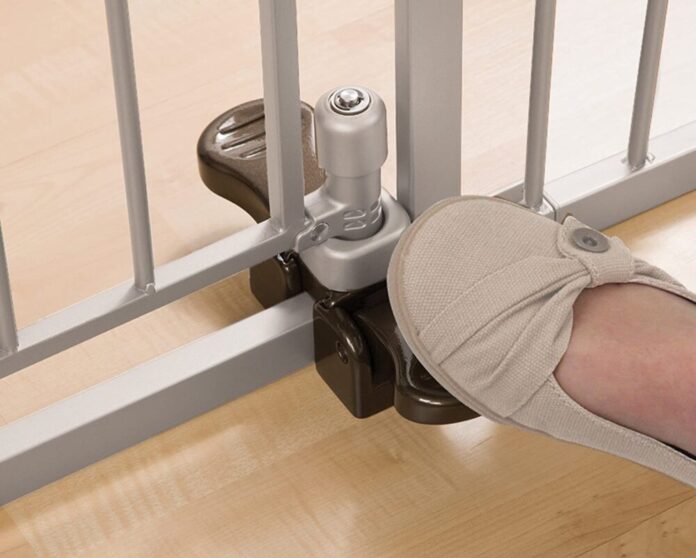 Hands-Free Baby gates with foot pedal are recommended for parents who have their hands full all the time.
Such a gate is easier to open without using your hands, as you just need to press on the pedal and walkthrough.
Their unique design is usually a big benefit for those occupied with the young ones and other household chores.
You can easily walk-thru through your hands full of groceries, diaper bags, or with a fussy child in your arms. It is also great for parents with twins as the hands-free operation allows them to open while holding both of them.
The pedals are usually designed in a way that they are easier for adults to operate but difficult for children to do so.
These gates are ideal for doorways and for other areas such as the bottom of stairs. In addition, some of them also come with an additional locking system at the top, that you can use to operate with your hands if need be.
Here are some of such gates available at Amazon.com
1. Step to Open Summer Gate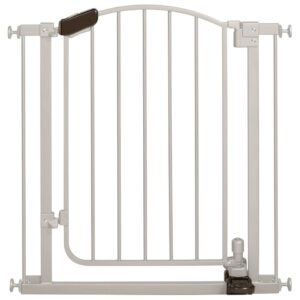 This Summer gate comes with a double-sided foot pedal that you have to step on, in order to unlock and open. It is made of solid metal material and has a silver modern finish. It comes with an extra grip handle at the top that is hand-operated. The foot lock and lock handle are constructed of hard plastic.
It fits openings from 30 inches to 45 inches wide. It is 32 inches in height. The walkthrough door is 22.5 inches in width. The door swings open in either direction and lock automatically behind you. It is pressure mounted, functions perfectly and is also very easy to put together.
2. KidCo Pinnacle Hands-Free Design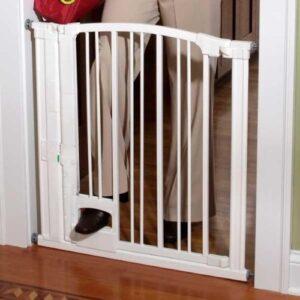 This KidCo Pinnacle gate comes with the foot lever that you have to step on in order to have the lock released, and then you hit the gate with your knee or you push it with your hand, to have it opened.
The walkway door swings open in both ways and also self-closes automatically. It has a locking indicator where red color indicates that the gate is locked and secure, while green color indicates that it is opened and ready for use.
It is pressure mounted. It is made of tubular steel material and has a non-toxic finish. It is white in color. It stands at 31 inches tall and fits areas that are 29 to 37 inches wide. Extra extensions that make it possible to extend the width can be bought separately.
3. North States Slide-Step and Lock Open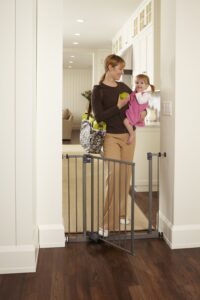 This slide-step and lock open design comes with two locking systems. It has the pedal which you have to slide, step on and then push open. At the top, there is a childproof latch for a one-handed operation. The walk-thru door is about 21.5 inches wide. It swings open in both directions and has a stay-open feature.
It features heavy-duty metal construction and has a light-brown color. It is 29 inches tall and fits areas that are 31.25 inches to 38.5 inches wide. It is easy to use and set up by pressure mounting. Tension knobs and two extensions are included with the purchase.
Images courtesy of Amazon