An over the shoulder baby holder is also a baby sling carrier or a body wrap for use when cuddling, nursing or rocking your baby to sleep. This practice of using slings is also referred to as babywearing.
These products are compactly designed and easily fit in diaper bags when not in use.
They are ideal for use especially when taking a walk together with your baby without making use of a stroller.
These holders help to keep your baby warm and also promote bonding between you and your child. At the same time, they usually free your hands so that you can engage in other activities such as shopping or even when working on the computer.
They are designed in a way where the weight is usually distributed through the upper body to avoid straining the neck. Body wraps are usually wrapped tightly around the mother and the baby, ensuring a secure hold.
They are smoothly made with no sharp edges that may cut into your child's flesh. They are made with high quality, breathable material with a variety of colors. When not in use you can use them as blankets or as nursing covers.
How To Use The Holder Sling Carrier
Follow the manufacturer's instructions that come with the product in order to tie or wrap it properly. When using these carriers, always ensure that in whichever position the baby is facing, the chin and nose are up and that the airway is clear.
Keep their head well supported to keep their airway open and always ensure that you have positioned them high enough so that they can breathe easily.
Here are some of the best-rated models.
1. Moby Wrap Cotton Carrier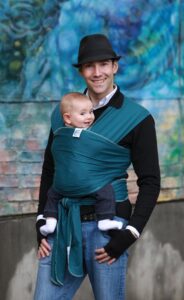 This soft fabric is made of 100% cotton material that wraps over both shoulders to give a secure and strong attachment.
The wide fabric distributes the baby's weight across the shoulders and the whole back. It does accommodate several types of both back and front holds including holding twins.
It is designed to hold premature infants to children weighing about 35 pounds. Ideal for moms and dads.
It is a long fabric measuring 5.5 meters in length. It is easy to clean and machine washable. It comes in different colors. It comes with instructions on how to wrap and use it.
2. Boba Wrap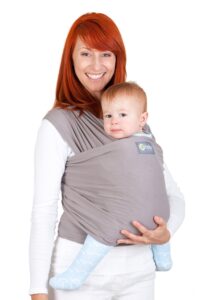 This Boba wrap is made of cotton/spandex material. The stretchy, soft fabric wraps over the upper body to give a strong and secure attachment. The stretchy material allows you to easily breastfeed your baby and accommodates only inward front-facing carry position.
It is designed to hold infants from birth until around 18 months. Its maximum weight recommendation is 35 pounds. It is machine washable and measures about 198 inches in length. It is available in a variety of colors. It comes with an instructional booklet.
3. Baby K'tan Carrier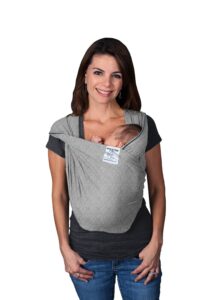 This is a soft carrier made of 100% cotton material. It consists of two loops of material and an adjustable support band at the back. It is easy to use and accommodates up to 6 holding positions at the front only.
Perfect for both moms and dads. It does not involve complicated wrapping as you just have to wear it. It is comfortable and hands-free. Use it for babies weighing 5 to 35 lbs.
The band at the back offers support and helps in adjusting and distributing the child's weight on both shoulders. It is machine washable and also dryer safe. It comes with an instructional manual and a storage bag. It comes in different sizes and colors.
4. Lite-on Shoulder Sling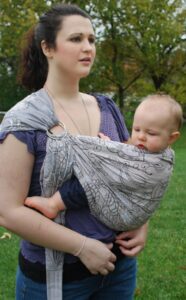 This Lite-on shoulder sling features zinc alloy secure double rings, a lightly padded shoulder and railings including a slip-proof design as well as a long tail.
The curved pouch shape makes a deep pocket that allows a better hold on the baby's legs and a more comfortable fit. It offers hands-free movement for the mom and also accommodates different holding options.
The padded shoulder area prevents straining the neck and also helps in distributing weight at the back. It is made of silky cotton sateen material. Instructions are included. It is available in a number of different colors and patterns.
5. Lightly Padded Maya Wrap Ring Sling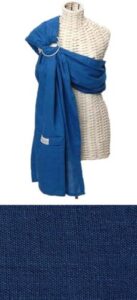 This ring sling is made of 100% hand-loomed cotton. It is ideal for children weighing 8 to 35 lbs. The shoulder area is lightly padded to prevent straining your neck. Their extra fabric makes it easy to breastfeed your child. The sling has a small pocket that you can use for your phone, wallet and keys.
It is available in a wide range of patterns and colors. It comes in different sizes from small to extra large. It is machine washable. An instructional DVD is included.
These baby wraps can be used from infant stage up to about 3 years of age. They are used by both women and men and are available in different sizes and shapes. Some slings come with snaps, buckles, and other fasteners.
Images courtesy of Amazon