There's nothing in the parenting handbook that says you need to go with organic formula if you need or choose to go with formula for your infant. But if you do have to go the formula route, Plum Organics Formula may be the way to go.
Plum Organics Grow Well Organic Infant Formula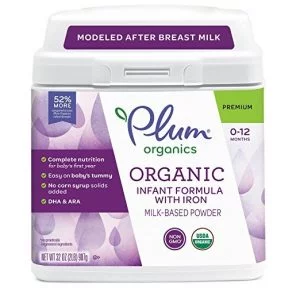 An organic, non-GMO formula designed to nourish your little one with quality carbohydrates, proteins, and nutrients. Plum organic infant formula offers a variety of different formulas to help babies with digestive issues and other baby´s health problems like those who are in need or more iron.
Once your baby has moved on to baby food, you can stick with the Plum Organics Infant Formula for babies. But, until that time comes, Plum Organics Formula is the perfect alternative to breastmilk or something to use in addition to breastmilk, especially on your baby´s first year.
The taste and ingredients are meant to be as close to the real thing as possible, and it has no added corn syrup solids. It's got DHA & ARA for a healthy brain, eye development, and all your baby's development and it's completely non-GMO organic.
Plum Organics Formula is also extra gentle on babies' stomachs, thanks to his prebiotics, which is a big deal, especially for those with colic or gas issues. That could be because it's also made with casein and whey protein, which are protein sources found in actual breastmilk.
Use Plum Organics Formula to supplement your breastmilk, use in place of breastmilk, or as a weaning formula as you start to slow down breastfeeding.
Features
Item weight: 2 pounds.
Shipping weight: 2.4 pounds.
Item model number: ASINPPOSPRME535.
DHA & ARA to help support brain and eye development.
USDA Certified Organic.
Gluten-free.