Honest Company offers one of the purest infant formulas on the market. Made to exceed USDA regulations for organic infant formula, Honest Company formula is USDA certified organic, is a non-GMO product, and is made from organic milk that does not contain any hormones. Honest Company formula does not include DHA/ARA supplements.
The Honest Company Organic Sensitive Formula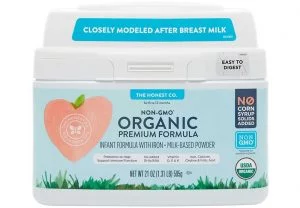 The Honest Organic Non-GMO organic baby formula is designed to help babies that have an intolerance to lactose. The reduced lactose formula is gentle on the stomach while still remaining rich in nutrition. Honest Company supplements the lack of lactose with the addition of whey to the formula to ensure that the baby receives enough carbohydrates to remain healthy. The company does not supplement with corn syrup solids.
The only drawback that can be found with this product is the use of palm oil in the formula. Otherwise, this is one of the best products out there for your baby if you are searching for an organic product that exceeds organic regulations.
And even though it uses organic nonfat milk and organic lactose as a sweetener for the first two main ingredients, it does contain organic palm oil and some soy ingredients which can leave most of the parents running for the hills. It also includes organic whey protein concentrate, vitamins A, D, E, and K. The lack of DHA in the ingredients is however a concern for some of the parents.
Features
Product dimensions: 16.5 x 11.4 x 14 cm.
Item model number: 816645024116.
not include DHA and RHA.
Non-GMO product.