Happy Baby Stage 1 Organic Infant Formula is thoughtfully made with organic lactose, dual prebiotics, and essential nutrients, including calcium, vitamin D, iron, DHA, ARA, folic acid, and choline.
Happy Baby Organic Infant Formula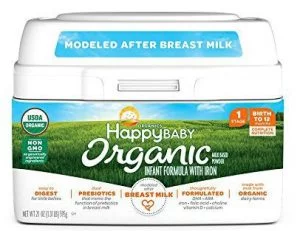 Happy Baby is a well-known baby brand that makes organic baby food, snacks, and formula. They offer an organic, non-GMO formula that doesn't contain any corn syrup solids or other sweeteners. The ingredients are rather simple, including lactose, milk, several oils (such as palm, soy, coconut, and sunflower), whey protein concentrate, soy lecithin, essential fatty acids, and prebiotics.
The formula contains DHA and ARA, as well as the other important vitamins and minerals necessary for proper growth. Your baby will receive iron, zinc, choline, vitamin D, and calcium. We like that this formula is kosher, and the dairy cows were only fed organic diets.
Unlike other formulas, the composition of this formula is rather similar to breastmilk. Babies receive around 100 calories, 2 grams of protein, and 5 grams of fat for each serving. The main difference is that it doesn't have the sweetness when compared to breastmilk. Plus, it doesn't contain too much iron, so your baby shouldn't struggle with constipation.
Features
Product dimensions: 4.5 x 6.7 x 5.3 inches.
Product weight: 1.31 pounds.
Shipping weight: 1.8 pounds.
Item model number:  IF1-1.
Molded after breast milk.
Lactose.
DHA/ARA.
Prebiotics.
Protein.
Vitamins & Minerals.