Earth's Best makes one of the only organic soy formulas on the market, and it's a top-notch example. It has a similar profile to that of breast milk, but the protein use is soy rather than lactose. Earth's Best formulated it so it's easy to digest. The formula is enhanced with DHA and ARA.
Earth's Best Organic Soy Infant Formula with Iron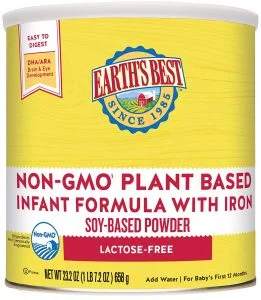 Earth's Best Organic Soy Infant Formula easy-to-digest with iron meet all FDA requirements for infant nutrition with the added benefit of being organic. Earth's Best Organic Infant Formulas with DHA & ARA are specially blended without the use of growth hormones, steroids, antibiotics, dangerous pesticides or synthetic fertilizers.
Nutritionally complete, they provide the essential nutrients required by the FDA for infant feeding for babies during the first 12 months of life. Earth's Best Organic infant cereal and jarred foods are available in more than 60 varieties, along with infant juices and teething biscuits, to satisfy the taste and texture preferences of babies four months and up.
Additionally, though breast milk is the first choice for an infant's growth and development, Earth's Best Organic provides organic infant formulas that contain essential nutrients babies require.
Features
Product dimensions: 6 x 6 x 6 inches.
Product weight: 1.45 pounds.
Shipping weight: 5 pounds.
Item model number: C10075N.
Nutritionally complete.
Easy to digest.
USDA Organic.