The BOB Sport Utility Stroller DUALLIE is perfect for adventures off the beaten path with your two kids. No pavement? No problem. This rugged stroller, with a fixed front wheel for added stability, is the best travel companion for parents who prefer the great outdoors.
BOB Sport Utility Duallie Jogging Stroller, Meadow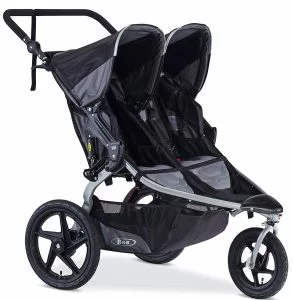 The Sport Utility Stroller DUALLIE has pneumatic knobby tires on high-impact polymer, so rough trails are no sweat and a hand brake for added downhill control. Plus, it has simple two-step folding that makes for lightning-quick transport and storage. And the Sport Utility Stroller goes above and beyond with a state-of-the-art adjustable suspension system that easily tackles any bumps that come your way.
This latest model comes with perks like an adjustable handlebar to fit parents of any height, a larger storage basket, and improved quick-release front and back wheels. The seats recline with a simple push of a button or you can position them fully upright so your little adventurers can take in the world.
Combine the Sport Utility Stroller DUALLIE with an infant car seat, like the BOB B-Safe 35 by Britax, to create the best travel system for your lifestyle. So fill up a water bottle. Lace-up those sneakers. Your next off-road adventure awaits with the Sport Utility Stroller DUALLIE. BOB, the #1 jogging stroller.
Features
The fixed front wheel provides increased stability for hiking and jogging or when the trail gets enough.
16″ canopy, air-filled tries on high-impact polymer wheels mean that this stroller is built to handle all your trail adventure.
The adjustable padded handlebar offers 9 positions to create the perfect fit for parents of all height.
Hand active front caliper brake for added control when jogging downhill.
Easy 2 steps fold for convenient transportation and storage.
The state-of-the-art adjustable suspension system offers 3 inches of travel and 2 stages of weight support for an ultra-smooth ride.
Extra-large low boy cargo basket 15% more storage space so you can take everything you need when you are on the go.
Product dimensions: 54 x 30.6 x 44 inches.
Product weight: 29.7 pounds.