Charlier Banana hanging diaper pail is made of a waterproof outer layer, which is ideal for storing your dirty cloth diapers or clothes. Charlie Banana is free of chlorine and perfume, as well as any potentially harmful chemicals. This means it's safe to keep in a baby's room.
Charlie Banana Hanging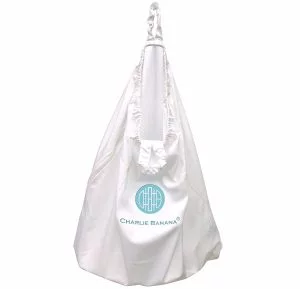 The material itself is durable and stretchy, so you can keep up to 20 diapers in this "pail." The fact that it is waterproof also makes it trustworthy for keeping in soiled diapers. The Charlie Banana is not sealed shut, it doesn't emit odors in the room.
The only time that you might get a whiff is when you're emptying the contents in the laundry. Nonetheless, this is inevitable with any cloth diaper pail. 
Features
Product dimensions: 18.5 x 3 x 26.9 cm.
Model number: 889395.
Item weight: 227 g.
Material composition: Shell-face:100% Polyester. Back: polyurethane.
Target gender: Unisex.
Waterproof.
Eco-friendly.