Newborn babies are cute, soft, and the point of attraction at home. Parents love to play, enchant, and enjoy with their new family members along with extreme care. When it comes to buying something for them, we think about top-notch quality possible, especially with the baby bottle brand which is going into the baby's mouth. The baby bottle is one of the important requirements that is used to feed.
Going after built quality, design, and BPA free plastic are some major factors about safety. As most of the moms prefer going for a baby shower with other moms, they select a place and give a bath to their baby and have some fun time.
Surely, one has to look after decoration, theme, and various other things. But, the most common decoration is of baby bottles that are used in the baby shower.
You can easily buy plenty of great design or bottles that can be decorated with ease. In case you are not sure that which one to go after, then we are here to help you with our suggestion of the top 5 baby shower bottles. All of these are easily available online for an affordable price point. Let's get started.
5 Best Baby Shower Bottle
As there are plenty of options available, we selected most of the genuine ones and checked their reviews along with five key factors. The five factors are design, built quality, durability, price, and material. Without wasting any more time, let's have a look at all the key factors.
1. Craft and Party Plastic Milk Bottle For Baby Shower Decoration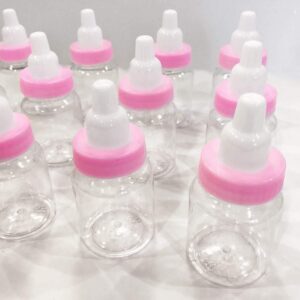 With the lower price and great design, our first product of choice is definitely the best choice to grab right now. No doubt that Craft and Party 3.5″ Plastic Milk Bottle Fillable Baby Shower Favor Decoration has plenty of reviews.
This product comes in the set of 24 bottles, and the price for a single unit feels very low. There is one more color available in the same, and the best part is, tops are removable for the baby shower. It can be used for parties and favors without any problem.
Pros:
One of the affordable deals for an individual unit due to the combo of 24 bottles.

All bottles have the same dimension, which is 3.5″ High and 1″ of diameter.

It can be used to fit tiny candies, small accessories, and other confetti without any problem.

It can be decorated and designed with the use of ribbons, tags, and other tools.
Cons:
Bottles are smaller than they appear in the picture.
2. Evershine's 13″ Jumbo Baby Shower Decoration Centerpiece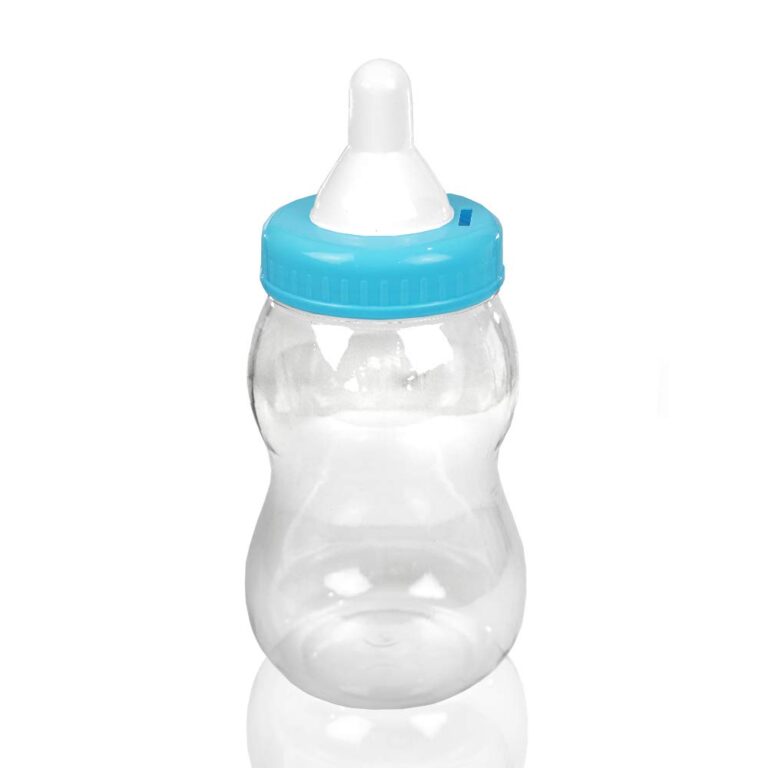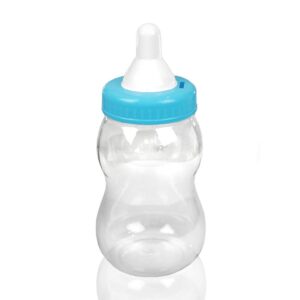 For the amazing theme, it is important to have some large-sized fillable bottles, and after huge research, we got our next suggestion. Evershine's 13″ Jumbo Fillable Baby Shower Bank Plastic Decoration Centerpiece is very large in size, premium inbuilt quality, and it can be used for decoration purposes.
There are two different colors available which can help you choose the best for themed baby shower. The best part is, it is made up of durable plastic to last longer than you expect.
Pros:
A large dimension ensures the best container for candies and other toys.

It comes in 13 x 6 inches size, which is suitable for decoration purposes.

Two different colors are available with the removable to fill it with anything you want.

It can be decorated with ribbons, gemstones, baby shower trinkets, jelly balls, figurines, etc.
Cons:
Bit expensive choice considering that this single baby bottle comes for the high price.
3. Marry Acting Feeding Bottle 24Pcs Pink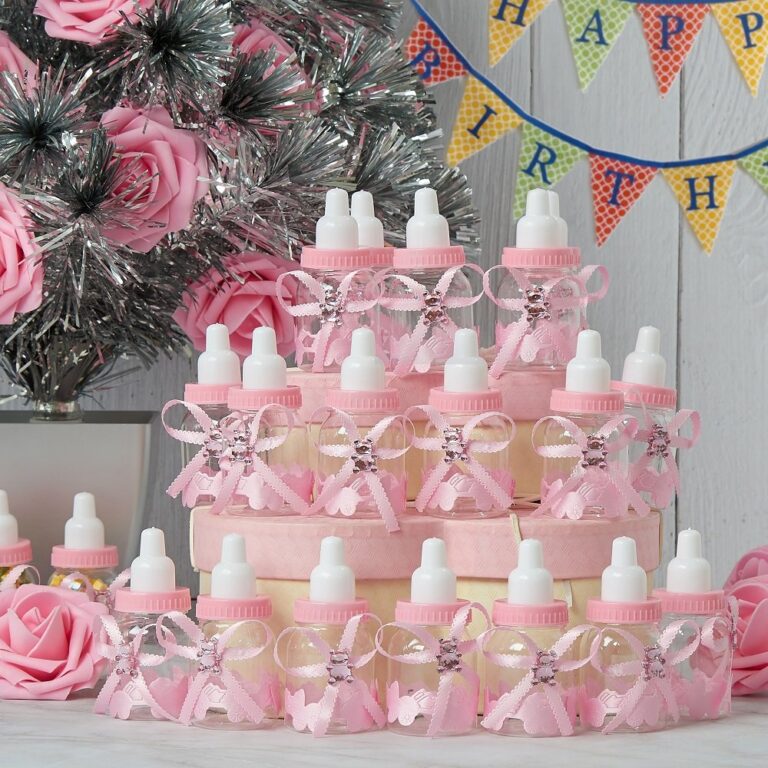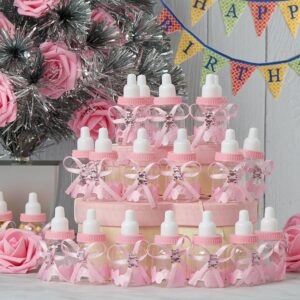 If you want to avoid the hassle of decorating a bottle on yourself, then you can go with the purchase of Marry Acting 2 Dozen 3.5 Inch Feeding Bottle Candy Box with 5 Pcs Artificial Flower. It comes with the themed design in pink color, tiny containers to fit small candies, and many other features.
The very first thing you are getting five handmade flowers, 24 tiny containers, and lots of decoration work. Considering the overall price, it is easy to calculate that small units are coming at a lower price.
Pros:
It is made up of plastic and latex foam to ensure the genuine in-hand feel of the same.

Affordable deal as you consider the price of a single container out of 24.

It comes with handmade flowers, which can easily make your decoration work better.

Easy to put small candies, M&M, jelly beans, and other eatables which are loved by babies.
Cons:
The size of the container feels smaller after the delivery, kind of acceptable only.
4. Noex Direct Baby Bottles for Baby Shower 24Pcs Blue
When it comes to the purchase of quality baby shower bottles for the genuine price, then you can't find much variety. In case of normal durability and affordable price, there are many deals and Noex Direct Baby bottles for Baby shower, 24Pcs Mini boy Baby shower is one of them.
It also comes with a set of 24 bottles, five handmade flowers, and pre-decorated ribbons. You can easily fill these bottles with candies and do something more to decorate the same for betterment.
Pros:
Five handmade flowers and twenty-four bottles are enough to enhance the overall design.

Two different color choice is available to help you find the best one as per your need.

It can be filled with candies and other decorative pieces for a particular theme.

Durable product of choice and it is also affordable as you consider the price of one bottle.
Cons:
The same problem, the size of bottles is not reliable to go after. That's why you have to be selective.
5. Fillable Bottles For Baby Shower Favors White Party Decorations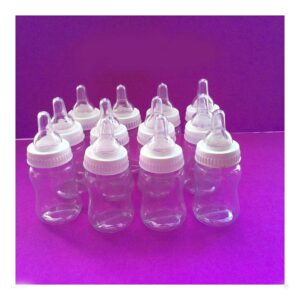 With the high built and great design, these 12 Fillable Bottles For Baby Shower Favors White Party Decorations Girl & Boy is a great choice to go after. The lower price is the best thing about it, and if you consider the design, it is very simple.
You can fill anything you want; you can decorate it in your own manners. The price is a bit expensive as you consider the number of bottles and outer design. But, it has a genuine size and better-built quality so you can go for a customer design.
Pros:
Premium built quality to last longer than you may expect from the same.

Sizes of bottles are genuine so that you can fill anything you want in it.

Easy to decorate with the size of 4"x1.5"; Better from the other choices available.

Price is affordable if you consider the built quality, size, design, and durability factor of the same.
Cons:
You have to buy everything for the decoration which will increase your expenses easily.
Final Words
Decorating a baby shower party and choosing the best theme is one of the hardest things. In case you don't know which theme to follow, then you can go after the purchase of the baby bottle and decide the color scheme according to the bottle.
I hope this guidepost will help you choose the perfect baby shower bottle without wasting a single penny.