Avent is probably the most popular brand of baby bottles, offering a plethora of bottles suitable for everyone. Having a high-quality bottle at your house at any time is crucial for your newborn, as with a proper bottle, your family member can help you feed your baby. Given that many of these bottles let your pump your breast milk in, you can save your milk for the later feeding during the day.
That being said, we have thoroughly examined Avent's offerings and came up with a list of best Avent baby bottles in 2023. We know how busy you are being a mom, so this list is going to be an ultimate time-saver.
Best Avent Baby Bottles
1. Philips Avent Natural Baby Bottle Set 11 oz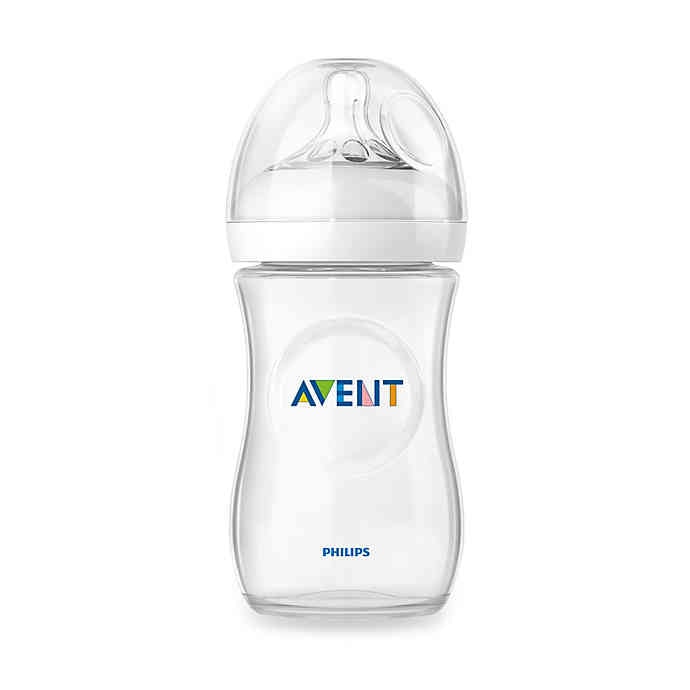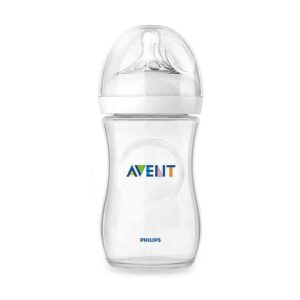 Let's kick this list off with the best baby bottle your money can buy. This bottle is great for very hungry babies, thanks to its huge 11-oz capacity, which translates to about 330 grams, which is approximately one glass.
We know how much babies love drinking milk and so does Philips Avent since they made this bottle so big. Your baby also won't have any problems drinking the milk from this bottle, thanks to their advanced anti-colic system, which is great for the newborns who just started using the bottle.
As for the nipple, we have a slow-flow 1-month one. It's wide and soft, promoting natural feeling for the breastfed babies. Most importantly, it's compatible with every nipple from Aven't rich line.
The bottle has a wide neck opening at the top, so cleaning it is everything but hassle. This is important for keeping your baby bottle clean and sterilized all the time. The package includes 4 bottles, so even if one bottle is dirty and your baby needs to feed, you still have 3 remaining bottles. It's convenient, ergonomic, BPA-free, and easy to maintain – what more to ask for?
2. Philips Avent Natural Baby Bottle Essentials Gift Set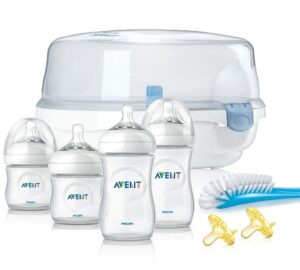 This gift set has everything you need for feeding your baby, as well as maintaining the bottles, so if you purchase this one, you won't have to think about other bottles through the entire breastfeeding period of your baby.
First off, we have 2 9-oz bottles,2 4-oz bottles, 2 natural slow-flow nipples, 2 Natural newborn nipples, microwave sterilizer, curved bottle brush, and 2 BPA-free silicone soothing pacifiers.
As you can see, the package is quite generous, coming at a relatively affordable price, making it great for every parent. Design-wise, the wide-shape natural nipples perfectly mimic the mother's nipples, making it comfortable for your baby to feed.
Characteristically to Avent, the bottles and the nipples are all BPA-free, so your baby won't come in touch with harmful chemicals. Of course, an anti-colic design is also here and will prevent your baby from having gas or burping. Needless to say, it's a full package for your beloved newborn.
3. Philips Avent BPA-Free Natural Bottle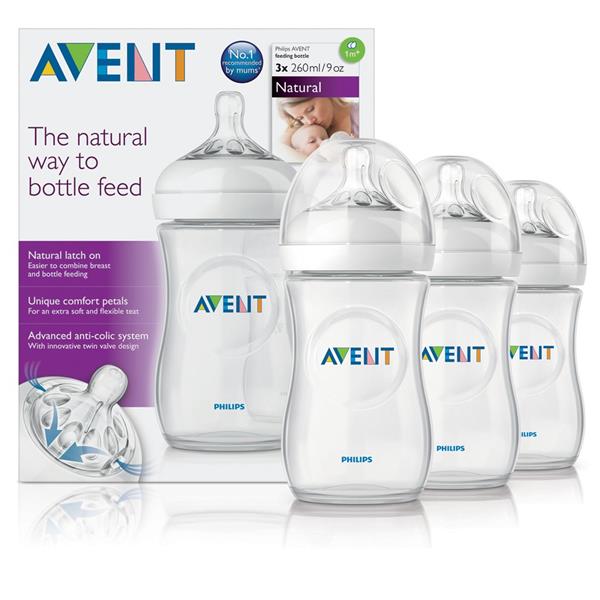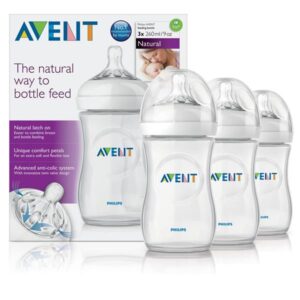 The BPA-free bottle from Avent comes in a package of 2 and features 4-oz bottles. These bottles aren't the biggest out there but the build quality and ergonomics are exceptional.
They are designed to provide a natural way for your baby to feed, thanks to wide-shaped nipples, as well as an ergonomic design for holding the bottle easier. Accompanied by this, we have a well-known anti-colic effect, which prevents swallowing the air that can complicate things for your baby's digestive system.
The bottle is easy to clean, thanks to its wide neck opening and given that it's made of only a few parts, you'll clean and sterilize it in a matter of minutes.
An interesting addition is the 0-month nipple that won't interrupt the feeding by cutting off the flow. Of course, the bottle is BPA-free, as implied by its name, as well as compatible with all nipples from Avent's natural line.
4. Philips Avent Anti-Colic Bottle Essentials Newborn Starter Set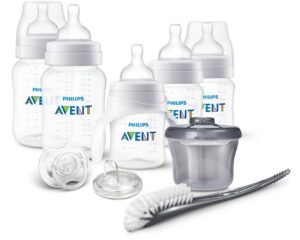 Once again, we have a huge starter kit for your newborn. Here, you have everything you need to take your baby on an epic journey of the breastfeeding period, which is crucial for its development.
So, the set comes with 2 4-ounce and 2 9-ounce anti-colic bottles, alongside 5 anti-colic caps and a natural anti-colic newborn flow nipple. Typical for every setting such as this, we also have a bottle sterilizer, orthodontic pacifier, transition cup, formula dispenser, and a baby bottle brush.
Due to the ergonomic shape of these bottles, you'll have a much stronger grip while feeding your baby or while cleaning and sterilizing the bottle.
The Airflex venting system is here to provide the anti-colic effect, making reflux, gas, and burping impossible. Needless to say, the bottles are made of BPA-free materials, so it's healthy for your baby.
5. Philips Avent 2 oz. Natural Baby Bottle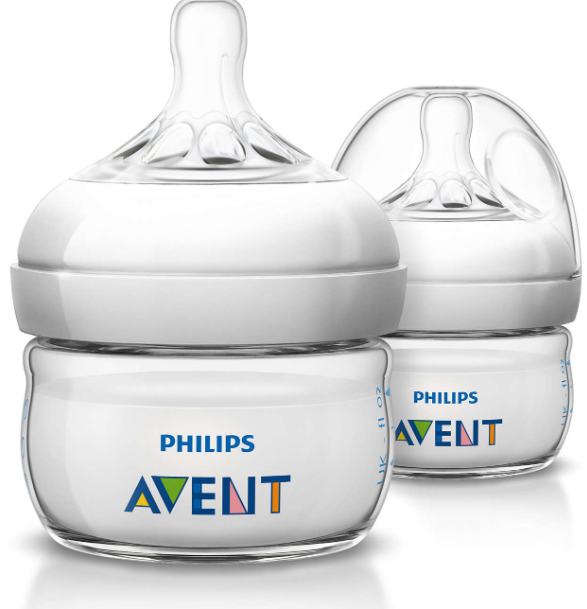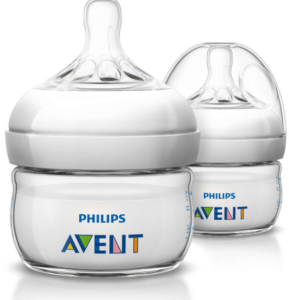 Philips Avent 2 oz. the bottle is the smallest bottle Avent has ever made and with its modest capacity, it's perfect for preemies and newborns.
It's a starter bottle that's great for using in conjunction with breastfeeding and given its anti-colic capabilities, it won't mess up with the natural process of breastfeeding. The bottle comes with a first-flow nipple, providing steady and controlled milk flow rate, perfect for newborns and preemies.
Even though the bottle is very small, it's not hard to clean, as it isn't assembled from lots of parts. Thanks to its modest size, the bottle is also very comfortable to hold and won't represent a problem even for moms with smaller hands.
Once again, the bottle is BPA-free, as is every bottle on the list.
Conclusion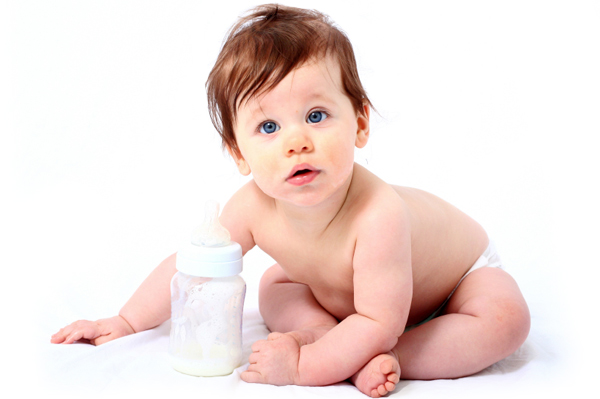 We hope that this article saved you some time and made it easier to choose your new bottle. Every bottle on this list is BPA-free and comes with anti-colic characteristics, making the choice only a matter of design and package content.
Other than that, you won't make a mistake choosing any of these bottles.