Philips AVENT SCF281/05 Microwave Steam Sterilizer protects your baby from harmful bacteria, operating at a higher temperature than dishwashers. Sterilizing up to 4 Natural or Classic bottles at a time, it kills 99.9% of harmful germs.
This lightweight, compact sterilizer is the perfect size for traveling. Stay-cool safety grips allow for safe handling and make it easy to sterilize breast pumps, bottles, cups and more while at home or traveling. The Microwave Steam Sterilizer uses the power of your microwave to create natural steam.
Just add water and place it in the microwave for 2 minutes. Safety clips keep the lid securely closed and side grips stay cooler for safe handling. At full capacity, the sterilizer holds up to 4 9 ounces or 2 11 ounces Philips AVENT Classic or Natural bottles. 
Its interior rack can also support 2 Philips AVENT Breast Pumps (non-electrical components only) and up to 4 breast milk storage cups and lids. You can also use it to sterilize pacifiers, non-metal utensils, and other microwave-safe baby items. Measuring 6.5 inches by 11 inches, the sterilizer fits in most microwave ovens, is BPA free and is backed by a 1-year limited warranty.
Microwave steam sterilizer ready in just 2 minutes: The microwave steam sterilizer can be used to sterilize baby bottles and other products in just 2 minutes. The exact length of the cycle depends on the wattage of your microwave, of course. 2 minutes at 1200-1850W, 4 minutes at 850-1100W, 6 minutes at 500-800W.
Philips AVENT Microwave Steam Sterilizer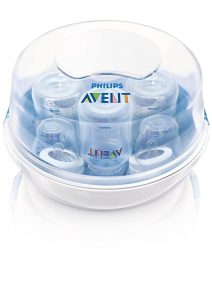 Features
Product dimensions: 11 x 11 x 6.5 inches.
Item weight: 2.07 pounds.
Item model number: SCF281/05.
Material type: Plastic.
Material free: Plastic.
Specification met: certified frustration-free.
Imported.
Eliminates 99.9percentage of harmful bacteria in just 2 minutes.
Easy to use with most microwave ovens.
Pros
Available at an affordable price.
Eliminates 99.9percentage of harmful bacteria.
Easy to use.
Cons
The size of the sterilize too large.
Some customers have complained that the lid melts in the microwave.