The CYBEX Eezy S Twist is designed with a wide range of smart features, which can all be operated with just one hand so you don't have to let go of your little one: rotate the seat in seconds so your child faces you or looks out into the world, adjust the backrest into the desired position or fold the Eezy S Twist into a compact self-standing package for convenient storage.
Cybex Eezy S Twist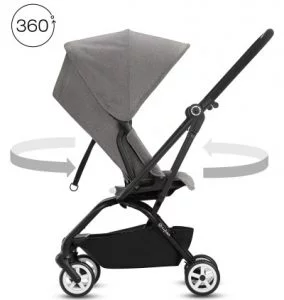 CYBEX Eezy S Twist Stroller slim outline, as well as the small wheelbase, contribute to its easy maneuverability so that you can master even narrow passageways in shops or alleys in town. The Eezy S Twist also features a soft all-wheel suspension that ensures a smooth ride even on bumpy roads.
The Eezy S Twist can be transformed quickly into a compact, free-standing unit which makes it stand out as the most space-saving version as compared to other buggies perfect as hand luggage while traveling or while being in the car or in a restaurant.
Features
Product dimensions: 33.5 x 17.7 x 40.6 inches.
Fold dimensions: 9.8″ L x 17.7″ W x 20.9″ H.
Product weight: 17 pounds.
Minimum weight recommendation: 4 pounds.
Maximum weight bearing capacity: 55 Pounds.
Transforms into a 3-in-1 travel system.
Multi-position seat recline.
One-hand folding mechanism.
100% polyester fabric.
Dual wheel parking brakes.
Rubber tires.
Hand washable fabric.
Imported.
2-year limited warranty.
Assembly required.
Unique design with 360 rotating seats.