Your Pack N Play Portable Crib Sheet Set is made from Premium Quality Jersey Knit Microfiber. Breathable and Durable. 27x39x3 inches. Fits most Standard Pack n Play Playard Mattresses, Mini Cribs, Porta Cribs up to 2 inches thick. The Colors and Trendy Modern Patterns make this pack and play portable crib sheets a Great Baby Shower Gift.
Fitted Pack n Play Playard Sheet Set Woodland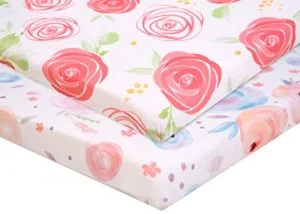 Designed in New York and Meticulously manufactured in Turkey with Premium components and top of the line workmanship. Machine Washable & Dryer friendly. Your Baby's Safety First! Our Sheets are Proudly Tested and Approved for Chemicals & harmful Substances. Fabric: 95% Microfiber, 5% Spandex. Care Instructions: MACHINE WASH COLD-TUMBLE DRY NO HEAT.
Features
Premium quality super soft 2 pack jersey: Breathable and Durable. Machine Washable.
Perfectly fits standard Pack N' Play Playard Crib Mattress: Designed to fit standard pack n' play portable crib and playard mattress up to 2 inches thick.
Trendy Patterns & Great Colors: 2 Beautiful woodland designs make this pack and play portable crib sheets a great baby gift.
100% Satisfaction Guaranteed: Fulfilled and shipped by Amazon.
Product Dimensions: 6.7 x 6.3 x 2.5 inches.
Product Weight: 14.4 ounces.