The most-awaited part before your little munchkin's arrival in this world is getting their nursery ready. How many of you would relate? There are some people who choose to make use of a Pack n Play because they are comparatively affordable and easy to move.
Even if you don't want to choose a Pack and Play as the baby' crib, in the beginning, you may use one for naps, or while traveling.
For Pack and Plays, there are different sheets as compared to regular crib sheets. As with every baby-related stuff, you have to keep a few things in mind before you go out on the market to make a purchase.
Invalid table id.
Here is the Winner –American Baby Company Sheets
Our winner for pack and play sheets are the American Baby Company's Playard sheets. To keep the sheet from getting out of place, these sheets boast elastic corners. Also, they have the tendency to stretch to fit some of the unusual pack and plays. The best part is that these sheets by American Baby Company are exceptionally soft.
These sheets are made up of jersey. To be honest, jersey material is just so comfortable. However, they might not be the cheapest option when compared with others.
The sheets are relatively thin, and they don't include any colorful patterns. If you have a pack and play at home that is not in frequent use, go for these sheets.
Are you looking for a few of the other best options available on the market? Scroll down to get more recommendations on the best pack and play sheets.
Top Pack and Play Sheets
1. American Baby Company Playard Sheet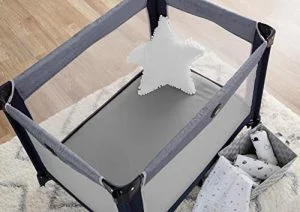 If we were to award the winner for the best pack and play sheet, this American Baby Company Playard Sheet definitely deserves to own that. The best part, perhaps, about these sheets are that they are stretchable enough to fit almost every pack and play available on the market.
And we know you might be wondering if they lose their elasticity with time? No, they don't. They are not too stretchy to appear bigger on smaller mattresses. However, keep in mind that the material is a bit see-through as the sheets are slightly thin.
2. Graco Pack 'n Play Quilted Playard Sheet, Stone Gray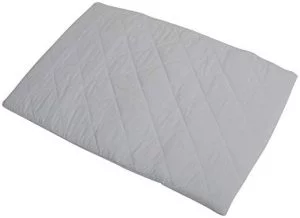 Want something extra soft and comfy? The Graco Quilted Playard Sheet should be your next purchase. These sheets are a little different from standard ones. This particular sheet by Graco features quilted padding for additional comfort.
3. Fitted Pack n Play Playard Sheet Set Woodland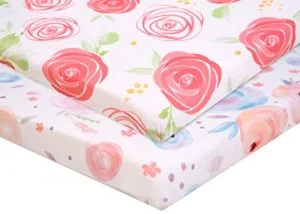 If you are in search of something that is soft and affordable, do check out the Luxuriously Soft- New York Pack n Play Fitted Sheet. The best thing is that they include two packs in case you meet an emergency. These sheets offer a few beautiful designs to choose from.
If you are having a girl or a boy, these sheets have some beautiful patterns to offer to compliment your pack and play and the room decor:
Usually, there aren't many packs and play sheets with such beautiful colors and patterns.  What you normally get is something mild and plain, so if you are looking for something vibrant and colorful, make sure to check out Luxurious' wide range of trendy colors and patterns.
4. Graco Pack 'n Play Playard Sheet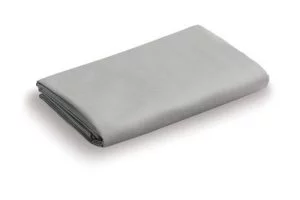 Unlike other brands, we saw on this list, the Graco Pack and Play Playard Sheet doesn't boast any elastic to prevent the sheet from falling off the place. In contrast, there is sort of pockets at each corner.
People haven't really found these sheets by Graco comfortable enough. Obviously, to keep the sheet in place, you must fold each side so that the fabric is not loose; however, you may need to make readjustments after every few days.
The good thing, however, is that Graco also offers a quilted version of the sheets. The version provides extra support and comfort to your Lil munchkin. And they are great for winters, as they keep the mattress warm.
5. BlueSnail-Waterproof-Quilted-Mattress-Cover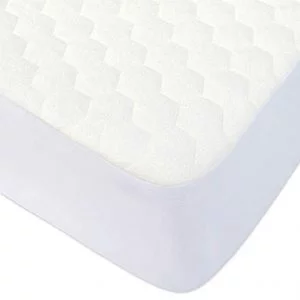 Let's face the truth: we have two winners today. The top pick is the BlueSnail-Waterproof-Quilted-Mattress-Cover and the second pick is Mom's Besty sheets. However, some find it a little tight on some playards, including the one by Graco.
The Mom's Besty sheets have sheets for mattresses up to 24" x 38" x 4". It is always better to measure your pack 'n play before heading out to purchase its sheets.
6. PUREgrace Pack and Play Sheets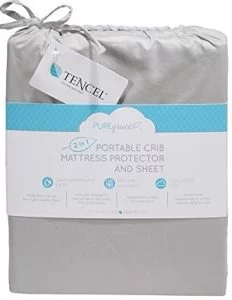 In for a 2-in-1 treat? The PUREgrack Pack and Play sheets also offer mattress protection. The best thing about it is that the sheets boast a lining of a waterproof mattress protector. You might be wondering if the sheet would still be soft with the layer. Yes, they are still soft enough because the protection layer is under the sheet.
7. Luvable Friends Fitted Playard Sheet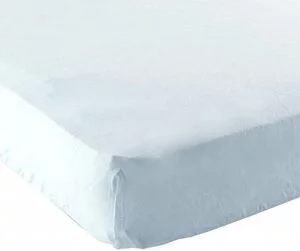 Are you in search of something good yet reasonable? The Luvable Friends Fitted Playard sheet is one of the cheapest pack and play sheets available on the market. These sheets include a single that too at an affordable price.
The sheets come in polka dot pattern in 3 colors: one for girls, one for boys, and the third one have neutral colors. Considering it as a cheaper alternative, you should know that they haven't compromised on their quality at all. The sheets are pure knit cotton and soft. 
One thing to remember is that these sheets are meant to be for pack and play mattresses, not the cardboard support.
Things to Put Into Consideration
Usually, all mattresses in pack and plays are of the same size, but some can have a slight difference. However, it is important to always measure your mattress, so that the sheets can be of perfect size.
If you buy sheets that are way too small, the mattress may bunch up. If you have bought sheets way too large, they will be all loose and crinkly, which is not safe for the baby. Another thing to be sure of is the coverage of thin wooden pack and play mattresses.
PatternsElastic CornersSoftness and ComfortProtection of the MattressPrice TagOur Recommendation
If you search around the market, you will notice that there are not many sheets available that feature trendy patterns and vibrant colors. What you usually get is something pastel and mild. However, there are still some cute and fun patterns out there, like the Luxurious one.
Unfortunately, not every sheet sport elastic corners. Though the elastic thing is not necessary, it can help keep the sheet in place, without needing readjustments every few hours.
Obviously, a baby's skin is more delicate than adults, and so they need a softer fabric. The fact is there are many sheets available with different materials and fabric. Make sure to check the softness and comfort level the material provides.
This is indeed one of the most important features that everyone wants. Generally, pack and play sheets are pretty easy to clean up, but there can be some accidents that are hard to clean up. The mattresses with a protective layer help in providing extra protection to keep everything clean.
Considering that Pack and Play sheets don't come in any colorful patterns, they are a bit overpriced. Generally, the price range for such sheets falls between $8 to $20, with most of them falling between $12 to $15. These aren't big investments, but you may need a couple of more sheets in order to have a backup for late-night emergencies.
If we take a look at all listed above, we definitely recommend the American Baby Company playard sheets for they are soft and stretchy. However, unfortunately, these sheets don't have any colorful patterns over them. Also, they don't sport any protective layering over the mattress, so you may need to spend money on a separate one.
Everyone has different requirements and depending on what is your priority, there could many options out there on the market.