When it comes to buying things for a baby we, of course, would never want to compromise at all especially with the quality most importantly, if that thing is going to get into baby's mouth.
Talking of which, in news, we hear so many things about the dangerous chemicals in the breast milk and formula because of which, parents are now looking out for the best option for plastic bottles. If you are also one of them then certainly this is the right place where you have landed up.
Moving on to the safest bottle that a baby can use, well, there are different opinions of the parents. For some glass bottle is perfect while for some stainless steel is a better option. Here are some things today we will be learning about stainless steel.
Looking at the cons which plastic bottles have been showing towards the baby or the living being's lifestyle, needless to say, that plastic can be riskier for the infants or newborn. Plastic was previously advertised as BPA free or even Bisphenol-A-free.
But this is not true. Even the BPA-free plastic baby bottles have more or less of the leach chemicals present that can disturb the food and beverages which your kid eats.
Best Stainless Steel Baby Bottles
No doubt that BPA-free baby bottles are also available in the market but they are BPF, BZP, or even BPP. If you have noticed, BP is the chemical name of bisphenol which in shots scientists claim those BPA-free plastics are more or less the same as BPA and those also have adverse effects on genetics and may cause some disruption in the hormones.
So what is with stainless steel baby bottles? If you are wondering whether it is a perfect alternative or not then certainly the answer is yes. As long as there is no presence of bisphenols which is found in plastic baby bottles, you can rest assured that your baby will not have any negative health impact.
Drinking milk from plastic bottles can put your kids more at risk. It increases the chances of undeveloped endocrine systems. On the other hand, stainless steel is the non-leaching, absolutely safe, and non-toxic solution to choose from.
1. Ultimate Stainless Steel Baby Bottle Insulated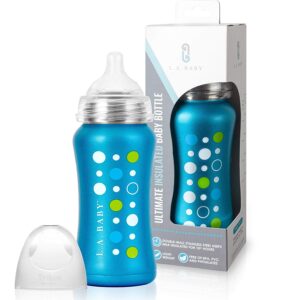 This stainless tell baby bottle is free from all kinds of toxins such as BPA, Lead, PVC, and even phthalates. The best part about using it is that it weighs light and can last for a long to be used. Since it is leak-free you can rest assured that entire insulated milk will only be consumed by your baby.
Besides, there is a wide neck opening that offers you to clean the bottle without any problems. You also get a toddler straw and food-grade silicone nipple with this ergonomically designed stainless baby bottle
Pros:
It is bacteria and scratch-resistant

The insulation of the milk can stay for more than 10 hours

It is a non-toxic food-grade stainless steel product

There is no chance of leakage from the bottle at all.

It is safe to be used in a dishwasher
Cons:
The quality may not be up to the mark

For better results, frequent cleaning is needed

The formula may not stay warm for long
2. L.A. Stainless Steel Baby Bottle Leak-Free Design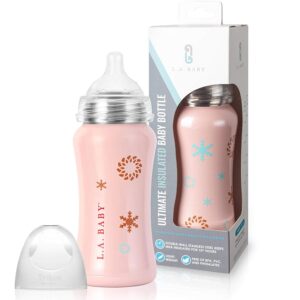 This bog mouth sport top bottle is perfect for your kid to drink milk without any problem. Being dishwasher safe, there will also not be a problem for you to clean the bottle.
The best part is entire milk is consumed by the kid as there are no chances of any leaks. The bottle does not have any internal lining because of which you don't have to worry about using it at all.
Pros:
The best part about this bottle is it is non-toxic certified and is BPA Free

It comes with Silicone bottle Spout & Sleeve

This bottle is compatible with Pura components made from silicone

Included silicone Sippy spout is designed with a valve tip that prevents dreaded spills

There is no part of the bottle made from plastic at all silicone
Cons:
The quality is not that satisfactory

It comes with a limited lifetime warranty
3. Pura Kiki Stainless Steel Infant Bottle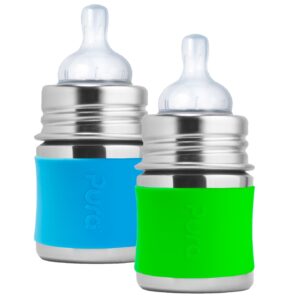 This bottle is loaded with ample features that you can explore. It is no doubt safe to be used by the baby. It comes with one piece of colic venting tube. This way, the pressure stabilizes in the bottle so that continuous feeding can be given. Besides, there is a good shape for more natural latching.
Each bottle comes with a pressed internal volume marks that are viewable so that you can feed the baby in the right measurement. Besides, the product is compatible with components of silicone and is available at great pricing too
Pros:
The bottle can also be connected to pump flanges

You can clean the bottle without any hassle

It is lightweight
Cons:
The leakage can be a problem

It is not milk formulate tested

Sucking through the nipple of the bottle is problem
4. Bammax Stainless Steel Infant Bottle Non-Toxic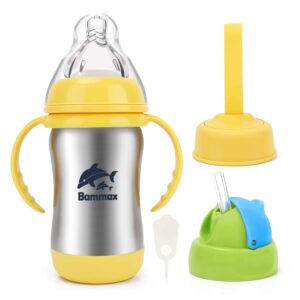 This is another incredible stainless tell baby bottle that you can use. The cup is designed for kids of different gages. This feeding cup can be a great helping hand to the mother. It is also used as a transition cup and is extremely convenient for kids and parents.
Since it is free from BPA and lead, you can rest assured that your kid is having a 100% toxic-free product. Besides, it comes with 3 in 1 compatible ergonomic design which can be used as a thermal water bottle, baby feeding bottle, and transition from sucking to drinking.
Pros:
The lid is well mounted at the top for better drinking

There is an anti-slip ergonomic handle for the little ones to continently hold

There is a measuring line inside the bottle for convenience
Cons:
Quality is not that sturdy

There are chances of leakage
5. Pura Kiki 9 oz / 260 ml Stainless Steel Insulated Bottle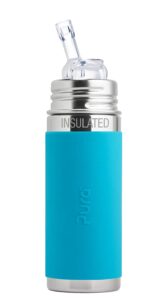 This is another incredible product that you can think of buying for your baby. The bottle comes with medical-grade silicone components and there is no presence of plastic parts at all.
There is also a silicone straw that comes with two components. This way it becomes convenient for your baby transition from sippy bottle.
Pros:
It has a completely Plastic-Free vacuum

There is no scope of chemical leaches because of the internal lining

It comes with a double vacuum insulation solution
Cons:
It has a limited warranty

The quality may not be that strong to be used
Final Words
So far, the perfect baby bottle has not been found. But bottles with less impact or no impact are certainly available in the market which is also an alternative to plastic bottles.
However, if you try to use less plastic it eventually will be the right thing to do. Glass is safe but it can be dangerous if broken. On the other hand, stainless steel is light in weight and unbreakable.
If you are planning to buy such a bottle, make sure you speak with those customers and friends who have previously used this bottle for their kids.