URPOWER Essential oil diffusers and humidifiers can save you. By the spread of essential oil, it will effectively eliminate the odor, which can create a comfortable environment for living.
URPOWER Essential Oil Diffuser Humidifier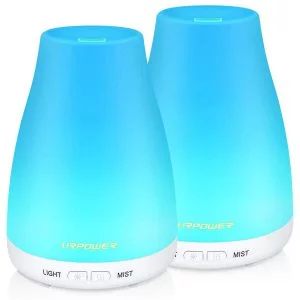 The URPOWER diffusers humidifier adopts high-quality plastic which does not contain any harmful chemicals and won't put any harmful substance in the air. It will be the perfect gift choice for you, your kids and your families. 
As the pace of life is increasing, people may easily be tired, anxious and hard to get sleep. The Ultrasonic design ensures the oil diffuser controls the smooth mist for a long time, if adding several drops of lavender oils, it will be more helpful to relax your body and fall asleep faster.
There is a powerful connection between emotions, memories, and scent. Minty oils such as peppermint, wintergreen, and spearmint can help you feel fresh and cool. Move your diffuser to the room you plan on spending the most time to help your significant other create vivid memories.
Features
Product dimensions: 7.7 x 4.4 x 4.4 inches.
Product weight: 11.2 ounces.
Shipping weight: 1.4 pounds.
Item model number: OD-103.
Easy to set up and operate.
Compact and portable design.
Auto shut off for safety.
Less than 35dB operation.
Relieve dryness and replenish moisture.
Material: Upper parts PP.
Capacity of water tank: 100ml.
Input power: AC100-240V 50/60HZ.
Advanced ultrasonic technology: 2.4MHZ.
Included things in a package
2 x Essential Oil Diffuser
2 x Adaptor
1 x User Manual