iTvanila humidifier is a double-purpose humidifier, whether you like to put it on the table or directly put on the ground, it can meet your requirements. With an Antibacterial filter and Activated carbon filter, the mist is cleaner and provides you clean air, In sleep mode.
iTvanila Ultrasonic Humidifier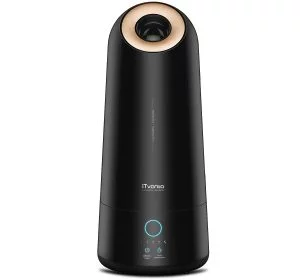 The iTvanila Ultrasonic Cool Mist Humidifier with Essential Oil Diffuser is capable of working continuously between 15 and 42 hours depending on the mist settings. If you want to run it at the highest mist, you will need to refill it more often. However, even 15 hours will be enough to provide moisture during the night. When it comes to sleeping, this humidifier is designed to produce only a whisper noise that should not disturb you.
The product is versatile and can be positioned anywhere in your house, even on the carpet. It will automatically shut off when the water content is low. This gives you peace of mind the whole time, day and night.
The construction allows for easy maintenance. You can refill the humidifier from the top and access any part when you need to clean the water tank. The humidifier is relatively light, and you can carry it from one room to another. It is advisable that you use bottled or distilled water for healthier air and more prolonged exploitation. 
Features
Product dimensions: 19.3 x 9.1 x 9.1 inches.
Item weight: 3.31 pounds.
Shipping weight: 4.2 pounds.
Manufacturer: iTvanila.
Ultrasonic technology.
3 mist modes.
Humidistat Mode:55%-60% Auto Humidity.
Auto shut-off.
Essential oils usage.
Water tank capacity:5L/1.32gallon.
Power:30W.
Voltage:120V 60Hz.
Gross weight:1.5kg.
Customer Reports
Kun Li
This humidifier is very useful, the voice is very small when used it at night, especially suitable for the room with heating. After the humidifier is turned on, it is much more comfortable and the baby can sleep more smoothly, and the humidifier has a large capacity ,it can be used for a long time so I recommend you to use it.
Hung
This sprayer is a very second type of sprayer that can spread the dust, but when the substance in the room becomes healthy when it is good for us. I bought them for my kids and my wife used everyone to like and who also weighed a good night a clean environment in the general shelter that could relax after work and class, We can tip the straw into the inside so we can listen to it, and we can do it. I really like this garment because the style is not over. look it very much I will buy more roles for all the other members in my family that I know to use and know how to know.
Mimi
I love this humidifier. In the winter the air always gets a bit dry and I need one to keep some humidity in the air. Older ones I have had a noisy and hard to clean but this one is amazingly quiet and easy to clean. I love the sleep mode also definitely a good investment.
Amazon Customer
It holds a very huge amount of water and the mist has 2 levels. I used this in my baby's room. In winter the air gets really dry. This humidifier really helped to keep the baby's room good. The noise level is also low. My baby doesn't hear it.
Don't miss our review of the best baby humidifiers that are available in today's market.