Do infants really need toys? This is a highly popular question in parenting circles. Newborn babies actually do not need toys. They spend most of their days either sleeping and eating – growing up and gaining strength. Around the third month of their lives, they become more aware of their surroundings and start sharing interests towards it. For parents, this is a fine time to introduce the first toy. These toys shouldn't be only entertainment items but should be the objects that will contribute to the child's developing stages.
So, what is the perfect toy for babies? Frankly speaking, all sorts of household objects from wooden cutlery to books will impress and entertain your child in the early days of their lives. Therefore, you don't need to spend a fortune to see them amused and giggling. What you should bear in mind is that certain playing objects will help them develop their motor skills, body coordination and strengthen their eyesight. These toys should come in contrasting colors and interesting motifs or patterns. They should be made of soft materials, should be easy to maintain and most of all, they should be safe!
There is one type of toy that is particularly interesting to infants. These are the toys with mirrors. Why is that so? As a parent, you might be asking yourself this question. First of all, babies like to see and watch grownups, children and most of all other babies. These toys are great for developing self-recognition skills. The mirrors are small in size, made of safe materials and are usually decorated with some colorful soft textiles. The decoration will catch the infant's attention, while they are engaged in their tummy time exercises.
If you are currently on the search for some quality toys that your baby will enjoy in, continue reading as we will provide you with the top ten best toys with mirrors.
1. Sassy Tummy Time Floor Mirror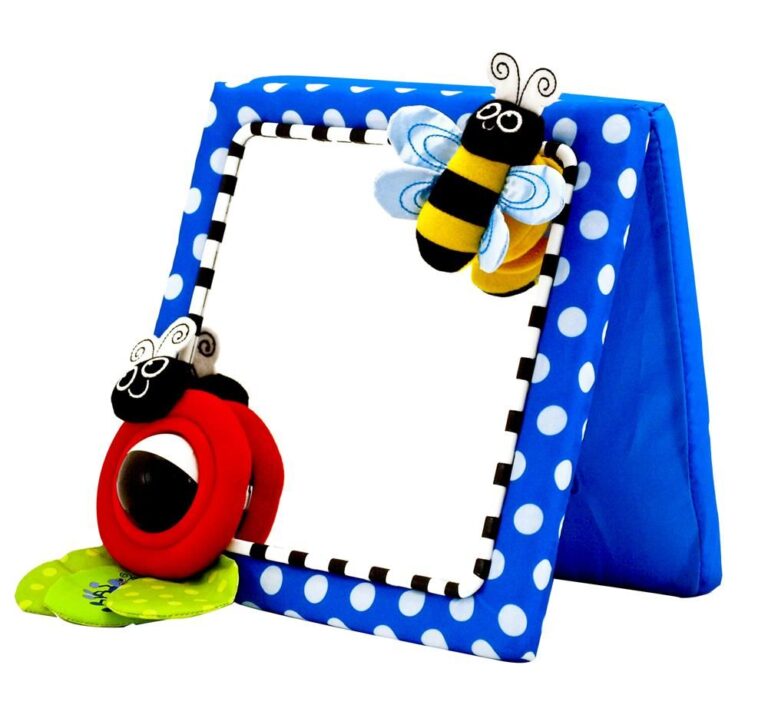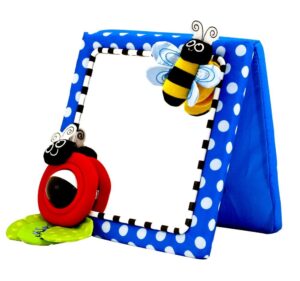 The Sassy Tummy Time baby mirror toy will encourage your child to stay focused on the human face and to do some exploring. It is made of a protective mirror and padded with a soft colorful fabric.
There are two attached accessories in a form of a ladybug and a bee. The bee will enhance the tactile exploration, while the ladybug together with a black and white tracker ball will help in the development of the visual perception.
The mirror has an easel back and can be placed on the floor for some joyful tummy time adventures.
2. Baby Einstein Flip For Art High Contrast Floor Activity Mirror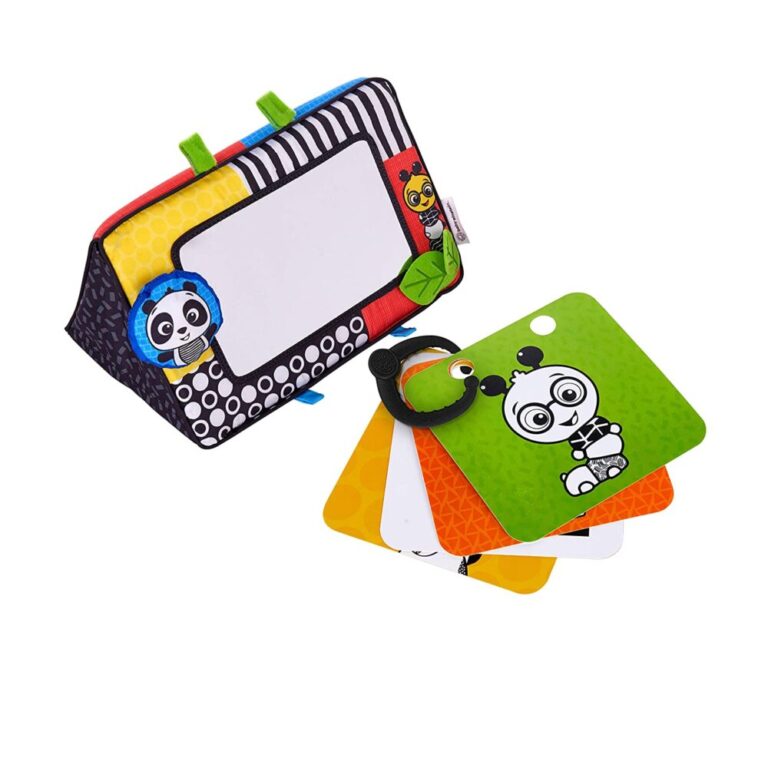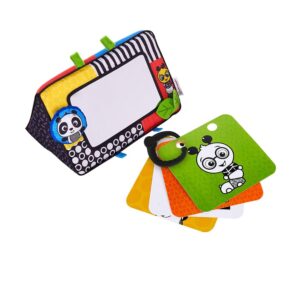 The baby activity mirror by brand Baby Einstein comes as part of a set. Together with wonderfully designed take-along cards, this mirror will entertain your infant while aiding him or her in developing their motor skills.
The mirror is packed inside a colorful padded material that comes in bright hues so even newborns will be able to detect this toy and focus on it.
The cards come with a handy toy link, so you can attach them to a carrier, or a baby stroller. Decorated with bold patterns and drawings in form of animals, they will boost your child's curiosity.
3. Sit and See Safari Floor Mirror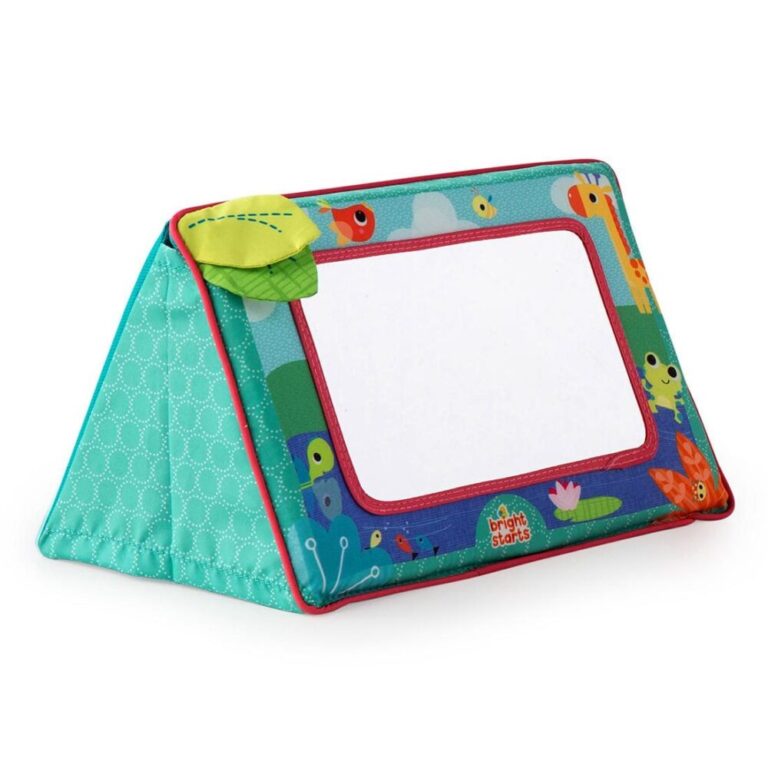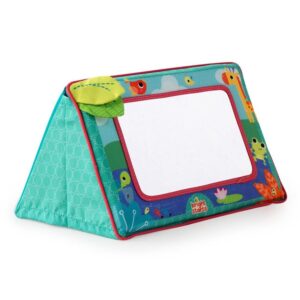 The Sit and See Safari Floor Mirror is a toy mirror designed by the brand Bright Starts. This toy will encourage the cognitive development of your newborn or your infant. Padded in bright green fabric, mimicking safari fields, this mirror can sit on the floor, thanks to its easel back.
The 3D leaves are an accessory made with a crinkle effect and have an interesting tactile surface. Your child will love exploring this adorable mirror toy. It can be easily folded and transported. This object is easy to maintain. You only need a damp cloth to clean it up.
4. Baby Crib Mirror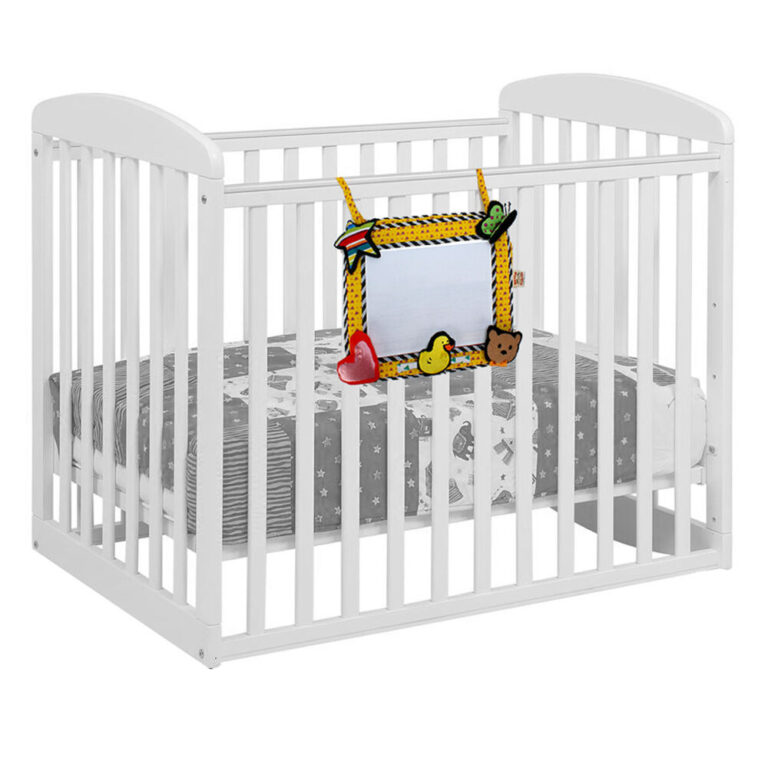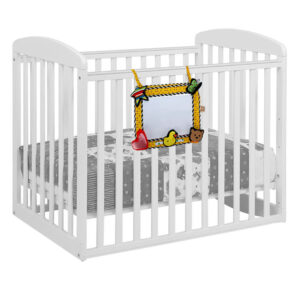 The Genius Baby Toy designed a toy mirror that can easily be attached to any crib.
Contrasting colors like black and white together with some red details are the principal hues. The mirror is padded in cotton fabric and it' back is decorated with interesting and funny illustrations your child will adore.
There are four cords that will ease up the installation process. Like other toy mirrors, Baby Crib Mirror will help your baby establish a better self-image and develop motor skills.
5. Sit and Snuggle Activity Book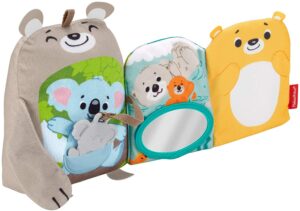 This lovely activity book is produced by Fisher-Price, a company known as one of the biggest toy manufacturers in the world.
Your child will love this book, as it is highly decorative. The illustrations in form of teddy bears, additional toys and accessories will make your infant active. There is so much to play with-mirror, plush bear toy, koala shaped teether, crinkle panel. Your baby will discover something new every day. The plush book/toy can be packed and transported effortlessly. The book is made for infants who are 3+ months old.
6. Giantsuper Tummy Time Playboard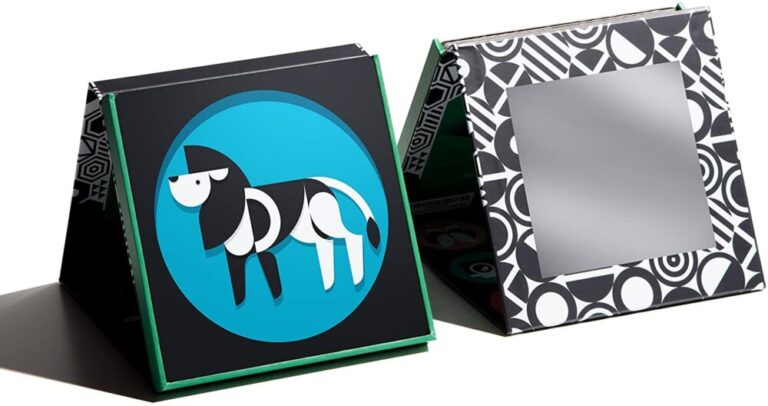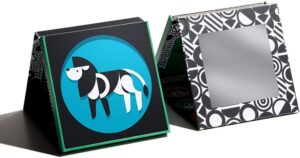 The Giantsuper Tummy Time Playboard is made for infants that are up to 6 months old. This baby toy consists of a set of 7 marvelously rendered cards, reflective surfaces that can be used as a mirror and a stand.
Drawings of different animals in contrasting hues are presented on the cards. This will stimulate the baby's brain and help children to stay focused during the tummy time. The stand is easily collapsible and can be stored without taking too much space. It is also ultra-portable as the toy weighs only 0.9lbs. in total.
7. Tumama Tummy Time Baby Mirror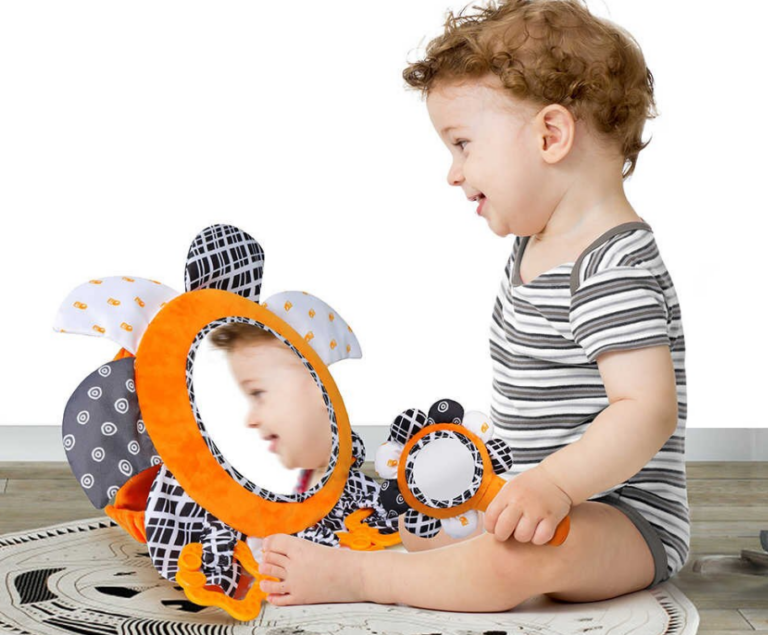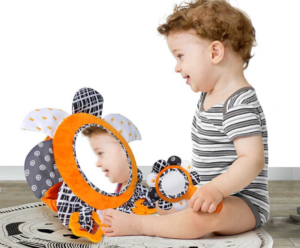 The Tumama Baby Mirror is a versatile mirror toy. It can be placed on the floor, in the infant crib, attached to the stroller, and can even serve as a car mirror for babies. It is designed in bold contrasting colors. The combination of black and white and bright orange colors, will definitely catch the baby's attention and encourage your child to focus on it.
This toy comes with accessories in the form of removable hooks, so more toys and items can be attached to it. The additional plush rattle comes in the package. Both the rattle and the mirror toy make sound effects when pressed or shaken.
8. Play & Crawl Hedgehog Mirror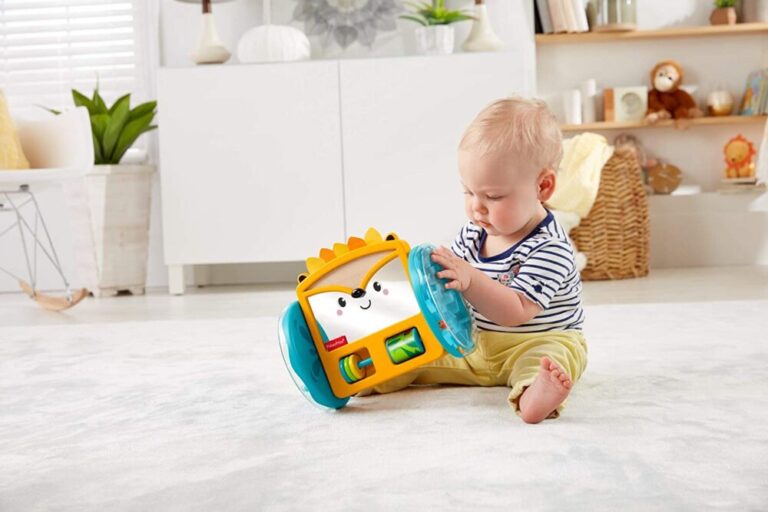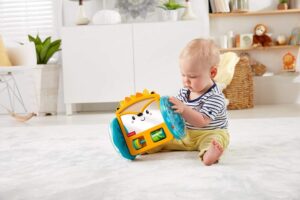 The Hedgehog Mirror is an interestingly designed toy. It is versatile and can be used in various stages of your infant's childhood. Friendly Hedgehog illustration will make your children fall in love with this toy.
There is a big integrated mirror, which is great for tummy time. When your baby starts developing sitting skills, the bat-at roller, clacker bead bar, and soft quills will encourage him or her to do some exploration.
Later on, as the crawling phase starts, their favorite Hedgehog mirror can be gently pushed, to roll along with the child and keep him or her company.
9. Koala Infant Tummy-time Soft Crinkle Activity Book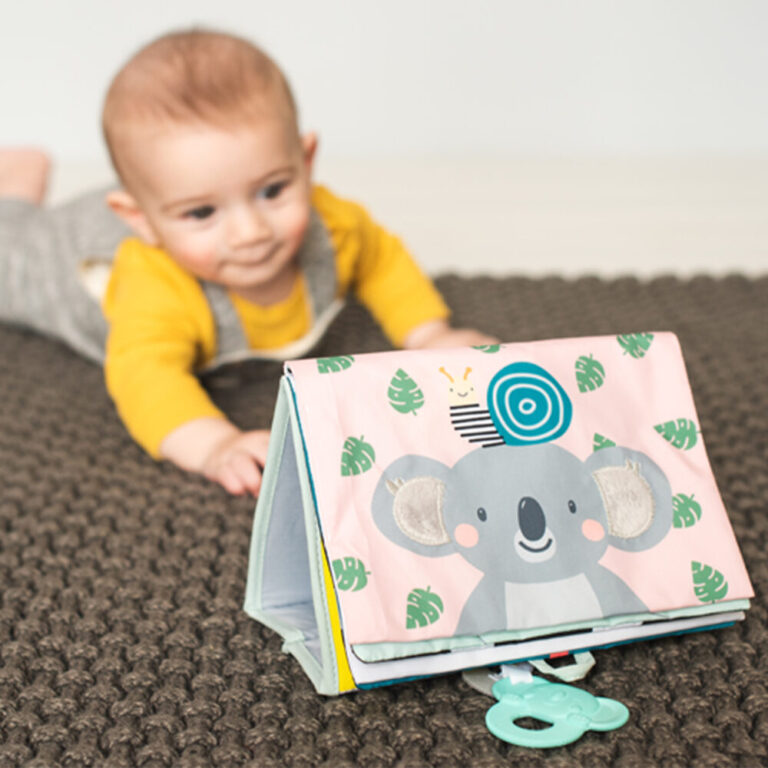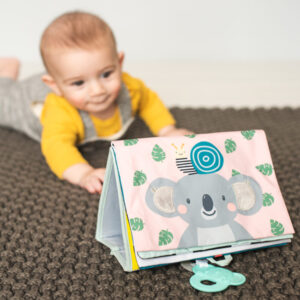 The Koala Infant Activity Book is one of the loveliest mirror toys you can currently find on the market. Decorated with sweet illustrations of koala character, the activity book will captivate your infant's attention, aiding him or her in developing their senses and emotional intelligence.
The Koala Activity Book is a perfect toy for tummy time, as well as in the early sitting phase. Accessories in the form of the teether will make this book interesting to your baby for a longer period of time. It can be placed on a flat surface, as the toy can stand up by itself. The book is collapsible; therefore, it can be stored easily away without taking too much space.
10. Tummy Time Floor Mirror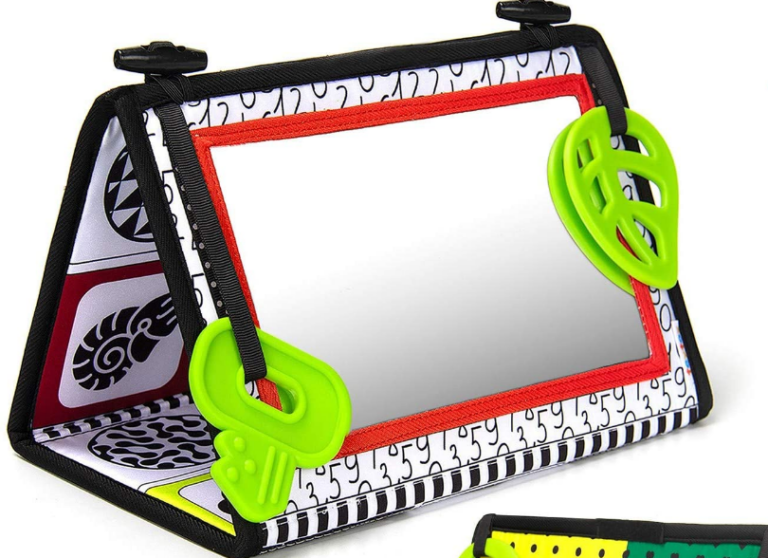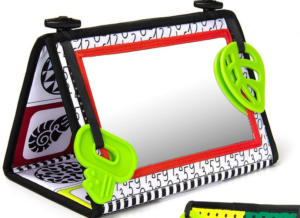 This tummy time mirror is a versatile toy, designed both for boys and girls. It can be set on the floor, or in the baby's crib.
The mirror is made of safe materials and padded in black and white fabric. Like other aforementioned toys, it is perfect for tummy time, while your baby is gaining strength in their limbs. The stimulus cards with different symbols can be freely placed, while the attached teether will ease up the pain of growing teeth.
This mirror toy can be packed and transport easily and is easy to maintain.
Have you found the toy for your baby yet? Was our list helpful enough? Hopefully, our list was convenient to you, as a parent. If you are unsure about your choice yet, a few hints could assist you in making a final decision. Keep reading our short buying guide, as we will explain more in details all the important aspects of toys for the newborns.
Colors and patterns. The toys for infants should be made in contrasting colors and in interesting shapes. Up until the fifth month of their lives, children's sight is not completely developed. Contrasting hues and interesting patterns will help your baby to focus on the actual item. Black and white are perfect colors for the newborns, while more intense hues are a great option for older infants.
A mixture of soft textures. Different soft and tactile textures should be integrated into the toy. Materials such as velvet, satin, rubber, fluffy, fuzzy materials are great for small hands who are ready to explore the world and set your little one is a new adventure. Different tactile surfaces will help your baby develop motor skills.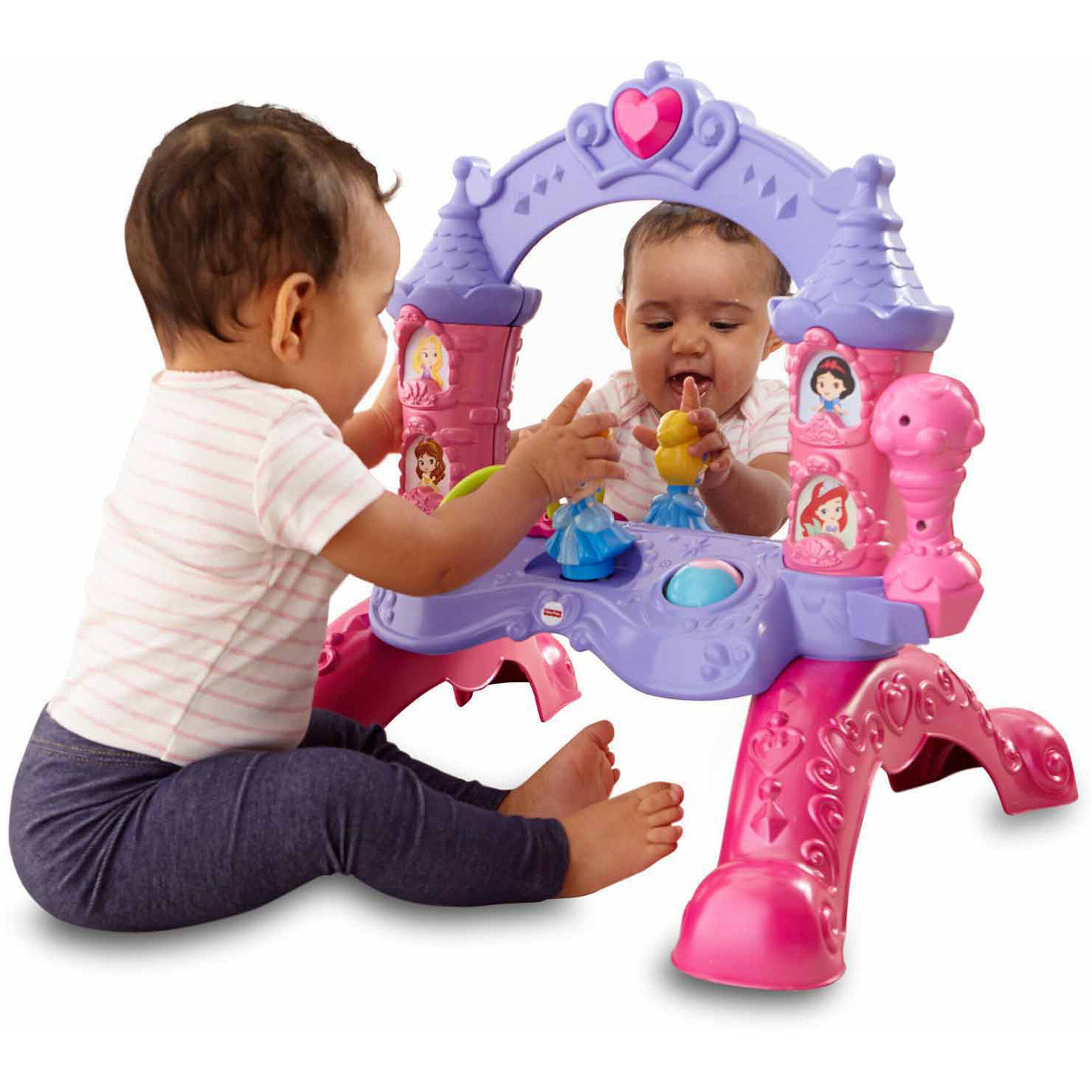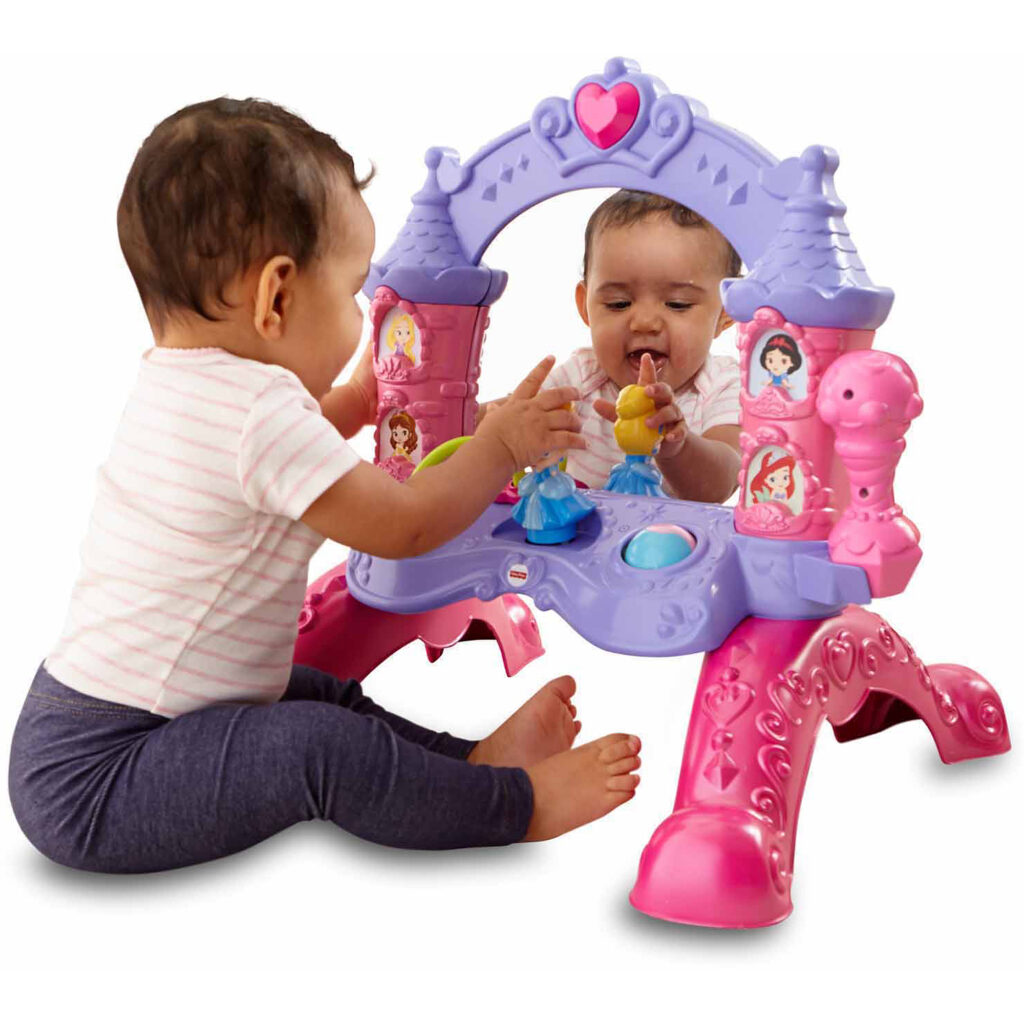 Safety measures. As a parent, you probably know it already, but baby's love, love, love to put everything in their mouth. Literally everything- from trinkets to pet food. Therefore, make sure that toy is not made of some harmful materials and chemicals. The toy should be made of one piece, so avoid toys that contain small parts and particles.
Maintenance. Make sure that the toy you are buying is easy to maintenance. What this means is that the item is washable, either by hand, in a washing machine or in a dishwasher. Pay attention to the drying method, as well as to the drying time. Some materials are prone to mold, so be informed prior to your purchase.
Sound effects. If the toy makes sounds such as lullabies or play songs your baby will be entertained for sure. Attached bells and crinkles will amuse your infant. Children love sounds and noises, and they will be stunned if the toy, when touched or squeezed, makes them. Sometimes these sound effects might become a little bit overwhelming for the adults, so make sure that there is a controlled way of playing them.
Up now you are some FAQ (frequently asked questions). They may give you a new perspective or resolve your doubts about baby toys with mirrors. Hopefully, they will give you a clear picture of these types of toys.
Is it ok for babies to look in the mirror?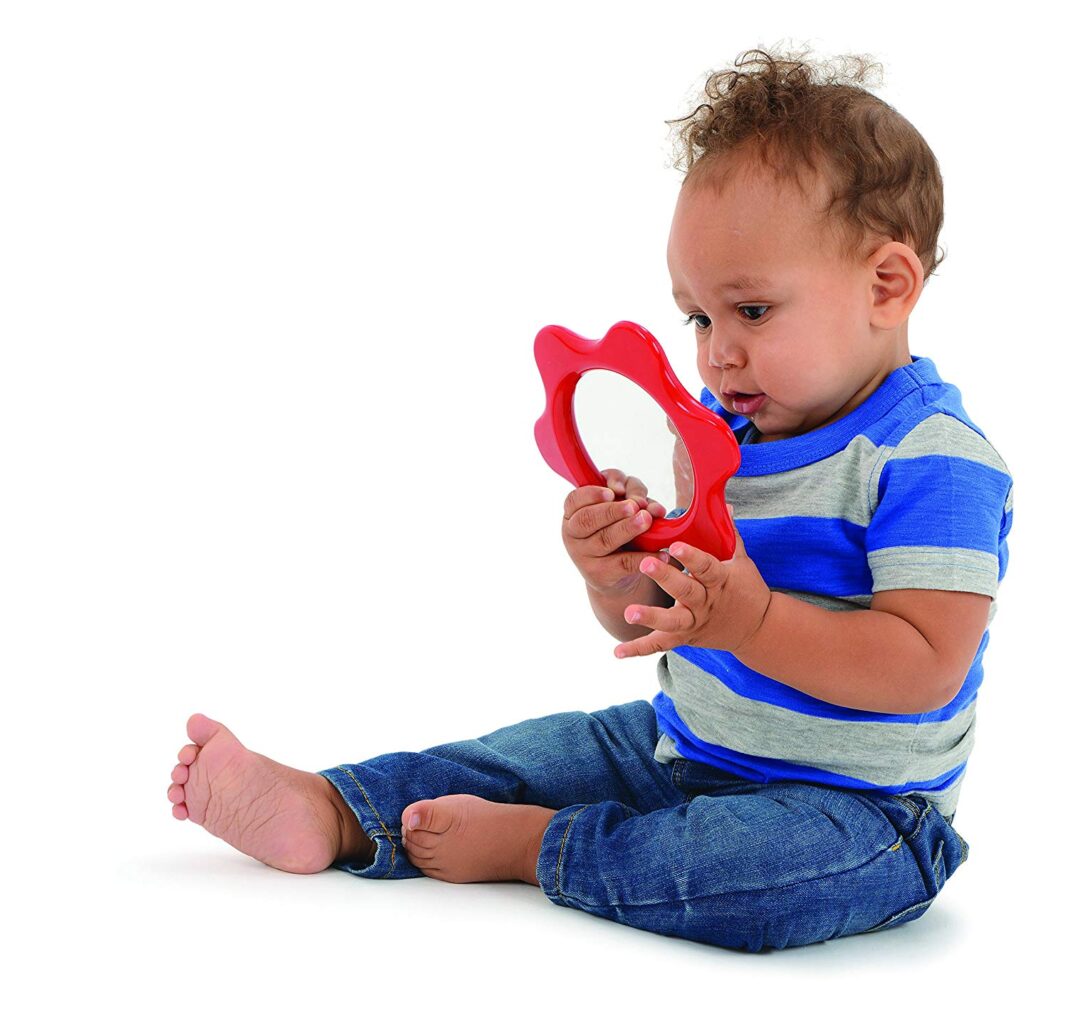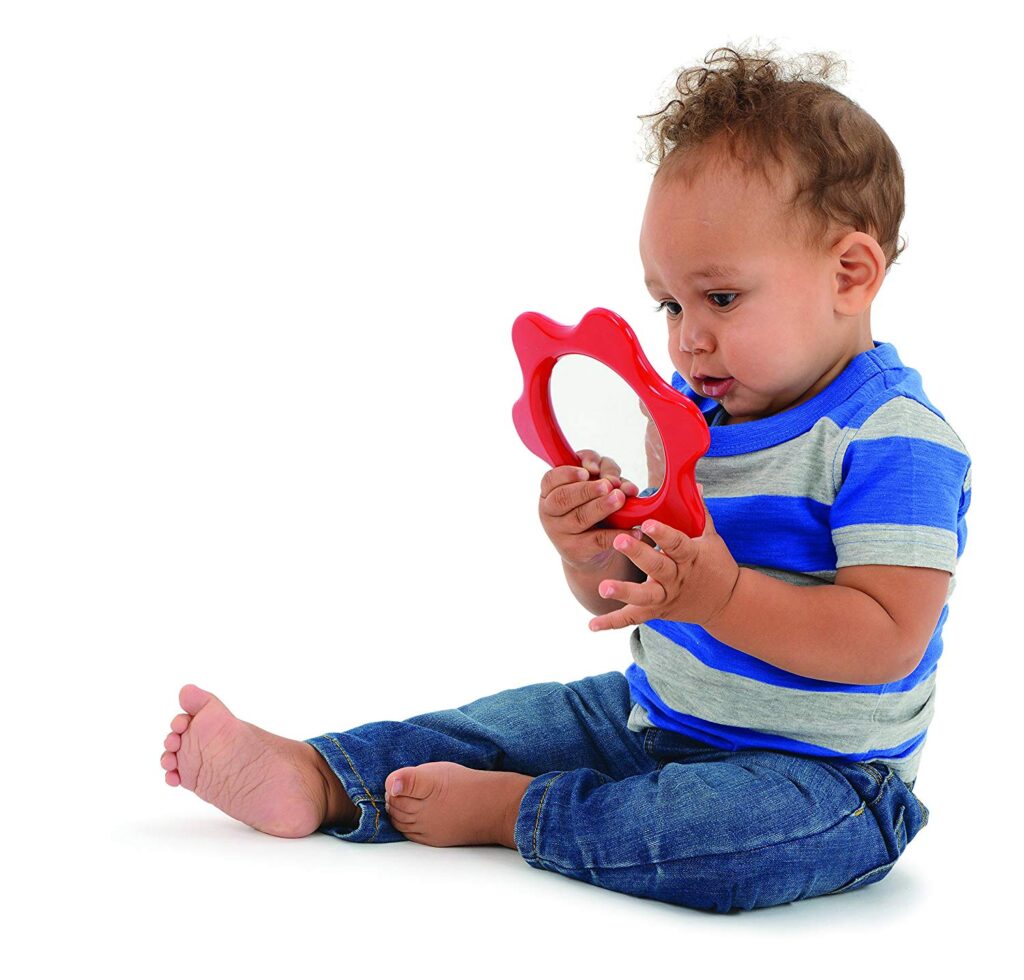 Yes, it is absolutely good and safe for babies to look themselves in the mirror.
Furthermore, mirrors are proven to be good for their motor skills and overall development. Infants love seeing faces and mirrors are great in helping babies do some exploration. Eventually, children will learn to recognize their own reflection in the mirror and become self-aware.
What toys make babies smarter?
You can start stimulating your child's brain from an early age. The best toys for your baby are the ones that encourage all five senses- sight, hearing, touch, smell. Give them toys that will animate one or all senses. As the newborn's sight is very limited, get him toys that come in black and white or brightly colored objects. Toys that make sounds, such as squeaking or are playing a melody are also a good option. Toys with different tactile surfaces and materials can help in further brain development. However, make sure that the toy is always clean, as your baby will certainly put it in his or her mouth to get that "extra feel" of the item.
What toys do 3-month-old play with?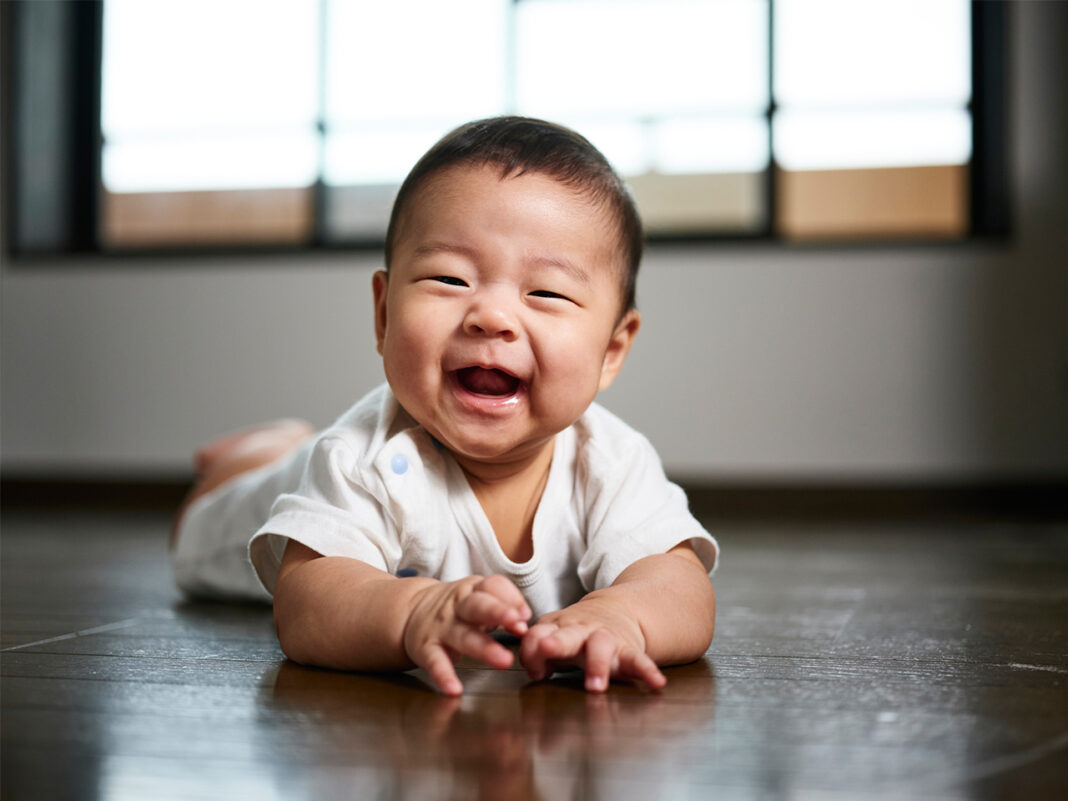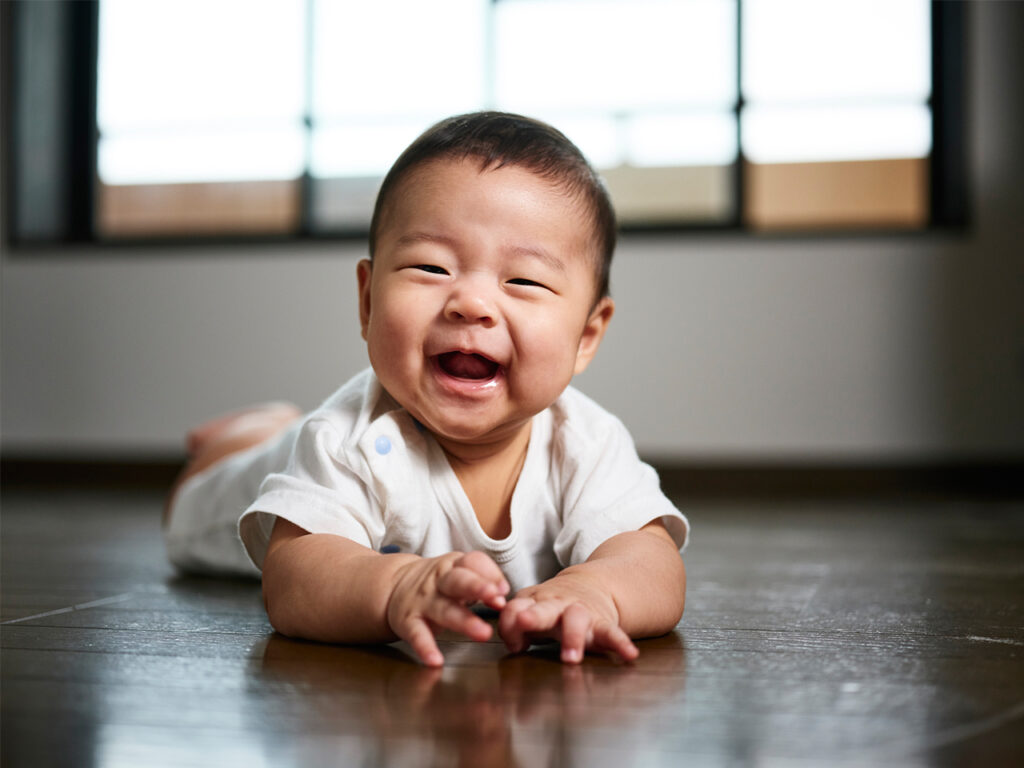 When your baby about three months old, he or she will start exploring the surrounding world. They will also start getting to know the objects by putting them in the mouth. According to the doctors, this type of behavior should be encouraged so make sure that hygiene of the toys is always at the highest level. This is a great time to add a fun toy in your baby's tummy time. Toys that come with mirrors, activity mats, books, teething toys are some of the great options for the three months old baby.
What kind of toys do you get for a newborn?
As we previously said, there is no actual need to provide your newborn with a toy. Newborn babies spend most of their time either sleeping or eating, as they are growing, and getting stronger.
In case you are searching for a gift for a newborn, stick with simple and safe objects that will encourage exploration. Opt for black and white-colored toys with interesting patterns, as young babies have very limited seeing capacities. Soft books, grabbing balls, activity gyms. These toys will help babies to stay focused and develop their coordination and mental skills.
Are mirrors safe for babies?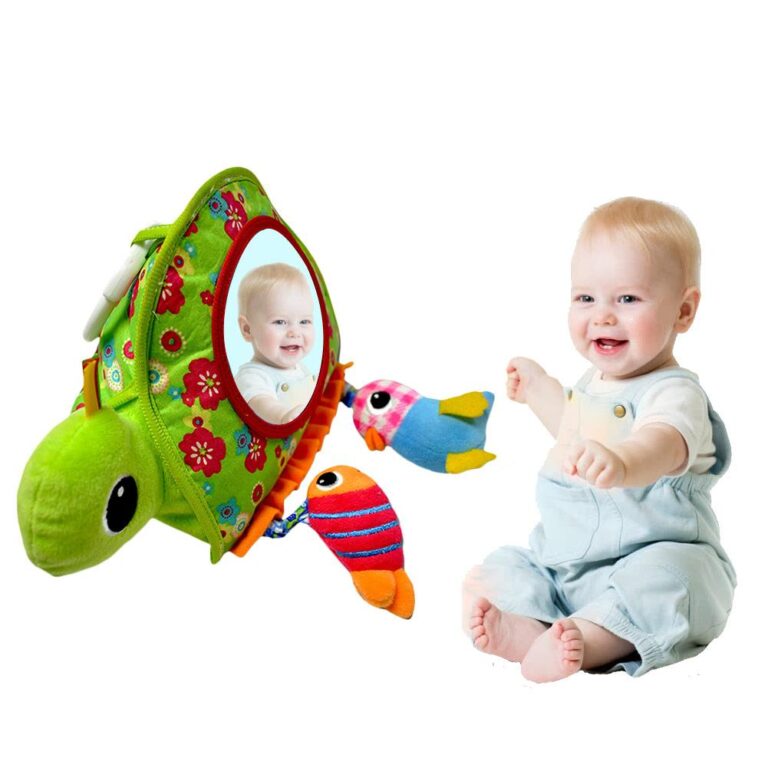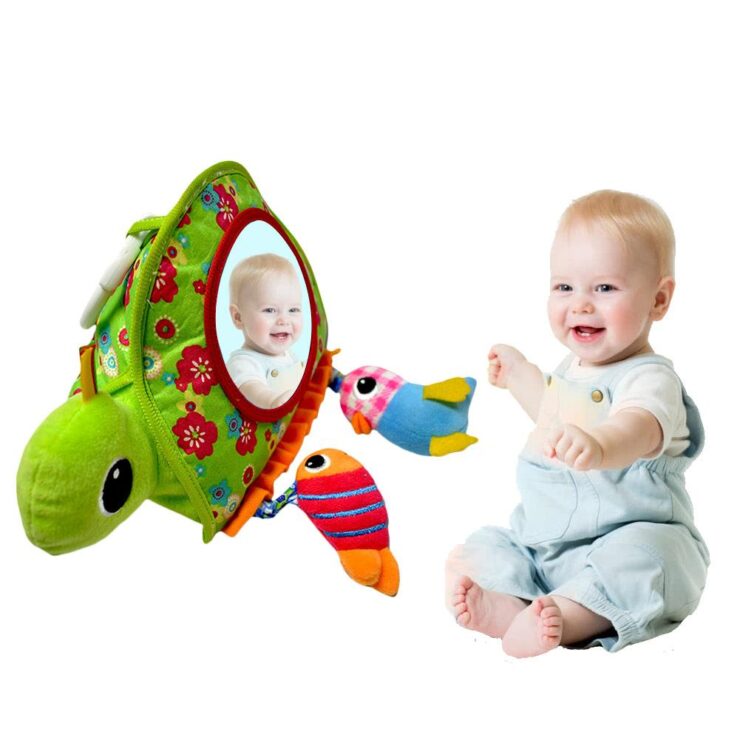 Regular mirrors are by no means safe for babies nor for children. But, like aforementioned, baby mirrors are perfectly safe toys for infants. They are made of reliable and harm-free materials that are unbreakable. These types of toys will encourage your child to explore his or her surrounding and help them develop some important mental skills. They usually come with colorful accessories that make sounds.
Your child will be amused by these baby gadgets and will spend a long time on his or her tummy.
Where should a baby mirror be placed in a car?
The safest place for a baby in a car is a securely fastened baby seat, on the rear seat of the car. The baby should be facing the rear seat. Whereas the mirror, itself should be mounted on the infant seat. The mirror should be placed so, that the driver can see the baby in his or her rear-view mirror.
What age does a human baby recognize itself in a mirror?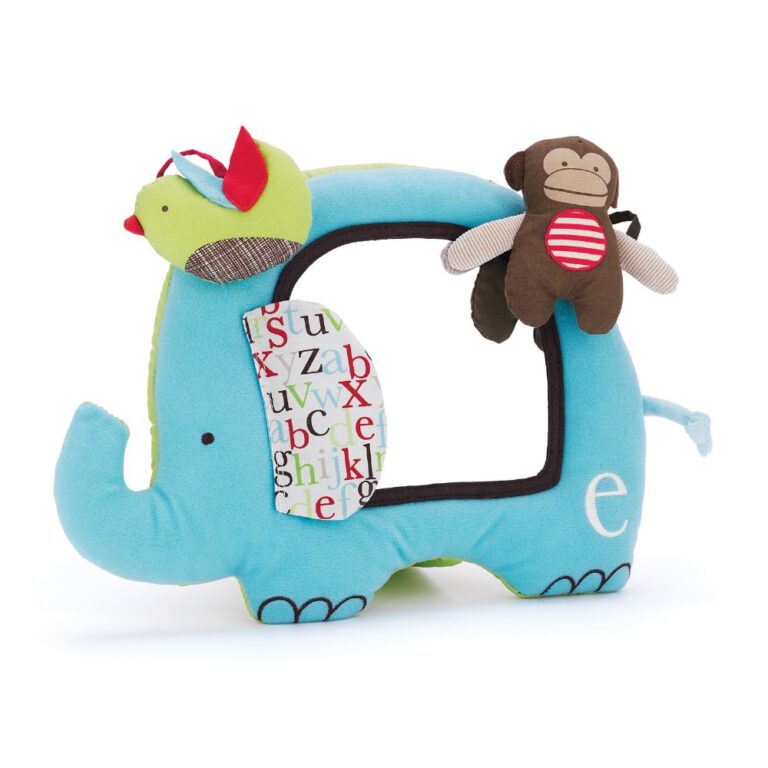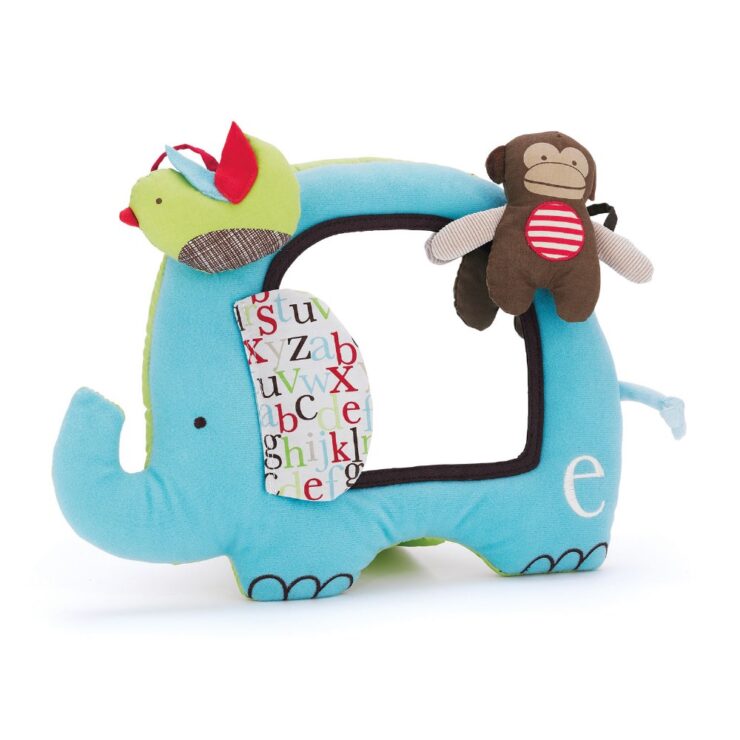 Most babies don't start recognizing themselves in the mirror up until around 20 or 24 months. Young infants don't really recognize themselves, but usually think that there is another child against them. After they turn one and until 20 months, they are unsure what to think of their reflection. It is only after that age when they clearly start to acknowledge themselves and become self-aware.
Conclusion
Getting the right toy for your baby is a personal decision. As we have previously shown in a child's early day's toys should be stimulating. Their role is important as they can help infants in growing their first skills and develop motor skills and coordination in space. They encourage them to explore the world around them and get their first experiences. We have created a list of ten best mirror toys that can be entertaining and at the same time help your child. Hopefully, this list has helped you chose the correct first mirror toy for your own baby.