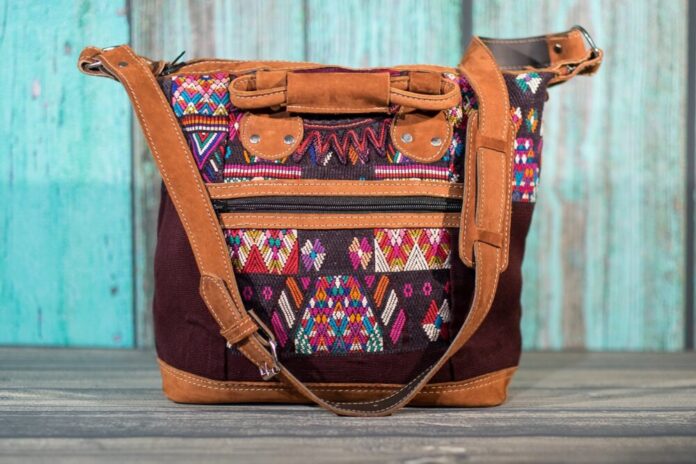 Diaper Purse bag combo designs are usually so sleek looking. In today's market, you will be able to find a variety of versatile diaper bags that looks like a purse.
Baby diaper bags have changed quite a bit in the recent past.
These purse-like designs come in a lightweight style and they are convenient for carrying your wallet, keys, phone and your infant's item such as diapers, thin fleece blankets, diaper creams, travel wipes, baby wrap and much more.
You can use these diaper-bags for other purposes even as you go out alone without carrying your baby. You can use them alternatively, as a catch-all handbag or as a make-up purse as you stroll, shop or even during hiking. They are a hassle-free method to hold most of your items, together with your baby's item especially when you are outdoors.
They come in different designs with different colors and shapes. These bags are not huge but they have plenty of space and interior pockets to accommodate all items together. Some are designed with a strong zip-top closure to keep all your items safe. Some of them come with stretchy straps and fabric loops to aid in organizing items.
Most of these designs fall within the tote, clutch, or duffel types.
Here are top-rated designs to choose from.
1. CANWAY Large Travel Diaper Bag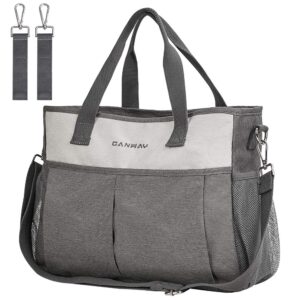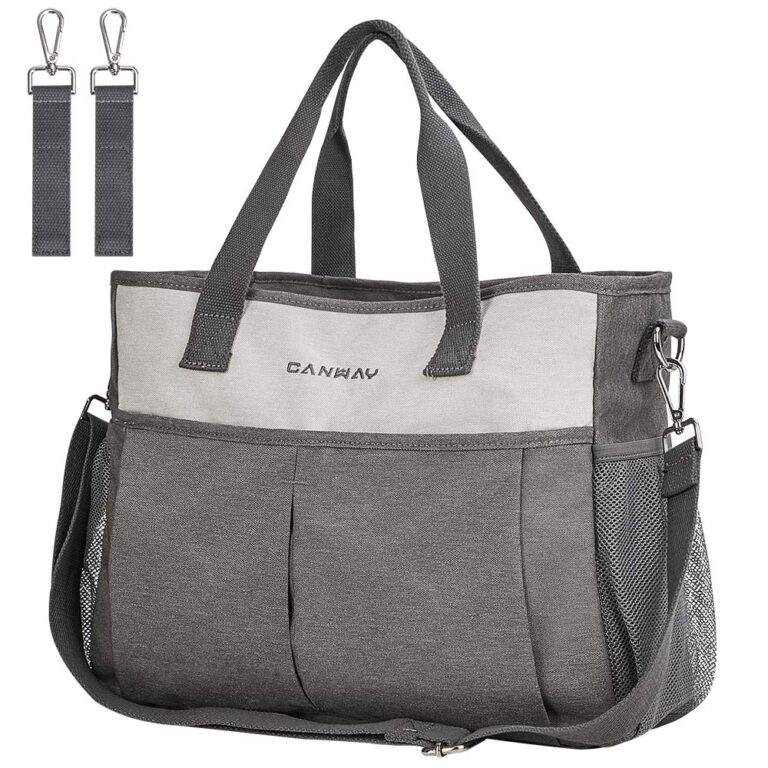 This Madame Polly Diaper Bag is a stylish, super-chic nappy-bag. It is spacious with plenty of space for your baby's items and your personal belongings. It comes with 3 inner separate compartments, stroller clips, a shoulder strap, a removable zipped purse, a snack bag, a change mat and a bottle holder.
The bottle holder is insulated and removable. The interior is fully lined. Designed in Australia. The changing mat is fully padded. It is made of Vegan man-made leather that is easy to wipe clean.
2. BabySense Mom & Baby Handbag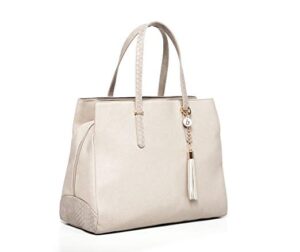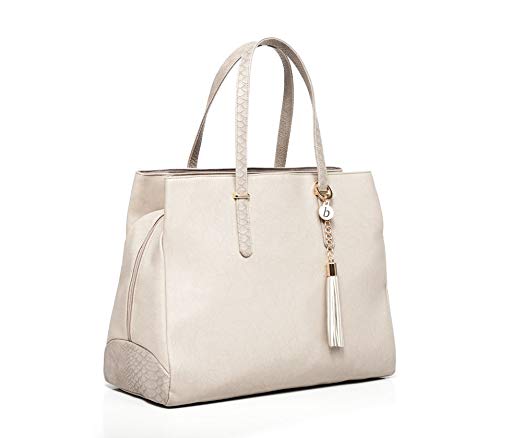 This Mom & Baby Handbag is quite roomy with 7 inner pockets, the main compartment with dual zipper system, 2 bottle holders, change mat and 2 external pockets. Five of the inner pockets are elasticated and one is zipped.
It also comes with a handle, 2 stroller straps and an adjustable shoulder strap. One bottle holder is detachable & insulated to keep drinks cool or warm. The front pockets are very easy to access. The changing mat is easy to wipe clean.
The base features a sturdy metal base. This bag is available in nude, black and Charmaine colors. It can also be used as an airline carry-on.
3. Babymel Grace Tote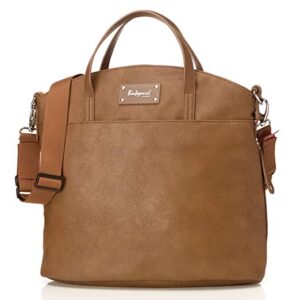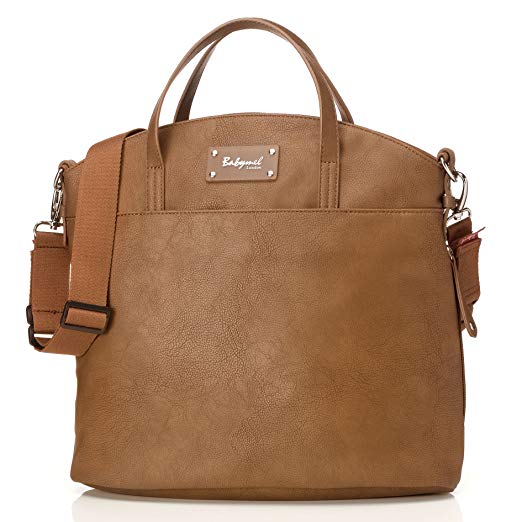 This Babymel Grace Tote is made of Vegan water-resistant leather material. It comes with a changing mat, a shoulder strap, grab top handles, 3 internal and 1 external pocket. The main wide compartment has a zipper closure. There is an insulated exterior hidden bottle pocket.
It has stroller straps that are in-built in the shoulder strap. This tote is easy to keep clean, as it is wipeable both inside and outside. It is versatile, classy and stylish. It is lightweight and portable.
4. mommore Tote Handbag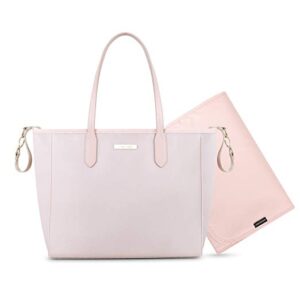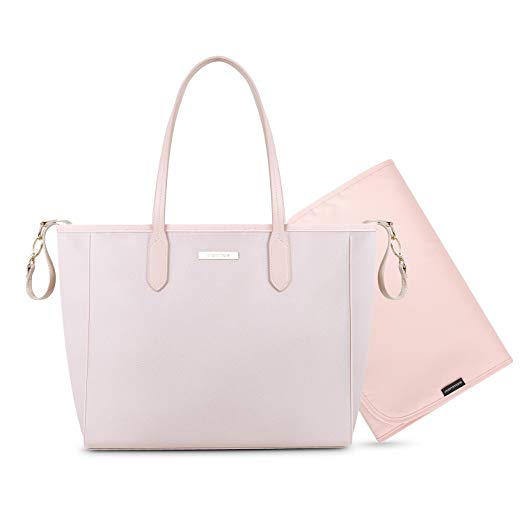 This mommore Tote Handbag is made of premium Nylon waterproof material that is easy to wipe clean. It comes with a changing pad, 10 inner pockets, one main compartment, stroller hooks, in-built key ring and one outer zipper pocket. It comes with a lot of pockets to keep you organized.
The outer zipper pocket has other two small inner pockets. Two inner side pockets with elastic hooks will hold the milk bottles. The tote is large with plenty of room for your laptop, iPad and A4 documents. It has an attractive, stylish look. Available in pink, blue and black colors.
5. Skip Hop Versa Black Expandable HandBag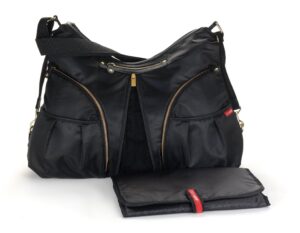 This expandable design comes in black and khaki brown colors. In addition, it also comes with a cushioned, polyurethane foam pad for your baby changing needs.
It has 11 pockets. 2 pockets at the front are insulated to hold your kid's bottles or sippy cups.
There are 4 inner pockets to organize your personal necessities including wipes, clothes, toys and much more. It is made of polyester and comes in a lightweight design. It is soft and has a water-resistant lining. It is BPA, PVC and Phthalate free.
The top has a secure zip closure. The center has a zipper that makes it expandable for additional storage space.
It measures 13 inches width expanding to 16.5 inches by 14 inches in height by 4 inches in depth. You can carry it over your shoulder or hang it neatly on a stroller by using of its non-skid adjustable straps.
6. JJ Cole Satchel Bag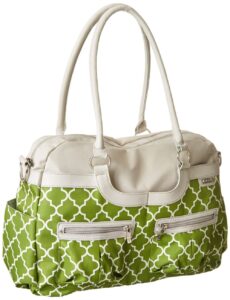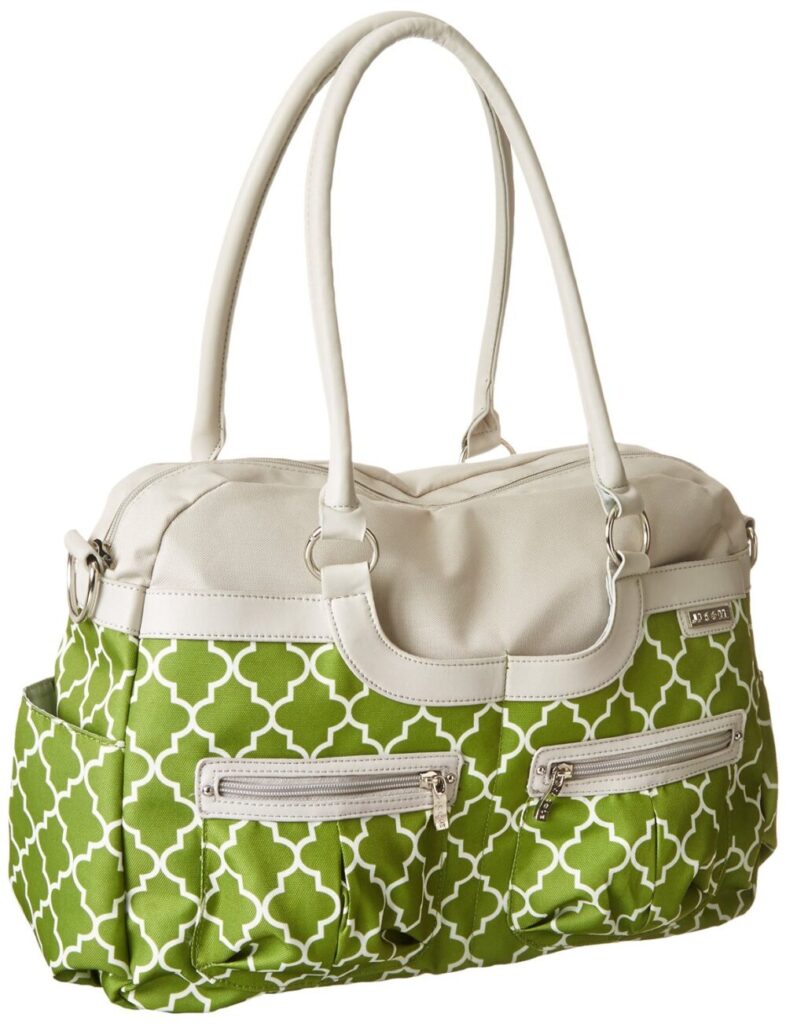 This satchel design comes with seven exterior zippered and open pockets to hold sippy cups, your keys, and phone.The interior  4 pockets will hold everything that you require for the baby.
The removable padded strap allows you to have different carrying options including being able to carry it hands-free. It comes with stroller attachments that allow you to safely hang the satchel on a stroller. It is not deep and will keep your things more accessible. It comes with a changing pad.
It is made of 100% Polyester and each design comes with a colorful lining. It is available in different colors. It is manufactured in the USA and is Phthalate and PVC free.
It measures 12 inches in width by 18 inches in height by 7 inches in depth. It weighs 1.6 lbs.
7. JP Lizzy Designer Satchel Bag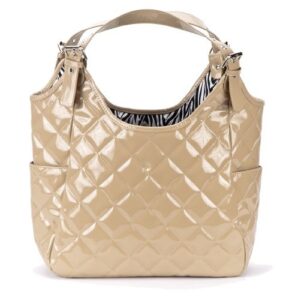 This sleek and modern design features a faux leather exterior that is quilted. It comes with a changing pad and is very spacious with both exterior and interior pockets.
On every end of the bag, there are open pockets that are perfect for storing bottles. It has a large zippered pocket on the inside.
The exterior is very easy to clean. The straps can unbuckle easily making it possible to hang the satchel on a stroller. It features a snap closure.
8. Logan & Lenora Wet/Dry Diaper Clutch



This clutch design is ideal for short trips such as running errands or doing grocery shopping when you don't have to carry a lot of items.
It features cotton thick canvas exterior fabric. It has a waterproof fabric lining that is free from Phthalates and BPA. It will fit four to three diapers and still have room for other items. It has sections for soiled and clean diapers.
It is manufactured in the USA and comes in different colors and patterns.
9. SoHo Collection 7 pieces Diaper Bag set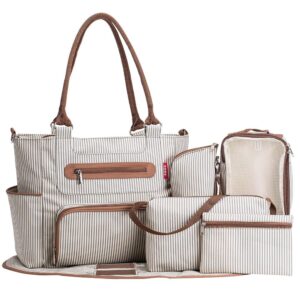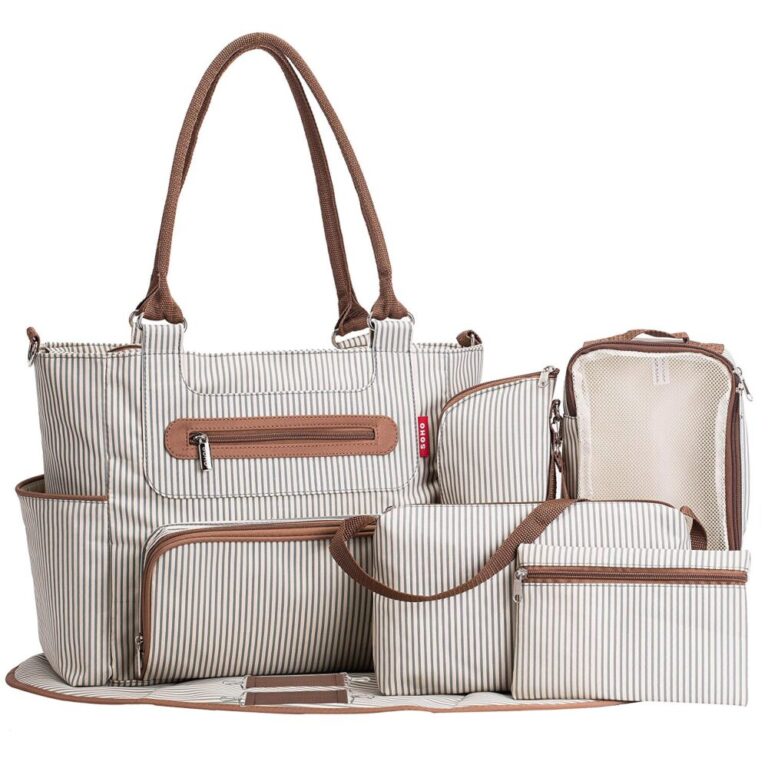 This 7-piece set stylish bag is designed by parents for parents. It comes with an insulated personal purse with carrying strap, changing pad, accessories bag, organizer bag w mesh top, insulated bottle bag and stroller straps.
The exterior is very easy to clean. The straps are adjustable to allow you to carry it either hands-free or as a crossbody bag. It comes with 3 exterior and 6 interior pockets. The top has secure zip closure. The lining is water-resistant and lightly colored.
It measures 13.5 inches in height by 17 inches in width by 6.5 inches in depth.
Final Words
When selecting the ideal choice, look for styles that will be in rhyme with your daily routine, along with additional factors like durability, stylish preference, and spending budget.
You shouldn't pick one that may end up becoming bothersome on your neck, the shoulder area or hands when it's carried.
In order to prevent items from getting cluttered all-around, making it difficult to identify items as required, choose a design that has multiple internal and external storage compartments.
When buying a Diaper Purse bag look for a chic design that does not feel like a nappy bag. There are various super stylish designs that you can carry around like it's a purse.
Secure zippered pockets are a must for holding money, phones wallet and other valuables.
Spacious compartments will help keep all the baby necessities and your personal items well organized.
A well-made design with high-quality material will serve you for a longer time.
Lastly choose a design that is versatile for all occasions and can be taken everywhere be it in the zoo, the beach, when traveling or shopping. An ideal office-bag should be roomy enough to fit a laptop, A4 paper or an iPad.
Images courtesy of Amazon