Large diaper bags for triplets and twins are a necessary accessory for parents even those with a newborn and a toddler at the same time.
A large stylish baby bag is usually an essential requirement for such parents at least during the initial 24 months.
Babies need clothing, playthings, receiving blankets, baby diapers, changing wipes, baby carriers, and other items, which is why a large bag ought to be on each and every mother's must-have checklist.
This diaper-bags feature numerous designs in stunning different materials such as fabric, canvas, and leather, but with something to enhance each and every mom's individual style.
Some have intricate designs while others come with very basic styles. They vary in sizes, shapes, and colors too. They are easy to carry along when going out with your kids.
Here are top-rated designs available at Amazon.com
1. Take It All Skip Hop Bag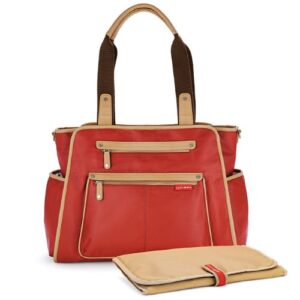 This makes it all bag features durable, lightweight nylon and polyester material. The straps feature cotton material with faux leather trim. The material is phthalate and BPA free. It has three large compartments with zip closure.
The baby's compartment has a toy loop and a clear zip pocket, while the mother's section has a sunglass fleece-lined pocket, a zip and a phone pocket. In total, it has 11 pockets. On the exterior part, you will find 2 insulated bottle pockets at the side and 2 large zip pockets.
It comes with a changing pad. You can carry the bag over your shoulder or hang it over the stroller handlebars. It measures 18 inches width by 13 inches height by 6 inches depth.
2. Be Prepared Ju-Ju-Be Bag



This is a functional and sleek design constructed with non-slip, nylon fabric. The main strap features a memory foam pad. This bag comes with other items that include a pocket for moms to organize their accessories, a key fob stretchable cord, a changing pad, sunglass holder, pocket designed for holding photos, adjustable shoulder strap and smaller handles that can easily be tucked away.
It has 17 storage compartments. The main interior compartment is ideal for organizing clothing and diapers. There other smaller magnetic pockets for organizing smaller items. There are 2 insulated exterior bottle pockets at the sides. At the front side of the bag, you will find zippered compartments for carrying tablets or books.
It is available in a range of colors. The main compartment features a zipper closure system to allow easy access. Its bottom feet help to keep the luggage off the ground. The interior is light-colored. It measures 18.5 inches width by 14 inches height by 6.5 inches depth.
3. Duo Double Skip Hop Hold It All Bag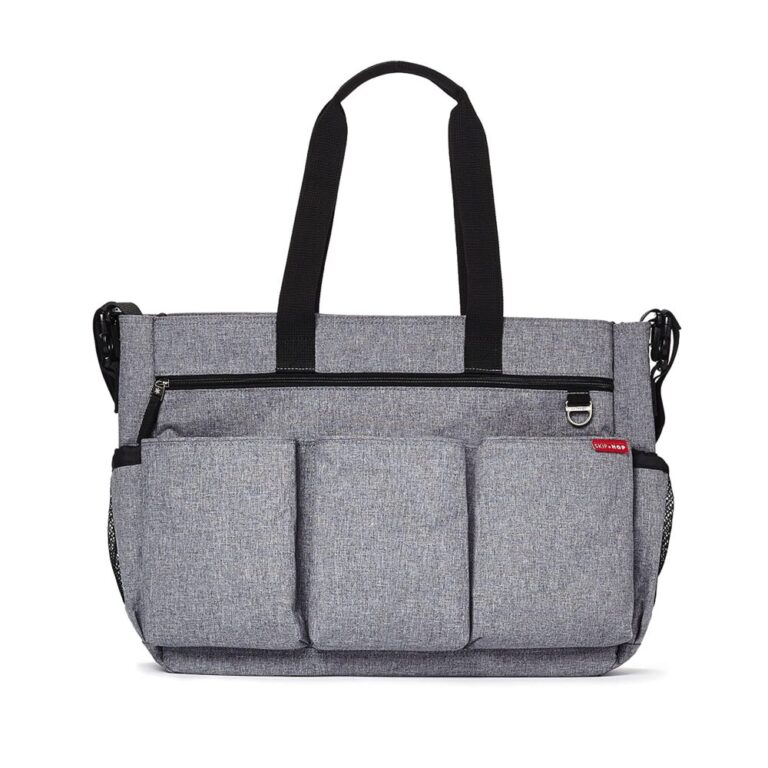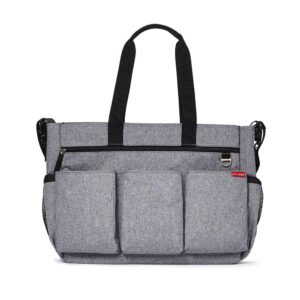 This holds it all bag is made of canvas material. It comes with a cushioned changing pad. It has 16 pockets with magnetic snap closure to keep all your items organized. The exterior front has 3 snap-closure pockets, 2 drawstring pouches at the sides and 2 deep pockets on the other side.
The interior has 8 pockets, 3 of them are mesh pockets and 2 fabric pockets ideal for diapers and wipes. The mommy section comes with zip closure. It also comes with stroller clips for attachment and fits well on handle-bars of a double stroller. It has both tote handles and a messenger strap.
4. Convertible Ju-Ju-Be Bag



This Convertible bag is made of nonslip polyester material. The outer fabric is Teflon treated while the inner linings are anti-microbial protected. It is BPA free and also features luggage feet and metal hardware.
It has one large main compartment and 4 interior smaller pockets. The exterior has 3 zippered pockets and 2 insulated bottle pockets. The mom section has two open pockets and one zippered pocket.
Other included accessories are an adjustable memory foam shoulder strap, a sunglass holder, a changing pad made of memory foam, a key fob stretchable cord, and a picture pocket.
You can adjust the shoulder strap to be able to carry it as a messenger bag or as a backpack. It measures 14 inches width by 12 inches height by 6.5 inches depth. See the video below for a better illustration of the features.
A great choice to pick is one with plenty of interior space to accommodate all your infant items including your own individual needs. Choose designs with dividers and compartments that will help you to keep items separate in order to remain well organized.
Your particular choice should be adequate enough to hold all your essentials but should also not be too large.
Images courtesy of Amazon