A triple stroller is a lifesaver for parents with triplets or three young children who are close in age, for instance, a toddler and a set of twins.
If you like jogging, you will definitely find a uniquely designed jogging stroller to use in order for you and your kid to get fresh outdoor air instead of being confined to a chair.
This trio stroller will help you to contain your kids when visiting the mall, the zoo or during your regular or occasional walks.
These strollers are available in a wide range of sizes, prices and features.
Some of them come with large storage baskets underneath for those who like carrying a lot of baby stuff such as blankets, baby holders or baby mats.

1. Joovy Big Caboose Stand-On Stroller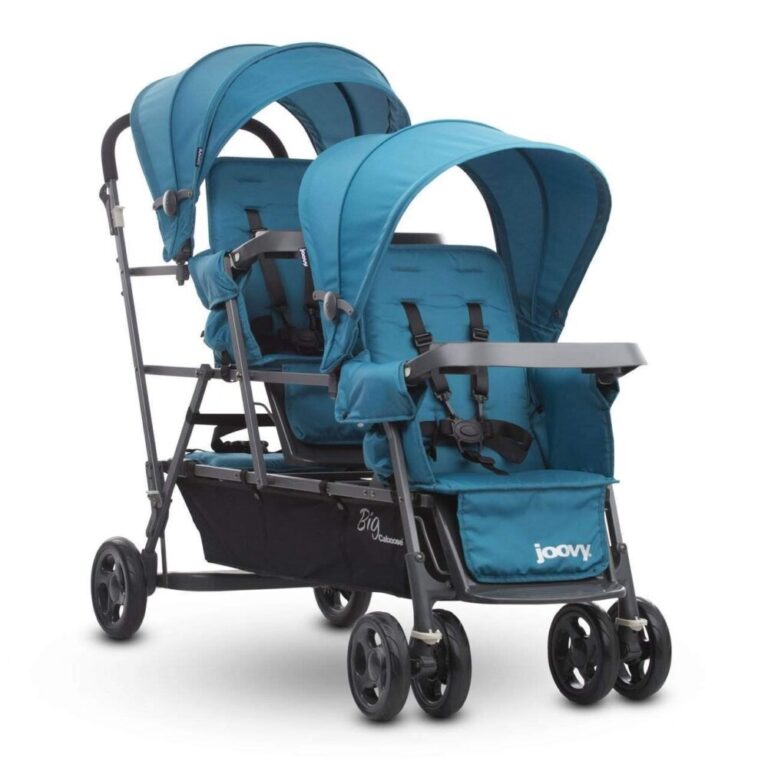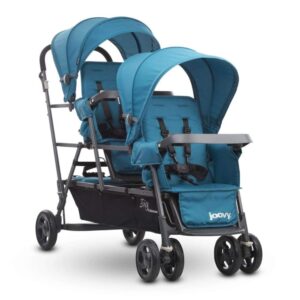 CThis Joovy Big Caboose Stand-On Stroller has 2 full-size seats, a patented rear platform, 2-foot rests, 2 universal infant car-seat adapters and 2 child trays. It is very easy to assemble and accommodates kids weighing 40 to 45 pounds.
The 2 full-sized front and middle seats are recommended for babies aged 6 months and older, with a weight of up to 40 pounds. These small babies will ride comfortably in the seats. These seats can be reclined into two different positions either forward-facing or rear-facing.
The full-sized seats come with removable canopies which are very convenient during sunny days. Underneath the seats is a large basket for storage of baby items. The patented rear standing platform is recommended for older children aged about 2.5 years who can stand on the platform.
The child should have a weight of up to 45 pounds. A padded rear seat with a seat belt has been included for the older child to rest if tired. The frame is constructed with lightweight, durable metal. A 5-point harness is included to safely strap the baby in position. These harnesses are normally tucked away on each side to avoid getting caught under the seats.
This is a great stroller with a nice look and good quality. The handle is padded and comfortable on the hands. The sealed bearing wheels make it easier to navigate through store aisles, parks, and zoos. It is easy to fold down after use.
The car seat adapters are compatible with a wide range of car seats. It is available in two colors – apple tree and black. It weighs 34.2 pounds.
2. Valco Tri-Mode Twin EX Stroller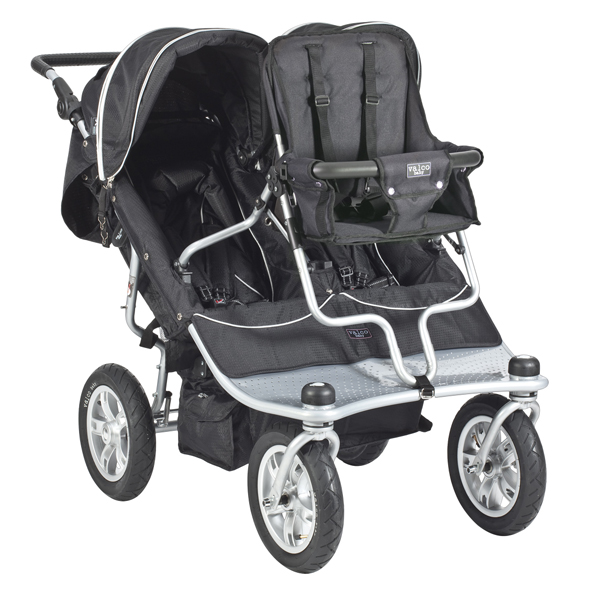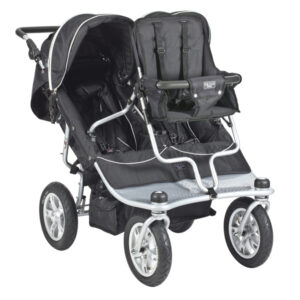 This Valco Tri-Mode Twin EX Stroller accommodates up to three children. A toddler Joey seat is sold separately to accommodate the third older child. The recommended weight per seat is 45 pounds.
The seats come with a recline function and are plushly padded for extra comfort. Your two young-ones will ride comfortably sleeping comfortably while the older child sits on the toddler seat.
The seats are 12-inches wide with a 5-point harness. It has four 12-inch air-filled tires that ride smoothly on most terrains such as snow, grass, sand, gravel, and ice. The canopies are rounded in order to provide full coverage and to protect from the glare of the sun.
This model comes with a roomy side basket, pockets at the back of the seats and back of canopies. Additional extras included are a rain cover, a tire pump, front bars, harness and head hugger covers.
The stroller weighs 33 lbs and folds to a smaller size for compact storage… You can also add a hitchhiker (sold separately) to your unit so that the older child can stand and rest from long walks. You can use this stroller as a jogging stroller by adjusting the wheels.
3. Foundations Trio Sport Tandem Stroller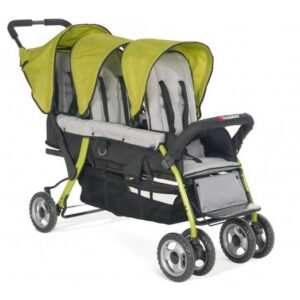 This Foundations Sport Tandem Stroller has 3 seats each with a canopy to protect against UV rays and harsh weather. The recommended weight is 40 lbs for each seat. Each seat has a width of 13.5 inches and has an adjustable 5-point harness and 3 adjustable height positions.
The front and rear seats usually recline to accommodate young infants. The basket under the seats provides ample storage.
This model is equipped with heavy-duty rubberized foam wheels which make it easier to navigate. A foot-activated brake system secures the stroller once it is parked. When the handle is released, a safe brake system is engaged. The frame is made of durable lightweight tubing.
The handles are ergonomic in design making it easy to maneuver. When assembled, each stroller weighs 54lbs to 57 lbs. When not in use, it quickly folds for compact storage and can fit in the back of a large SUV.
4. Peg Perego Triplette Stroller-Seats & Chassis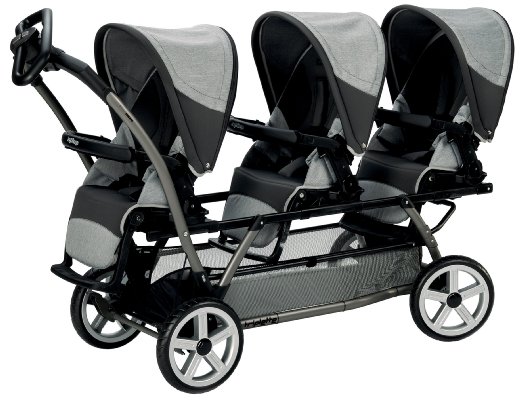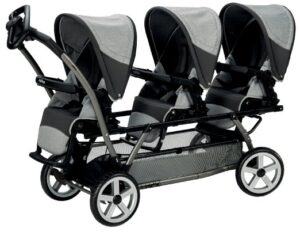 This Peg Perego Triplette comes with 3 pop-up spacious seats. Each seat has a hood, adjustable footrest, reclining backrest and loop at the hood for hanging toys. The seats can face each other or face the front and rear sides.
The chassis is sold separately here and has a large basket located underneath for storage. The steering wheel on the chassis makes it easier to control the front wheels and to maneuver tight spaces and corners.
The Steering wheel handlebar, the suspension, and large wheels make it easier to maneuver the stroller. It folds flat.
5. BeBeLove USA Jogging Stroller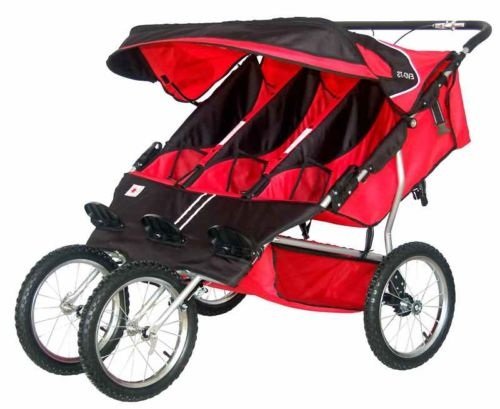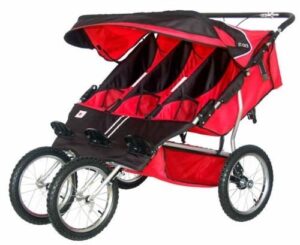 BeBeLove USA Jogging Stroller comes with big inflatable air tires with metal rims. The front wheels are fixed for streamline jogging. It has three seats and each accommodates up to 40 pounds. Each seat has a 5-point safety harness. The seats easily recline and the shock absorption is good.

It has a removable and extended canopy, hand and foot brakes. It has ample storage including six side pockets, three under-seat baskets, and three back seat pockets. The frame is made of sturdy steel.
This is a great design for parents who prefer to jog rather than walk when in the company of their young ones.
6. Child Craft Sport Trio 3 Stroller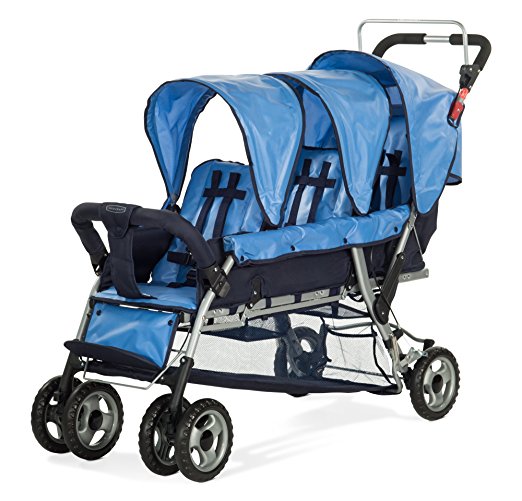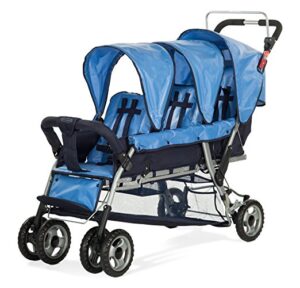 This Child Craft Sport Stroller is designed to accommodate up to three children. All seats do recline slightly for use by young infants. Each seat accommodates a weight of up to 40 pounds. A five-point harness is available in each seat. The stroller has a canopy for each seat to protect your kids from harsh weather elements and sun.
This model is equipped with a safe braking system. To activate the brakes you have to release the handle. The fabric is made of nylon material and is easy to clean. The storage baskets are large in size and located underneath the seats.
The wheels are rubberized and feature shock-absorbing foam for easy maneuverability. This stroller folds easily for portability and convenient storage. It is great for neighborhood walks. This stroller weighs 59 pounds. Available in Regatta Blue color.
7. Obaby Mercury Triple Stroller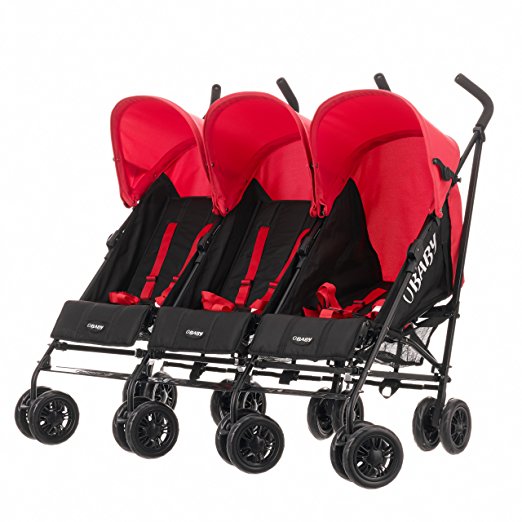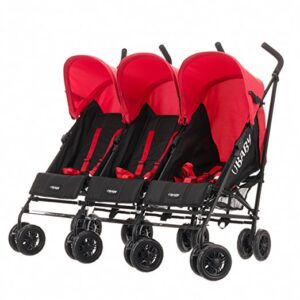 This Obaby Mercury Triple Stroller will allow you to carry your triplets' right from birth. It is sleek and stylish. It is equipped with 3 seats. The seats are adjustable and do recline to carry newborn babies. Each seat comes with an adjustable footrest.
Each seat has a hood that is removable and retractable. The hood will protect your children from harsh elements. Each seat is suitable for infants and toddlers weighing up to 33 pounds.
The 5 point safety harness on each seat keeps your child safe. The frame is made of aluminum material and is lightweight for easy maneuverability. The foam handles are ergonomic and comfortable to use.
This unit comes with three large shopping baskets that are located at the rear lower end. The stroller easily folds for compact storage. The carry handle makes it easier to transport. The front swivel wheels are lockable. The fabric wipes clean. This unit comes with a PVC rain cover. This stroller weighs 44 pounds.
Its unfolded dimensions are 99 x 106 x 84 cm, while folded dimensions are 99 x 69 x 36 cm. The handle is 97 cm in height.
Precautions When Using A Stroller
Keep your children supervised at all times. Never leave them unattended.
Always use the restraint/harness system when your child is using the stroller.
Ensure that all the locking devices on the stroller are engaged before use.
Always unfold or fold the stroller away from your children to avoid injury.
Children should not be allowed to play with the stroller.
Take into consideration that any load attached to the handles affects the stability of the stroller.
Ensure all attachments are properly engaged before using the stroller.