Evenflo Exersaucer Triple Activity Center will be an excellent gift for those toddlers who really like animals. It can be used as an exersaucer, an activity table, and a playing table. So, it's perfect for a growing kid.
Evenflo Triple Fun Active Learning Center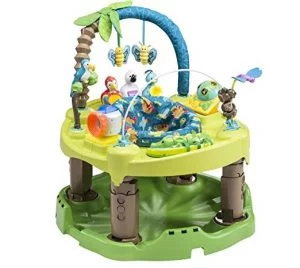 Evenflo Exersaucer is full of 11 interesting activities, exotic animal toys, amazing music, and pieces of the puzzle. It is equipped with a rotating seat and special footrests to make the baby learning center stationary.
Rainforest design and such a great variety of tropical toys will definitely help kids to develop their cognitive and mental abilities. This activity center has a 3-in-1 function, starting with a play mat for small babies, transitioning into an exersaucer for baby's sitting stage, and finally to a "play center table" for toddlers. Every toy is battery operated, so you've got to prepare lots of spare.
It's amazing how Evenflo paid attention to customizing each toy with its squeaks and sound; the baby will hardly get bored once seated. With its myriad of features and variety, it will take a few weeks for the baby to figure out how to play with every toy.
Features
Product dimensions: 30 x 30 x 31.5 inches.
Item weight: 21.6 pounds.
Item model number: 62311422.
Target gender: Unisex.
Material: Plastic.
A number of items: 1.
Batteries required: Yes.
Battery life: 8 hours.
Specification met: certified frustration-free.
Shipping weight: 23 pounds.
Imported.