3-in-1 Around We Go Activity Center has a one-of-a-kind seat that allows baby to safely walk or run around the outside perimeter of the activity table.
Bright Starts Around We Go Activity Center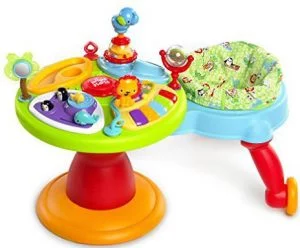 The Bright Starts Around walker Activity Center is nothing like the traditional walker you've seen on the market. It is an activity table, a walker and an entertainer in one! Your child would definitely have a lot of fun time playing and learning to walk. It can also be an interactive yet educational activity with all those colors, figures and sounds.
You can either let your baby play and walk while seated or let him play while he stands. The seat rotates 360 degrees which allow the baby to play around the table.
The table is loaded with tons of activities that your kid would absolutely love. Once your child is busy with the activities, you'll have more time to attend all the other household chores.
Bright Starts 3-in-1 Around We Go! Activity Center in Zippity Zoo fashion will keep your baby entertained and challenged all the way through the toddler years! 15+ activities include an electronic toy station with volume control and 3 modes of play.
Features
Product dimensions: 70.8 x 34.8 x 55.2 cm.
Item weight: 9.12 Kg.
Item model number: 60368.
Batteries: 3 C batteries required.
Maximum weight bearing capacity: 11.3 Kilograms.
Award-winning sitting to a standing walker.