Your little one will be moving and grooving while playing in the Bright Starts Bounce Bounce Baby Activity Center. This multi-function activity station is loaded with toys and comes with a platform that provides bungee-like bouncing action when baby jumps up and down. 
Bright Starts Bounce Baby Activity Center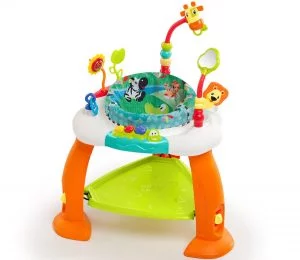 Bright Starts Bounce Baby Activity Center- Jumper is constructed out of plastic and the base is a tripod-leg arrangement that keeps the whole thing level, although you'll want to be more careful as you approach the weight limit.
An alligator with a built-in xylophone plays funs sounds in response to the baby's touch. Three height settings let the platform grow along when your mini-me does, and the seat rotates 360 degrees for access to its many toys. If only grown-up exercise were this much fun! 
The Bright Starts family of products brings you high-quality, innovative, and relevant products that delight Baby and don't strain your budget. They have a large line of award-winning products infused with clever and engaging features that will spark smiles and laughter while helping Baby develop. 
Start the fun with Bright Starts! Machine-washable seat pad. Recommended for 4 mos. and older; up to 25 lbs. Seat spins 360 degrees for full access to toys. 3 height-adjustable positions. Link loops for attaching additional toys. Dimensions: 27W x 27D x 33H inch.
Features
Product dimensions: 68.6 x 68.6 x 83.8 cm.
Item model number: 60245.
Item weight: 4.99 Kg.
Target gender: Unisex.
Maximum weight recommendation: 11.3 Kilograms.
Minimum age suggested: 3 months.