Little ones will jump with delight as they explore the neighborhood with their favorite Baby Einstein friends. The neighborhood friends activity jumper special has 12 plus activities that surround babies and encourage 360 degrees of fun multi-sensory experiences. 
Baby Einstein Activity Jumper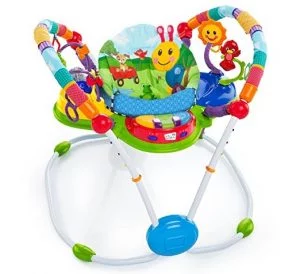 Ba Einstein Activity Center jumper also has a rotating seat that moves around in 360° for easier accessibility. The activity center includes a rattle, drum set, with beads, spinning frog bead chaser, and more. The thing that children love the most about this activity jumper is the piano that supports three modes – classical melodies, language discovery, and piano key tones.
The piano also has lights and supports three languages, including English, French, and Spanish, for children's learning and development. This Baby Einstein Special Edition Activity Center comes with small side mirrors through which a baby can see him/herself while jumping. There is a tray around the activity center as well that allows parents to either place more toys or small snacks for the child.
There are five different height settings for this baby jumper from which you select according to the kid's height. It also comes with some extra loops which are used to hang the kid's toys for ultimate fun.
Features
Product dimensions: 77.5 x 83.8 x 73.7 cm.
Target gender: Unisex.
Model number: 60184.
Item weight: 8.7 Kg.
Batteries: 3 AA batteries required.
Item model number: 60184.
Maximum weight recommendation: 11.3 Kilograms.
Minimum weight recommendation: 6.80 Kilograms.
Manufacturer minimum suggested age: 3.00 Months.