This Oribel PortaPlay baby to toddler Activity Center is all about fun and playing. This is an all in one product which can be used to bounce, turn, play and fold, transform it.
Oribel PortaPlay 4 in 1 Foldable Travel Activity Center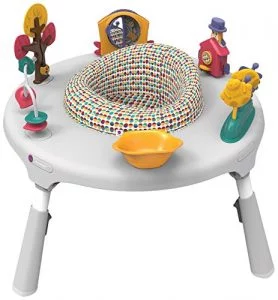 This extremely suggested and highly popular PortaPlay 4-in-1 Activity Center is featured with lots of toys for your little one. Entertain your kid by letting him play in this saucer and let him improve his motor skills and cognitive development side.
This foldable travel activity center is great for your baby if you are taking him out on a weekend trip. Its patented legs can be folded all inward quickly and you can easily store this saucer in a trunk or in a closet. PortaPlay's seat comes with a sturdy elastic lining, letting baby enjoy hours of fun from jiggling and bouncing.
When an infant outgrows the activity center, simply replace the seat and toys with the included cover and plugs to transform it into an activity table. Whether you want to go on a weekend trip or simply store your PortaPlay away. The patented folding legs of the PortaPlay fold inward at the touch of a button and allows you to easily store it in the trunk, in the closet, or under the couch.
A blend of tasteful colors, premium materials, and modern design. Whether it's stowed under the couch or standing proud in the living room, there's a place for a PortaPlay in every modern home. From art paper rolls to matching stools, customize your PortaPlay from our range of accessories to give your tot a new activity every day.
Features
Product dimensions: 26.8 x 26.8 x 18.1 inches.
Item weight: 13.45 pounds.
Item model number: CY303-90009-INT-R.
Target gender: Unisex.
Care instructions: Machine Washable.
Additional product features Portable.
Shipping weight: 24.6 pounds.