The Munchkin Step Diaper Pail is a sleek white design with a step-on pedal to open. The pail has a mechanism that twists the refill as you close the pail – this is designed to keep odor sealed in. Additionally, it is designed to be paired with hammer baking soda "pucks" to really keep the odor at bay. Another benefit is that the pail works with multiple types of bags both the snap and toss bags and the ring refills.
Munchkin Step Diaper Pail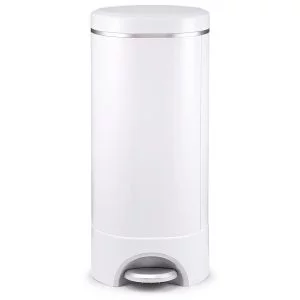 This product comes in a really large variety of color combinations, so fitting in the room's decor will never be a problem. Its great look combined with the easy way of using it give you a great opportunity of facing this kind of situation in the best way possible. 
Features
Product dimensions: 31.1 x 70.2 x 33 cm.
Model number: 15901.
Style: Pail.
Specification met: certified frustration-free.
Item weight: 5.48 Kg.
Dual-refill compatible.
Material: Plastic.