Now you can always change your baby on a sanitary surface no matter where you are. These disposable changing pads from Munchkin make changes on a bed, couch, and car seat or table a breeze. 
Munchkin Arm and Hammer Disposable Changing Pad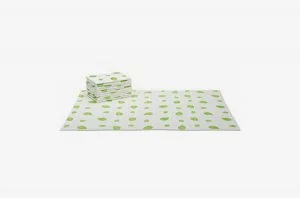 These Munchkin pads are even infused with Arm and Hammer baking soda for natural odor elimination. The ultra-absorbent layers keep moisture away for your baby's bottom, but the leak-proof liner keeps the liquid from seeping through. Hello – can you please update per the provided information? The information is in the catalog but does not appear on the product page.
The most striking feature about Munchkin Pads is that they come in with built-in odor protection, and can counter bad smells effectively. This feature comes in handy when you don't see a trash can around and have to stuff the pad back into the diaper bag.
Features
Item weight: 8.8 ounces.
Product dimensions: 6.1 x 7.5 x 3.2 inches.
Target gender:  Unisex.
Ideal for safe and sanitary diaper changes.
Ultra absorbent layers keep moisture away from baby's skin.
Great for on the go or at home.
Pads are infused with baking soda for safe.
Natural and effective odor protection.