Luvs Ultra Disposable Baby Diaper has Nightlock Technology that locks away wetness for up to 12 hours of overnight protection. Super soft on baby's skin for a comfy feel.
Luvs Ultra Leakguard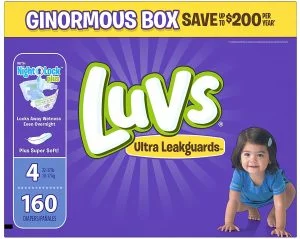 The Luvs Ultra Leakguards absorbed fluid quickly when we poured it gradually onto flat diapers, then didn't let any out when we applied pressure to the wet part afterward. Plus, they were neither heavy nor bulky in size. 
The Textiles Lab evaluated 32 disposable diapers. We tested the amount of runoff when we poured fluid onto each diaper at a 45-degree angle and the speed of absorption when we poured fluid rapidly into cupped diapers, and gradually onto flat diapers.
Each test was done on a dry diaper, then repeated with the same diaper to see if it could perform when already wet. We also reviewed each diaper's overall construction.
Features
Product dimensions: 10.4 x 16 x 14.5 inches.
Product weight: 9.68 pounds.
Item model number: 10037000976834.
Triple leak guard with 3 absorption areas.
Nightlock technology.
The wetness indicator turns blue when wet.
Available in 2 fun designs.