Bambo Nature Diapers are made from eco-friendly materials and are less harsh on the environment than the typical diaper options or cloth diapers for that matter, which typically need to be cleaned in hot water so often that the benefits of "going green" with cloth are pretty balanced out.
Bambo Nature Baby Diapers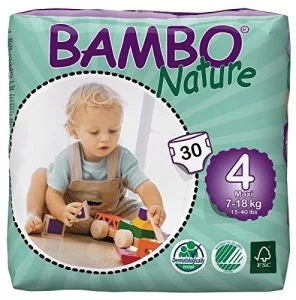 At first, glance, choosing the right diaper might seem simple enough to most parents, but after going through a trial and error process for the first couple of months of a baby's life, it's easy to see the value in knowing all of their options. And the breathable, eco-friendly Bambo Nature diapers could be what they need from the get-go.
Ultra-absorbent and perfect for both daytime and overnight use. Plush, super-soft nonwoven back sheet protects baby's delicate skin. Bambo Nature Diapers Size 4 fits weights from 15-39 lbs.
Features
Product dimensions: 9.1 x 4.5 x 8.7 inches.
Shipping weight:  2.1 pounds.
Item model number: 310164-zzz-1.
Eco-Friendly.
Ultra absorbent.
Super soft.
Flexible.
Waistband and latex free-leg cuffs.
Available in different sizes.
Dermatologist tested.
The material is made especially for babies' skin.