Pampers Swaddlers Overnights diapers feature Pampers All Night Protection, which means they're designed to handle even the heaviest nights. 
Pampers Swaddlers Overnight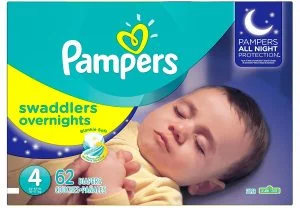 In your quest to select the right disposable diapers, the choices seem endless since it is always difficult to differentiate one from the other by simply looking at its packaging, You cannot distinguish the absorbency, comfort, or fit of a brand by just glancing at its packaging.
Pampers Swaddlers Overnights blankie soft, just like regular Swaddlers, so you can wrap her in comfort all night long. And, thanks to a color-changing wetness indicator, you'll know when it's time for a change. Swaddlers Overnights diapers also feature an Absorb Away Liner that pulls wetness and mess away from your baby's delicate skin.
Features
Product dimensions: 9.5 x 12 x 9.2 inches.
Product weight: 4.09 pounds.
Shipping weight: 5.1 pounds.
Item model number: 10037000963773.
It has a snuggle and comfortable fit.
Soft quality: Pampers Swaddlers size 4 is ultra-soft.
Umbilical notch.
Air channels.
Affordable.
Easy to use.