Little legs get tired so let the adventures continue with Baby Tula's popular Toddler carrier. Many families find that as their child grows beyond early toddlerhood, they still need a comfortable, ergonomic way to hold them for long days at the zoo, nature hikes, or an on-to-go nap. We created a safe, easily adjustable carrier solution for you and your toddler.
Baby Tula Toddler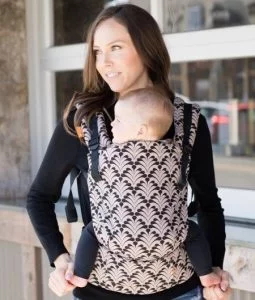 Tula Ergonomic Carrier Juliette Toddler Carriers have a perfected, streamlined design that is taller and wider to optimize ultimate comfort for you and your little one. Baby Tula has become very popular for offering the best Toddler carriers that are distinctly simple.
Superior comfort provided by the wide panel and waistband to help evenly distribute weight; and padded shoulder straps that prevent pressure or pain. Made with quality, breathable fabrics. Front and Back carry positions are all you need to get a natural, ergonomic position best for the long term, comfortable carrying that promotes healthy hip and spine development for your baby.
Tula Ergonomic Carrier Juliette Toddler Carrier's supportive single layer panel hand-made from 100% cotton ensures that you and baby stay cool all year long without the extra hassle of added layers or zippers. For even more breathability, we offer our Coast carriers, which feature a mesh panel for additional ventilation.
Features
Item weight: 2 pounds.
Product dimensions: 3 x 1 x 1 inches.
Minimum weight recommendation: 25 Pounds.
Maximum weight recommendation: 60 pounds.
Material type: Cotton.
Material composition: 100% Cotton.
Care instruction: Machine washable.
Style: Toddler.
Wide Padded Waistband.
Dual-adjustment padded straps.