If you are looking for a simple and affordable solution to the car sun shades requirement, the Britax EZ-Cling SunShade is just for you. Reusable mesh UPF 30+ sunshades protect your child from UV rays, glare, and heat.
Britax EZ-Cling Sun Shades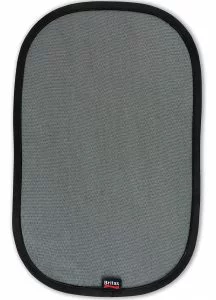 Britax EZ-Cling Window sunshade does a perfect job of protecting your baby from the harmful sun's glare and UV rays. The lightweight Britax EZ-Cling Sun Shade is easy to install and remove and its reinforced frame makes the installing and re-positioning process almost effortless.
Mesh covering provides shade to keep your child cool while maintaining driver visibility. 2 pack unique cling design with a lightweight, reinforced frame makes the application a breeze.
Features
Product dimensions: 0.1 x 19 x 12 inches.
Part number: S865000.
Item weight: 14.4 ounces.
Shipping weight: 4.8 ounces.
Size: No size.
Color: Black.
Item package quantity: 2.
The number of pieces: 2.
Style: Sun Shade.