Ask any parent, and they will tell you that the number one priority for them is to keep their children safe. This is why parents spend thousands of dollars on high-quality car seats, cribs, and safety-proofing equipment for their homes. The Enovoe brand sunshade is the best option for the safety of your kid from the car window.
Enovoe Car Window Shade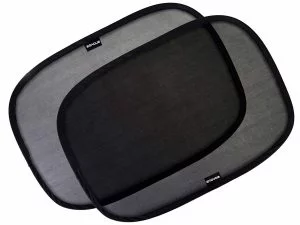 Mesh fabric design on our car sunshade is Guaranteed to provide protection from sun glare and heat. The car window sunshade blocks over 97% of harmful UV Rays. This can protect your baby and passengers from skin irritation and bright sunlight. The car sun shades will additionally help keep your car cooler.
Enovoe Baby Car Sun Shades have a dual-layer design which gives the best of both sides. Mesh side provides protection while maintaining visibility for the driver. This static cling back allows easy car sunshade window application and removal without any adhesives or suction cups. Enjoy your hassle-free driving with these side window car sunshade.
Enovoe car window shade comes in a pack of four and a size of 21" x 14". These Car Sunshades are designed to fit larger car side windows of SUVs, minivans and full-size cars.
Enovoe Car Window Shades make a great gift! We promise to ensure your absolute satisfaction with every purchase.  Comes with 2 Free Bonuses valued at $29. A Free Premium Pouch to store car window shade when not in use. And also Free E-Book filled with tips for keeping your children safe in the heat.
Features
Product dimensions: 20.9 x 0 x 13.8 inches.
Brand: Enovoe.
Item model number: 13.
Shipping weight: 5.6 ounces.
Best value on Amazon.
Unique dual-layer design.
Absolute sun design.