As a parent, you likely have experience with your toddler's sensitive skin; you seek the best protection for your child. IntiPal, the superior sun visors for cars, provides the quality protection with a price you can afford and with designs your toddler will fall in love with it.
Intipal Pack of 2 Baby Car Window Sun Shade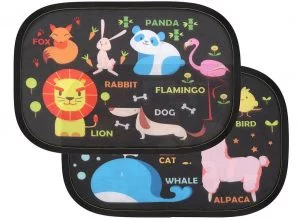 IntiPal sunshade is a car window cover made to protect your kids from heat, sun glare, and damaging UV rays. Built with high-quality Polyester, this lightweight window sun shade blocks sunlight, while allowing your child to enjoy the passing scenery.
Specially designed for your baby With the lovely pattern, it's not only a car window sunshade but also a funny Pre-School education, help to develop the brains of pre-school children, giving them early access to the world with happiness.
IntiPal Car Sun Shades car window sunshade could shield your children from blazing sunlight, uncomfortable heat and UV rays. Different animal patterns with the English words aside, this sunshade is a good learning companion during road trips, it arises your kids' curiosity and inspires them to learn and discovering the beautiful outside world.
Features
Product dimensions: 8.5 x 8.2 x 1.3 inches.
Product weight: 4 ounces.
Shipping weight: 4 ounces.
Sun and heat protection.
Cute and colorful patterns.
Compact design.
Universal fit.
Easy to set up and remove.