Nuna is a renowned manufacturer of fantastic luxury strollers and this bouncer is just another proof of the premium nature of most of the company's products. The Nuna Leaf Grow Bouncer can be used from a few days old until the baby gets to 130 pounds.
When your baby is just a few days old you can add the infant insert that to snuggle the baby and provide them with the head, neck, and back support they need.
Nuna Leaf Grow Bouncer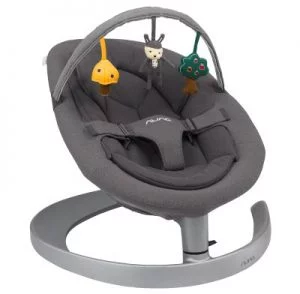 The Nuna Leaf Grow is pretty lightweight "weighs about 15 pounds". This makes it easy to move around the house. The toddler seat on it can also be detached, meaning it is easy to disassemble and store or travel with.
Nuna Leaf Grow Iron seat is also pretty unique. It can be reclined to multiple positions to make more comfortable or convenient for either napping or playing. It barely makes any sound when in motion in contrast to baby and toddler swings. Hence you should definitely consider buying this if your baby is a light sleeper as motor-powered swings will certainly make some noise.
Features
From birth up to 60 kg.
Three recline positions: ( Move up, Down, And sway everywhere in between)
Seat pad with 3 point harness.
Motion lock keeps seat stationery during feeding and sleeping.
No batteries.
No cords.
Powered by a gentle push.
Machine washable infant insert.
Product dimensions: L 73 cm x W 71.1 cm x H 45 cm.
Product weight: 6.9 kg.