Going on with your day to day activities as a newly delivered mother or parent seems tough because you're faced with the overwhelming stress of nurturing a baby. However, an essential accessory that will relieve you of this stress and make life easier for you as a parent is a baby stroller.
Two of the best stroller you will come across in your course of searching for a well made, stylish, easy to use, simple to fold, and a well-priced stroller is the Nuna Mixx and the Uppababy Cruz. Although both are good choices but selecting the best out of them is a tough choice to make.
This in-depth comparison of Nuna Mixx VS Uppababy Cruz will help you in making the right choice.
A stroller provides convenience for you as a mother when going somewhere with your baby, and it also keeps your baby safe and comfortable with shade protecting the baby from the sun in hot days and rain in wet days as the case may be.
Deciding the stroller which is right for you can be confusing as you have to be careful in choosing the one that best suits you and your baby.
Uppababy Cruz and Nuna Mixx strollers are top-of-the-range strollers with high-quality features, always providing satisfaction and meeting parents' needs.
Nuna Mixx VS Uppababy Cruz Comparison Table
| | | |
| --- | --- | --- |
|   | Nuna Mixx | Uppababy Cruz |
| Weight | 26.8 Pounds | 21.5 Pounds |
| Weight Capacity | Birth up to 50 lbs | 3 months up to 50 lbs |
| Dimension | 44.3″H X 23.4″W X 33.5″L | 40.5″H X 22.3″W X 37″L |
| Price | CHECK LATEST PRICE | CHECK LATEST PRICE |
Differences between Nuna Mixx and the Uppababy Cruz Stroller
Both strollers have a lot in common, they are both convertibles, but each has its unique features, making it preferable to choose one over the other. The differences are discussed below.
Read Also: Uppababy Cruz Vs Vista: Best Stroller Comparison 2023
Seat material and configuration 
Nuna Mixx seat comes with a bamboo seat liner that wicks the moisture away, unlike the Uppababy Cruz, and this will keep your baby warm during winter. You can remove this bamboo seat any time, and this will reveal the mesh backrest as it will allow for additional airflow inside the seat, which will make your baby comfortable during hot summer.
The seat fabric is removable and washable either through a machine or through handwashing, but the Uppababy Cruz seat recommends only handwashing of the seat.
The Nuna mix seat is suitable from birth to 50 pounds, while the Uppababy Cruz seat is suitable for 3 months up to 50 pounds but does not have a seat that matches all season, unlike the Nuna mix though the material and padding are excellent.
Nuna Mixx and Uppababy Cruz are convertible strollers, and they both share the same configuration. They both allow for different seating positions. Both seats can be made to face either the inward direction or the outward direction, which allows your child to face you or face forward. The recline and the footrest options are also adjustable, and both can be paired with an infant car seat or bassinet.
Bassinet
A bassinet provides a safer and more comfortable place for your baby to rest, thereby allowing the baby to lay flat rather than the upright sitting. I'm firm that you add a basinet if you want to make use of your stroller from birth because it provides a more comfortable environment for the newborn baby, giving them an undisturbed sound sleep. If you don't want to disturb your baby while resting, you can leave them in the bassinet.
The bassinet for the Uppababy Cruz and the Nuna Mixx are sold separately. They are approved for overnight sleeping, offering a safe and comfortable place for your baby to sleep. Both bassinet are well ventilated and provide your baby with complete coverage from the sun
The Nuna bassinet connects to the stroller quickly with no adapters needed. It has a compact flat fold for secure storage and quick trips, incorporated storage pocket, mattress pad cover, and top cover, which keeps the baby warm, a unique lightweight design that is perfect for travel purposes.
It also comes with a magnetized cover called the Dream Drape, while the Uppababy Cruz bassinet comes with an extendable canopy. The Uppababy Cruz is suitable for up to 20 lbs, or until your baby can push up on hands or knees, it has a longer mattress making it comfortable for a growing baby, it also fit onto bassinet stand.
Moreover, you can get a special fabric for Uppababy seat inserting it and turning it into a laundry hamper when your baby outgrows the bassinet. Another feature of the Nuna Mixx bassinet is that you can also attach a standard toddler seat to it to use it as a portable high chair. However, the best thing and the most exciting thing about these bassinets is their usage for overnight sleeping.
 Car Seat Compatibility
Both strollers provide compatibility with several infant car seats to be turned into a travel system. The Nuna Mixx comes with ring adapter which provides for easy attachment and detachment of these seats. The Nuna Mixx is compatible with
Pipa Lite
Pipa Lite R
Pipa Lite LX
Pipa RX
Original Pipa
The Nuna Pipa
On the other hand, Uppababy Cruz can be used with any of the following adapters
UPPAbaby MESA
Chicco KeyFit & KeyFit 30
Cybex Aton, Aton 2, Aton Q Cloud Q
Maxi Cosi Mico, Mico Max 30, Mico NXT, Mico AP, Mico Max plus, Citi, Cabrio & CabrioFix
Clek Liing
Peg-Perego Primo Viaggio 4- 34 and 4-35 Nido
Nuna Pipa
Pipa Lite
Pipa Lite LX
 Stroller Features
Nuna Mixx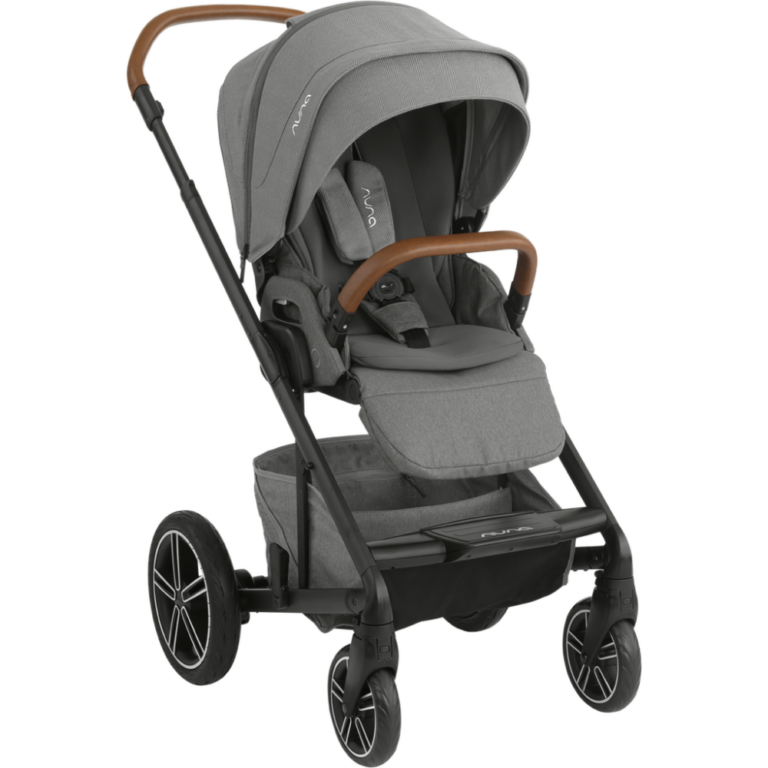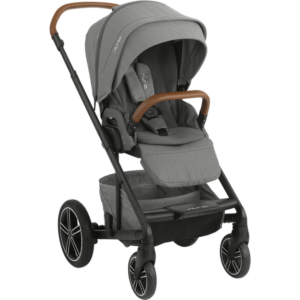 Single, convertible stroller
Size ; 37 X 23.5 X 44 Inches
Multiple seating positions including inward-facing (facing the parent) and outward-facing
Suitable from birth up to 50 lbs
Compatible only with Nuna infant car seats (adapter included)
Offers flat recline position for newborn baby
Reversible Seat
Suitable seat for all season with winter cover and summer mesh
Fabrics are Machine washable
Adjustable handlebar from 38″ to 42″.
Multiple color options
What We Like
Suitable seat for all seasons
Multiple seating positions with a recline true flat position     
Comes with rain cover
Removable and reversible seat
What We Don't Like
Adapter needed to attach car seats
Compatible with only Nuna car seat
Uppababy Cruz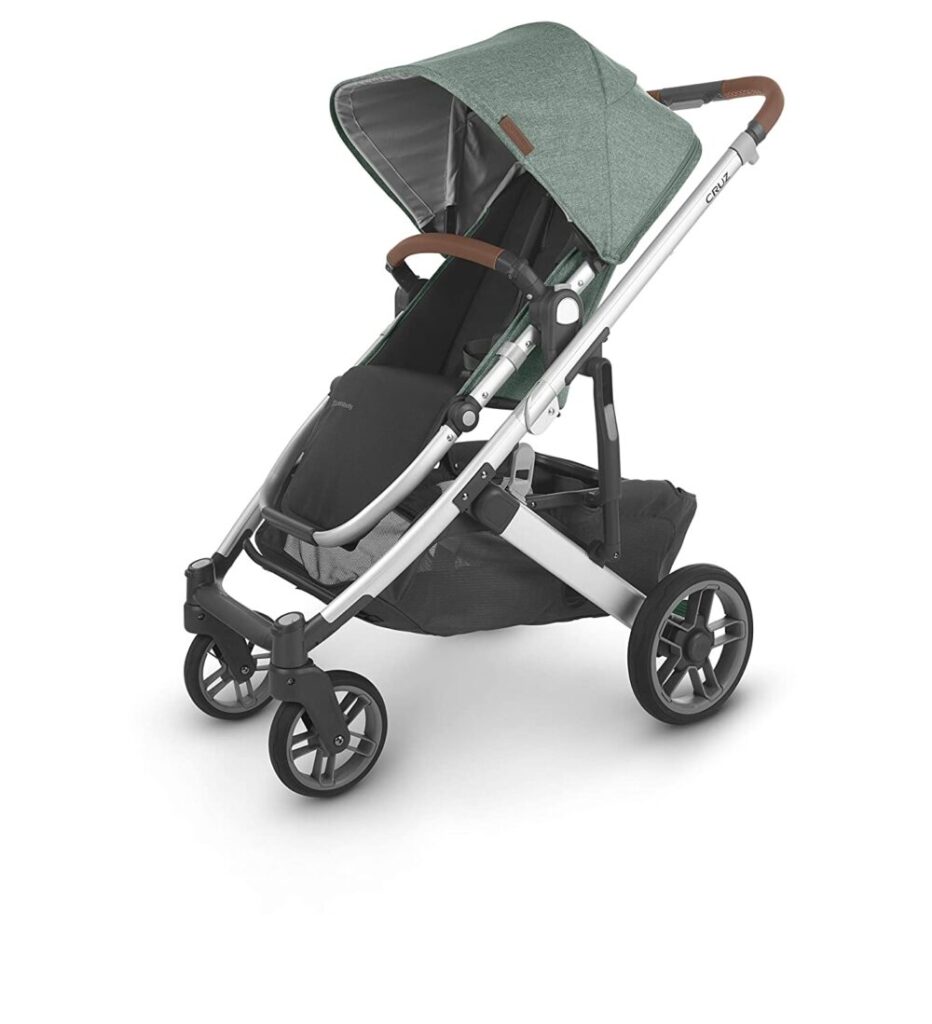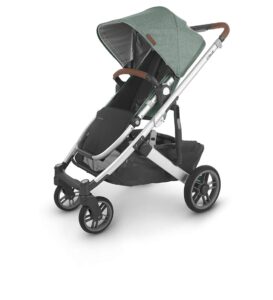 Lightweight
Single, Convertible Stroller
Multiple seating positions
Suitable from 3 months up to 50 lbs
Compatible with Uppababy car seat(no adapter needed) and other brands: Maxi Cosi, Nuna, Cybex, Chicco.
Reversible seat
Adjustable handlebar from 40.5″ to 43″.
Multiple color options
What We Like
Its compatibility with several infant car seats     
It can stand on its own when folded, which is suitable for secure storage and transportation
What We Don't Like
Doesn't have a seat for all seasons
Stroller weight and dimensions
The Uppababy is compact and lighter than the Nuna Mix. Both strollers have a well-built wheel that provides a smooth ride, especially when strolling over uneven terrains like grass, gravel, and dirt.
Weight
Mixx: 26.8 Pounds
Cruz 21.5 Pounds
Age and Weight Capacity
Mixx: Birth to 50 Pounds
Cruz : 3 months to 50 Pounds
Dimension
Mixx: 44.3"H X 23.4"W X 33.5"L
Cruz : 40.5"H X 22.3"W X 37"L
Folded Dimensions
Mixx; 16"H X 23.6"W X 35.8"L
Cruz; 17"H X 22.3"W X 37"L
Open Dimension
Mixx; 39.5"H X 26.5"W X 36"L
Cruz: 44.3'H X 23.4"W X 33.5"L
Wheel Size
Mixx 7.5" front wheels; 11" rear wheels
Cruz; 7" front wheels; 8.5 rear wheels
Folding
The easy folding of both strollers is another similar feature they share. The Nuna Mixx has a clamshell fold, which prevents the seat from touching the ground. The Cruz also prevents its seat from touching the ground when folded, and the most exciting thing about folding Cruz is that it can stand on its own after being folded.
Handlebar and Brake
The Uppababy handlebar is made up of real leather while Nuna is made up of leatherette covers. The handlebar of both strollers works the same, and the fact that these strollers are made up of telescoping handlebars is a significant advantage.
Both brakes of the strollers are sandal friendly, and this is also an advantage all you need to do is press to engage and press to release. The Nuna Mixx has a pedal with two-color indications; To engage the brake, press the red part, and to release the brake press the green part.
But the Uppababy Cruz brake is a bit different. There are two separate pedals. The one located at the right side of the rear ankle with a red indicator is for parking the stroller while the pedal on the left side is for the release of the brakes. Your foot is free from getting hurt with these two strollers.
Faqs on Uppababy vs. Nuna Mixx Strollers
Does Nuna car seat fit Uppababy Cruz?
A great feature of Uppababy Cruz is that it is compatible with various car seat brands unlike the Nuna Mixx which is only compatible with Nuna car seat, Upperbaby Cruz is compatible with UPPAbaby MESA Chicco KeyFit & KeyFit 30 Cybex Aton, Aton 2, Aton Q Cloud Q Maxi Cosi Mico, Mico Max 30, Clek Liing, Peg-Perego Primo Viaggio 4- 34 and 4-35 Nido, Nuna Pipa, Pipa Lite, Pipa Lite LX.
Is Nuna Mixx Waterproof?
The Nuna mix material resists light rain, but it is advisable to use rain cover, which is included for a heavy shower.
Can Uppababy Cruz convert to double?
The uppababy Cruz is a single stroller and cannot be converted into double. Uppababy Cruz can only sit one child unless you add a Piggyback ride along board, enabling an older toddler to stand behind the stroller.
Which is a better stroller? Nuna Mixx or Uppababy Cruz
Uppababy Cruz is an excellent stroller to get. Still, suppose you are looking for a stroller ready to use from childbirth. In that case, Nuna Mixx is the best choice for you. It provides a flat recline suitable for a newborn with a seat ideal for all-season without having to worry about the comfortability of the baby as it allows for excellent ventilation inside the seat, which keeps the baby cool.
Important Reads: