A baby stroller is one household item that parents can't do without. It makes the movement of the baby more straightforward, and on top of that, parents see it as something fun and entertaining for the baby.
As a parent, you don't have to feel that you can't have your everyday life just because of the trouble of catering to a baby. With a suitable stroller, you can go about doing anything while you attend to your comfortable baby in his stroller.
In this article, we will discuss two great strollers from Nuna; the Nuna Mixx vs. Mixx2, compare the features, pros, and cons.
The Nuna Mixx and the Nuna Mixx2 are similar in many aspects. Of course, one would argue that these similarities exist because the same company manufactures them. These similarities make it difficult for parents to choose between them.
The Nuna Mixx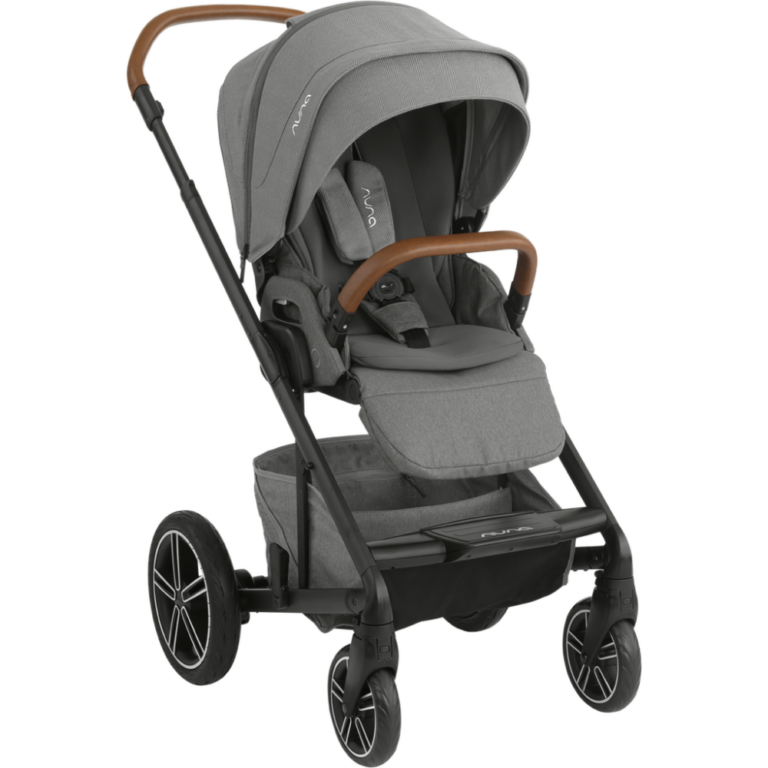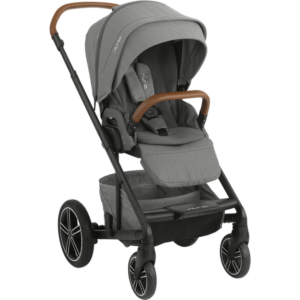 The Nuna Mixx will make a pretty decent option if you are looking for a baby stroller that is luxurious with many incredible features, such as a reversible seat, rapid folding mechanism, meshed canopy, etc.
It will interest you to know that the Nuna Mixx is an upgrade to the Nuna Mixx2. This model includes a newly redesigned seat and unique colors to enhance the design and make it more appealing. The Nuna Mixx was manufactured in 2019.
The Nuna Mixx is sturdy, and your baby will have no reason not to be comfy and safe. As we said, there is an upgrade to the seat used in the Mixx2 with an improved all-season seat.
This means that your baby will stay cool during warm months. Underneath the liner is a mesh seat that helps your baby to remain cool in summer periods. Besides, the Nuna Mixx has an insert made of natural fiber that removes moisture from the child for comfort.
The seat is also reversible, and older toddlers can still use the stroller, all thanks to the no-rethread harness. You won't have to insert the harness through the provided slots. As your baby grows older, you can adjust the harness. This feature is lacking in the Nuna Mixx2, and this is a plus for the Mixx.
In terms of useful accessories, the Nuna Mixx comes with a ring adapter. This accessory is lacking in the Nuna Mixx2 and even in older models. The ring adapter makes attaching and detaching of the car seat easier.
You can use one hand to set-up the car seat, and there is an immediate click when you drop the baby seat on the adapter. However, this accessory is sold separately.
Nun Mixx has a large, UPF 50+ canopy that offers maximum ventilation for your little one. Your baby is safe from weather elements.
Features
Ring adapter
Mesh all-season seat
Large canopy
Adjustable leather handlebar
No-rethread harness
Good suspension system
Foam-filled tires
Pros
The stroller can be one-hand operated.
It comes with an upgraded seat design.
You can recline the seat to a fat level so that your baby can be more comfortable.
The tires are well inflated, which offer a smooth, enjoyable ride.
It comes with a ring adapter to aid in the easy attaching and detaching of the car seat.
Cons
The stroller lacks built-in trays for cup holders and seat pockets. This means that you won't be able to store cups in an upright position.
It's pricey. For budget-conscious parents, this may be above their pockets.
The Nuna Mixx2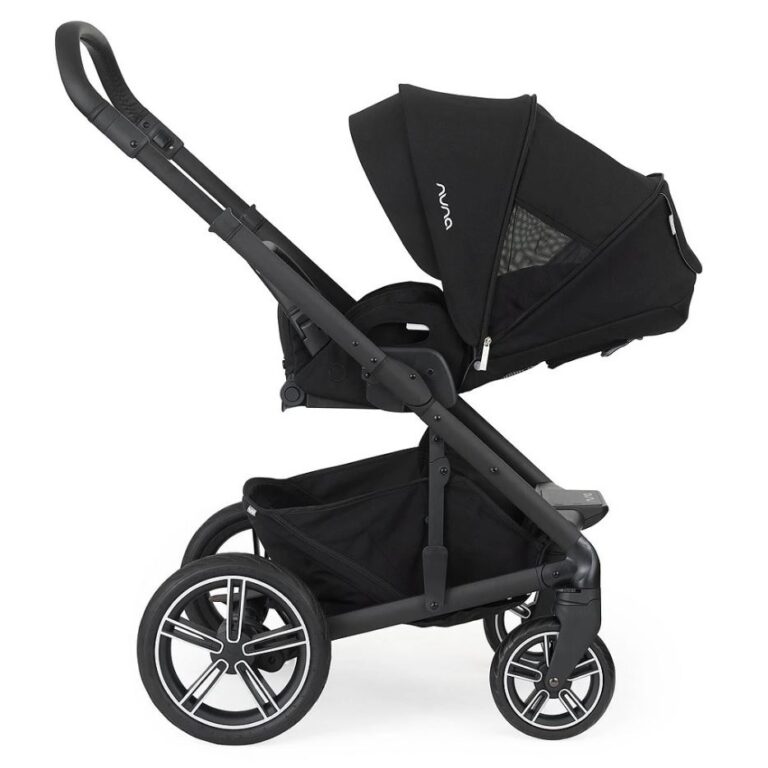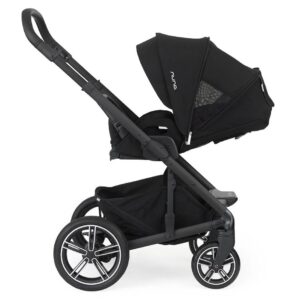 One thing we like about the 2018 Mixx2 model is its simple design. Plus, the tires are filled with foam, and they come with a reliable suspension system that will ensure smooth riding on any terrain.
The seat of the Mixx2 is made of quality cotton fabric and leather bar to ensure that your baby is very comfortable. Another thing we like about the fabric is it's removable, so in case it gets stained, you can remove it to be washed. After that, you put it back on.
The seat can also recline in five positions – that's another big plus. With just one hand, you can change the reclining position to your desired position. Your baby will not have any reason not to be comfortable sleeping in his/her bassinet.
Nuna Mixx2 comes with an adjustable handlebar. That means that any parent can push the stroller, irrespective of their heights. All they have to do is to adjust the handle by extending the length or reducing the length. There is also leg support to keep your baby more relaxed.
In terms of the large size of the canopy, it isn't different from the Mixx. It is still made of mesh for ventilation, and it's UPF 50+ to protect your baby from harmful sun rays.
While the Mixx has a no-rethread harness, the Mixx 2 has a 5-/3-point harness. The harness comes with a release button that's pretty easy to use. The harness feature will not make adjustments easier, which means that it may not fully support your child as the baby grows. However, your baby will not be able to unlock the harness by himself/herself, so be rest assured that he/she is safe.
Features
Five-point harness
Adjustable handlebar
UPF 50+ large canopy
Spacious storage basket
Reclining mesh seat
Great suspension system
Foam-filled tires
Pros
Folding the stroller is easy and quick. You can use only one hand to fold it.
You can recline the seat to a flat level so that your kid can be more comfortable. The seat can be adjusted to five different positions, and it is reversible.
It has a large, extendable canopy with peek-a-boo windows to monitor your baby from time to time.
The tires are foam-filled and come with a suspension system that enables a smooth ride on all types of terrain.
The safety of your baby is maximized with the five-point harness.
It's easy to operate.
Cons
The stroller is quite heavy.
Your baby might outgrow the stroller due to the seat height and the five-point harness.
Nuna Mixx Vs Mixx2: Which Is Better?
Many parents are still confused about which stroller is the better one. You don't need to stress yourself over this. There are not many differences between the two strollers anyway, but we will still point them out.
After stating the features, pros, and cons of each stroller, let's look at the similarities and differences between them.
Maneuverability and Suspension
The sturdy, foam-filled tires of both models make it easy for the strollers to move effortlessly over all types of terrains. Their front wheels can swivel for easier maneuverability, and they can be locked to enhance safety.
Moreover, both strollers come with great suspension systems that act as shock absorbers for a smoother ride. Your baby is protected against bumps and anything on the road that may be problematic to the baby.
One good thing about the Mixx 2 is that it can be pulled like a trolley in its folded position. You don't need to be worried about carrying the stroller around.
Seat
The significant difference between these two strollers is the way their seats are designed. The seat of the Mixx comes in a redesigned form with a no-rethread harness and a mesh back. The seat has a liner with a breathable mesh fabric to keep your baby cool in summer periods. The seat also has a bamboo insert to prevent moisture from accumulating on the seat and the baby's back.
Nuna Mixx 2 has a five-point harness, which requires you to insert the harness through the provided slots to secure your baby. While this is a great feature, it would not be easy to adjust the harness as your baby grows. This is what makes the Mixx better.
Also, the Mixx 2 seat's height is 44.3 inches, 1.3 inches smaller than that of the Mixx that's 45.6 inches. This further supports our claim that Mixx 2 is not suitable for a growing child.
Weight
The Nuna Mixx 2 is slightly bulkier than the Mixx. It weighs a few extra lbs, which will make storing it in a car a challenge.
Storage and Accessories
This is where the Nuna Mixx 2 is better. Unlike the Mixx that doesn't have back storage pockets, the Nuna Mixx 2 is equipped with one that allows you to keep essential things like your phone, baby essentials like diapers, a book, etc. The Mixx doesn't have this because of the mesh back seat. Having a storage basket is handy, and this is what many parents would love.
Since the Nuna Mixx lack back seat pockets, it makes up for it with a spacious storage basket underneath the seat. You can still keep your important stuff inside. The Nuna Mixx 2 storage basket is divided into compartments so that you won't find any difficulty finding an item.
The Nuna Mixx comes with a ring adapter, something that is lacking in previous models. This accessory makes it easier for a parent to adjust and position the baby's car seat with one hand.
Price
The price tag placed on the Nuna Mixx is pretty high compared to the Mixx 2. The 2019 model costs $50 more than the 2018 model. Parents with a low budget may opt to go for the Mixx 2 instead of Mixx.
Conclusion
After all the comparison, we can finally say that the Nuna Mixx is a better option to the Nuna Mixx 2. If you have trouble moving your little one from his/her car seat to the stroller, you should get the Nuna Mixx. It has more advanced features than the Nuna Mixx 2. However, it's expensive, and this is what some parents will consider if they are to choose between Nuna Mixx vs. Nuna Mixx 2.
The Nuna Mixx 2 is also a good option if you are budget-conscious – and don't forget that it has seat pockets for putting some baby essentials inside. Although it's not the latest version, it still has an elegant design and still has some pretty decent features. It's bulky, which means that it will take up some space in your car.
Overall, these Nuna models are great, friendly, and good value for the money.
Read Also: