Getting the right stroller might be tedious and frustrating, and to avoid you buying a stroller that is unsuitable for your baby, this article is just for you. You might be confused about the perfect stroller for your toddler. This will help clarify and help you make your choice.
Uppababy is known for its unique product line. Still, frequently, parents get confused as to which of Uppababy Vista Vs. Cruz, they are to go for, which is reliable and within budget and will still meet their needs because products have similarities, but they're different. Not getting the right stroller you want might sound frustrating to you, right?
Uppababy Cruz Vs Vista Comparison Table
| | | |
| --- | --- | --- |
|   | Uppababy Cruz | Uppababy Vista |
| Dimension | 37″L x 22.3″W x 40.5″H | 36″L x 25.7″W x 39.5″H |
| Weight | 21.5 lbs | 26 lbs |
| Capacity | 2 Children | 3 Children |
| Wheels | Front 6.4, Back 8.5 | Front 8, Back 11.5 |
| Basinnet | Yes | Yes |
| Piggyback | Yes | Yes |
| Price | Check Latest Price | Check Latest Price |
Similarities between the Uppababy Vista and Uppababy Cruz
Uppababy Vista and Uppababy Cruz have identical seat and frame. Taking a close look at both of the products, you will see that they look similar. Also, both Vista and Cruz have the advantage of foldability. They can be folded.
Uppababy Cruz Vs Vista differences and decision making
Checking through the following properties of the two products, you will be able to see the apparent differences between Vista and Cruz. However, they might look similar. They are different in style and function.
Seat
Uppababy Cruz has a single seat option in the sense that it is made in such a way that it can only accommodate only a single baby. In contrast, Uppababy Vista has a second seat option and can accommodate up to three kids, although you might have to get a rumble seat or adapter in case of an additional child.
Read Also: Uppababy Vista Vs City Select: Which is a better stroller?
Vista has the best seat option than Cruz, so if you have a large family, Vista is the best option for you because Cruz can only accommodate a single baby. Both Vista and Cruz have a reversible seat and profound recline adjustment that makes it easy for a mom to turn the seat around and see face to face with her baby while strolling, but only Vista has a deep recline adjustment and hassle-free harness.
The seat has beautiful fabric that is gentle on the skin, so there are also shoulder straps that keep the baby safe and in place to avoid him jumping out of the seat in case of bumps. The seat also has different recliner positions, which makes the baby feel comfortable.
Price
Vista is more expensive than Cruz, so if you have a small family, you can opt for Cruz, which will save you a few hundred dollars, which can be spent on other things, but for a larger family. However, Vista is more expensive than Cruz. It is still the best option for a big family.
Tires and wheels
There is a significant difference in both tires and wheels of Vista and Cruz. Vista has larger front tires and back wheels with an all-wheel suspension for an edge in maneuverability, which helps it stand firm on rough terrain and, at the same time, gliding effortlessly.
In comparison, Cruz has smaller front tires and back wheels with only front-wheel suspension, which makes it hard to move on rougher terrains, and the baby will still feel more bumps while riding due to the only front-wheel suspension. Vista does better on more uneven terrains because of it has a better wheel suspension.
Size
Cruz is lighter and way easier to manoeuver while Vista is more massive and way more substantial, making it hard to carry due to its weight.
Vista- 26.6 pounds
Cruz- 21.5 pounds
Colors
The upper baby Cruz and Vista comes in various colors, so you don't have any worries about which color to pick. You can choose any color that suits you and your baby's style. There are nine color variations so you can pick anyone you want.
Jake- black
Loic- white
Denny- Red
Gregory- sky blue
Henry- slate blue
Taylor- dark blue
Sabrina- pink
Emmett- green
Jordan- grey
Storage
Both strollers offer sizeable under-seat storage basket, but Vista is a bit larger
Vista basket- 30lb unit
Cruz basket- 25 lb unit
Thus both strollers can accommodate large loads, but Vista helps more loads due to it's higher storage capacity.
Handlebars and brakes
Both Vista and Cruz handlebars are adjustable to fit any desirable height, be it for a short or tall momma, the handlebars are flexible. They are with full-grain leather covers for comfort and durability. Both have back foot brakes for secure stopping and going, which helps for smooth manoeuvers and to avoid ramming into a ditch or people and also to avoid accidents.
Seat comfort and safety
Both strollers have deep recline function which can recline to full 180 degrees and can switch the seat to make the babyface the parent, and this also makes it easier for the mother and child to converse while strolling, the seat also has a padded shoulder strap which keeps the baby in place to avoid bumping out of the seat.
The canopy protects the baby from direct sunlight and ultraviolet Ray's up to as much as 50 UPF. The sun canopy protects the baby from excessive sunlight and excess ultraviolet light, which might cause skin irritations and skin burns. It also serves as a form of shade from the heat of the day.
The canopy offers a peek window where Mom can peep at her baby while strolling. Also, know that the strollers both Vista and Cruz, are not for jogging.
Car seat compatibility
Both Cruz and Vista are compatible with any form of a car during trips and travels, but an adapter will be needed for easy compatibility.
Accessories
Vista has way more accessories than Cruz. It has a larger under-seat basket. It has a bassinet which is safe for overnight sleeping. Vista has this beautiful feature of a bassinet which can be safely used for your baby's overnight sleep, Cruz does not have a bassinet.
Foldability
Both Vista and Cruz are easily foldable in one fold, but for Vista in the second seat, the seat needs to be removed separately for folding.
Uppababy Cruz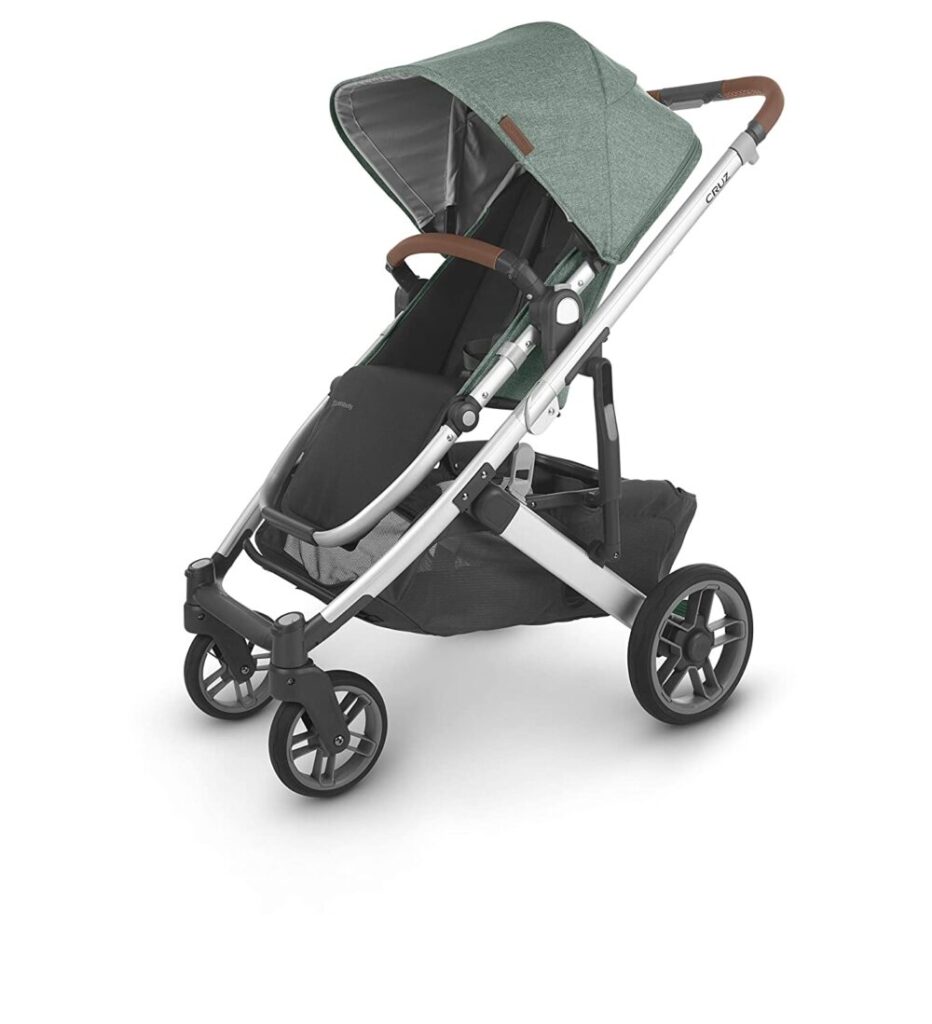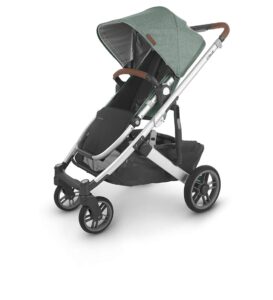 What We Like
it is made of high-quality materials
its style is beautiful
easy maneuver
easy attachment of bassinet
large under-seat basket
protective sun and UV canopy
deep recline option
less expensive
What We Don't Like
small wheels with only front-wheel suspension
does not have a bassinet
Uppababy Vista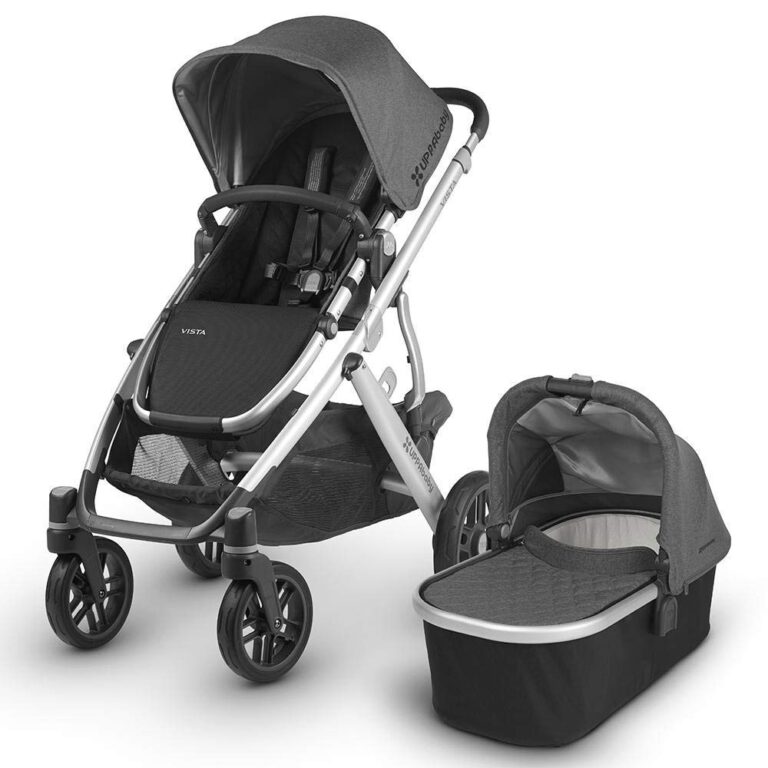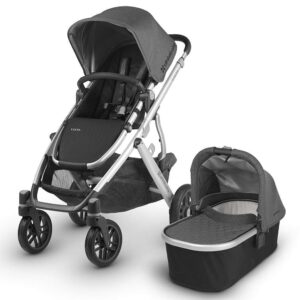 What We Like
Easy to handle
Padded shoulder straps
The best choice for a large family with more than one child
Profound recline adjustment and hassle-free harness
Huge under-seat basket
Has a bassinet
Glides without stress
Excellent quality and lovely fabric
What We Don't Like
It is expensive
Hard to carry due to its heavyweight
Might be hard to handle due to its many baby seat
Expensive accessories
With every of your purchase of either product, you get the following accessories.
Uppababy Vista
Bassinet with a storage bag
Bassinet bug shield
Baby seat and canopy
Frame, wheels, and basket
Bumper bar
Baby seat rain shield and bug shield
Uppababy Cruz
Frame, wheels, and basket
Baby seat and canopy
Baby seat rain shield and bug shield
Bumper bar
Frequently Asked Questions (FAQS)
Should I buy Uppababy Cruz or Vista?
Answer: Actually both choice is okay, but if you are a large family with more than one kid for easy convenience, Vista is the best choice, and if it's a small family you can always stick with Cruz since it is less expensive.
Can the Uppababy Cruz convert double?
Answer: Cruz cannot convert double. It can only accommodate a single baby. Vista is the one capable of accommodating more than one baby. So if you have more than one baby, you can't go for Cruz because it is only for single babies.
What is so special about Uppababy?
Uppababy is a brand well known for its brand, design, and expertise, which stands out. They create good quality and durable products with the best materials.
Which car seat is compatible with the Uppababy Cruz?
If you're using the Uppababy mesa car seat, you don't need an adapter. Still, there are several other compatible car seats that you can use, such as Chicco keyfit, keyfit 30, and maxi- cosiseats.
Is the stroller safe for jogging?
If you're using Uppababy Cruz, the wheels are not durable compared to Vista, so it's not ideal for jogging, Vista has bigger and stronger wheels so you can still use it for jogging but ensuring you lock the front wheels and make sure the terrain you're jogging on is smooth.
Can the Uppababy Vista bassinet fit in the Cruz?
Yes, it can, but it must be the newer models of the bassinets.
Is the bassinet safe for sleeping?
Yes, it is safe for sleeping, the material used is durable enough, and the material is gentle against the skin, so it is safe for sleeping.
Is it compulsory to get the other accessories?
It is not compulsory except if you feel it's needed, then you can get it, for example in case if travels and you're using Cruz, you'll need an adapter and in case of creating an extra seat for a kid, you'll need rumble seat as well as other accessories when you feel it's necessary.
What are the accessories Vista has that Cruz doesn't?
Bassinet
Bassinet bug shield
Bumper bar
Can I add a rumble seat on the Uppababy Cruz?
No, you can't, but you can add piggyback ride along with board where your older kid can enjoy the ride while you take your walk.
See what other parents are saying on Amazon
Most moms love Uppababy products because of their durability and quality.
A mother in one of her reviews said:
"I prefer upperbaby Cruz because I have only my little girl and I travel a lot,so I prefer something light and less heavy that will be easier to travel around with Al though Vista is really amazing and almost all mom's wishes for it but I just prefer something lighter for my travels." Typical of uppababy Cruz.
Another mom recalls,
"Cruz has always been so really nice and I had no problem with folding or carrying because it is light and I always enjoy my conversation with my baby girl whenever we go out for walks or mini grocery shopping."
Another review from another parent goes thus
" ours is a large family so I just had to go for Vista, though it costs more but I never ever regretted getting Vista for my babies, the bassinet was always comfortable for them to sleep in and the sun canopy really does it job of protecting them from sun burns, even while going through rocky surfaces it was still easy to maneuver and the back foot brakes was easy to apply when needed,I can say I'll choose Vista over and over again because I never really had a problem with it other than it's heavy weight which is expected."
Our Recommendation: Uppababy Cruz Vs Vista
Of the two strollers, Vista is more versatile. That does not mean that Cruz cannot do the same function as Vista, but overall, your choice depends on your family size, your finance. If you have a small family and you feel you are okay with two kids you can go for Cruz but for a larger family with 3kids and more Vista is the best choice for you, though might be expensive and might be heavy but its versatility will give you the comfort you need.
Important reads: