One of the essential needs of the new family is a baby stroller. But making decisions in buying the best for your toddlers may be herculean because several quality strollers come with different prices and values.
So knowing what and why you need a stroller is important for purchase decision making. After satisfying this, you may still be stuck between two brands like the Uppababy Vista Vs. City select. Uppababy and City are both leaders in the baby gear industry.
You're probably on this page because making a decision between these two is so tough. I will highlight the similarity and differences to help you harness your decision.
Uppababy Vista Vs. Baby Joggers City Select Comparison Table
| | | |
| --- | --- | --- |
|   | Uppababy Vista | City Select |
| Comfortability | Yes | Yes |
| Weight Supported | 50 lbs | 45 lbs |
| Dimension (Open) | 6″L x 25.7″W x 39.5″H | 43.5″L x 25.75″W x 38.5″H |
| Brakes | Front and Rear Foot Brakes | Hand Brake |
| Double Stroller | Yes (Buy a second seat) | Yes (Buy a second seat) |
| Stroller Weight | 26.6 Pounds | 28 Pounds |
| Price | CHECK LATEST PRICE | CHECK LATEST PRICE |
Differences Between the Uppababy Vista and City Select
These two strollers are similar to the extent that any parent who buys one also has consideration for the other.
Car Seat Compatibility
Both strollers offer compatibility with several car seat brands with the use of attachments.
The Uppababy Vista can easily be used with Uppababy Mesa car seat without attachments and adapters. Other supported car seat brands include; Cybex, Nuna, Maxi-Cosi, and Chicco.
On the other hand, City select is compatible with Baby Jogger City GO, Britax, BOB, Chicco, Cybex, Graco, Maxi-Cosi, Nuna and Peg-Perego car seats with the aid of adapters (sold separately)
Check this out: Britax B Ready Vs Uppababy Vista: Which is Better for your Baby?
Stroller Weight and Dimensions
Uppababy Vista is lighter and smaller compared to the City select. So if your need is getting on of the best portable lightweight stroller on the market, the Vista might just be a perfect fit for you.
Single stroller weight
VISTA: 26.6 pounds
City Select: 28 pounds 
Double stroller weight
VISTA: 32.6 pounds
City Select: 34 pounds
Dimensions when opened
VISTA: 36″L x 25.7″W x 39.5″H
City Select: 43.5″L x 25.75″W x 38.5″H
Dimensions when folded
VISTA: 17.25″L x 25.7″W x 33″H
City Select: 12.5″L x 25.75″W x 32.75″H
Weight Capacity
The two stroller seat for City select, so they support equal weight and can be interchanged
Upper Toddler Seat:
Uppababy Vista: Supports up to 50 pounds
City Select: Supports up to 45 pounds
Lower seat:
Uppababy Vista: Supports up to 35Pounds
City Select: Supports up to 45 pounds
Uppababy Vista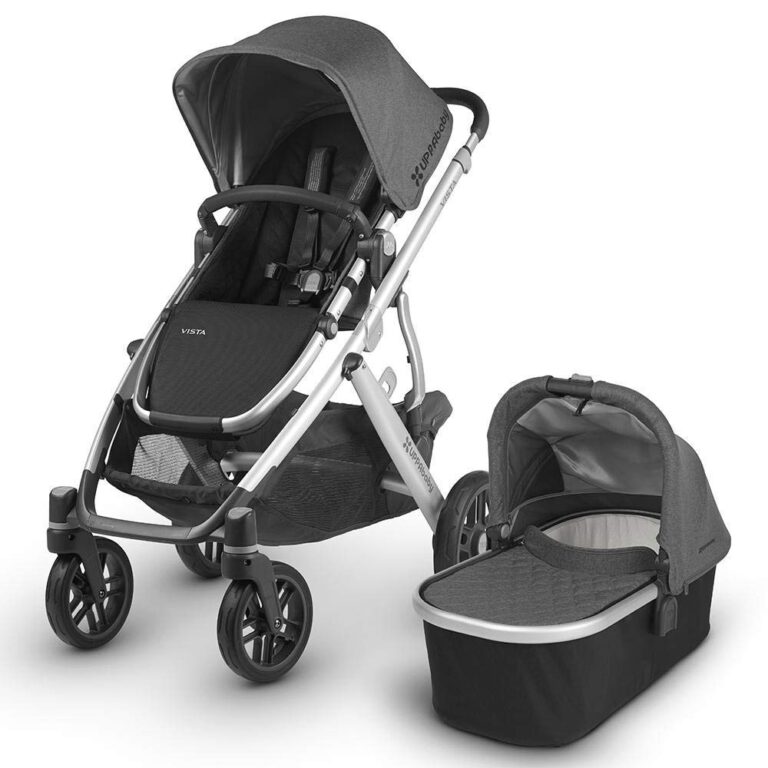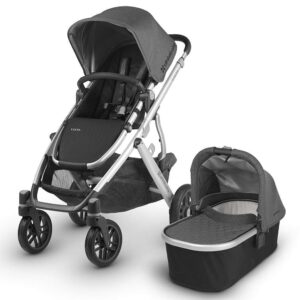 Lightweight
Size: 24 x 17 x 34 inches
Multiple seating positions including front and parent-facing
Can be used for children from 0 up to three years of age.
MESA infant car seat compatible (without additional attachments)
Adjustable handle height
Easy to fold with or without seat attached
Large storage basket
Multiple colors
What we like
Protection canopy
Multiple seating positions
Comes with bassinet for newborns
Large storage basket
What we don't like
Bassinet doesn't work well with all seating positions
It's a bit too pricey
City Select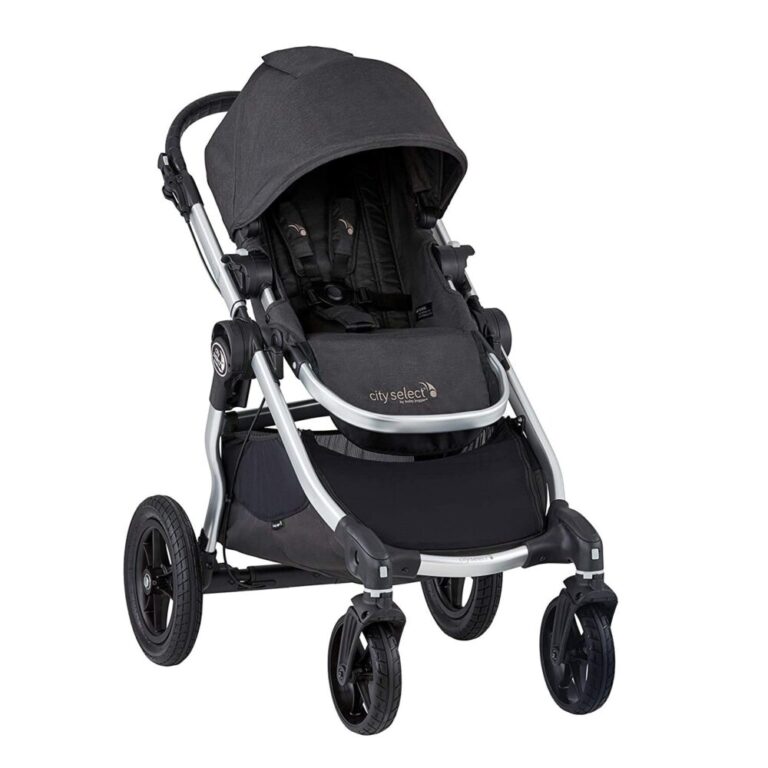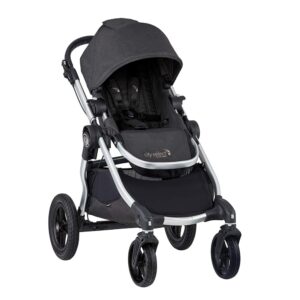 Lightweight
Multiple seating options both front and parent-facing
Can be used from birth to three years with bassinet kit (sold separately)
Compatible with several car seat brands available
Adjustable handlebar and hand brake
Large under-seat storage basket
Multiple color options
What we like
About 16 seating options
Easy foldability
Affordable than the Vista
Protection canopy
What we don't like
May be difficult to push more than one child
It can be too large when opened
Seat Material and Configuration
Both allows for multiple seating positions:
The City select offers an extra 3 seating configurations than the Uppababy Vista (Includes children facing each other) which might be a necessary feature for twins. However, theses configuration requires accessories like the UPPAbaby Piggyback or the Baby Jogger Glider Board which allows a third child or a child who isn't ready to sit nor walk ride along on the stroller.
Wheels
Wheels on both strollers are durable and come in different sizes.
Front Wheel:
Uppababy Vista: 8.2-inch
City Select: 8.0-inch
Rear Wheel:
Uppababy Vista: 11.3-inch
City Select: 12-inch
The wheels are durable because it is made up of pure foam covered with a rubber material that prevents it from getting flat when punctured.
Comfortability
Uppababy Vista offers better comfortability:
With the Vista, your baby can still sleep comfortably when strolling on any terrain because of its leather padded material, foam-air filled tires and suspended wheels. (In short, Vista is luxurious and ensure optimal comfort and safety of your little ward)
On the other hand, City Select features a combination of plastic and foamy tires, therefore, it is not suitable for rough and bumpy surfaces.
Foldability
I give credit to the City Select here because you just need to initiate the folding process and the stroller folds by itself. Although folding the Vista is a little bit more complicated,(You may remove the second seat or not before folding). A good thing is that it can stand on its own when folded.
Storage
Both strollers have large storage baskets that can contain all your baby needs on a stroll. The storage baskets are placed beneath the seat. With Vista's wider entrance to the basket, you need to keep an eye on it to prevent objects from falling.
Handlebar and Brakes
Both strollers have easily adjustable handlebars to the height of the parents to enhance pushing. However, the city select has a better push system that locks and unlocks the brakes. Whereas the brake system of the Uppababy Vista is not foot operated.
Parents' Review on Amazon
Uppababy Vista
I've been using this stroller for a while now and I still love it. It still steers and rolls so smoothly, and it's easy to wipe clean!
$1200 for a stroller and car seat is a lot of money. I bought it purely for the name lol. It's a good stroller but it's a stroller. If you want to be noticed and be a bit snotty. This is your stroller.
Baby Joggers City Select
We bought this to use for our third baby. I also have two other strollers, but this is my favorite!! We use it with the skateboard, infant seat & normal seat. It's easy to push with the two seats on it. When my oldest hops on the skateboard, it gets a little hard to maneuver. My family loves is stroller. There are so many options that can put together for it. Photo of when hubs took all 3 kids to the aquarium.
Great versatile, easy to push and collapse. Lovely looking buggy, love it. Extremely prompt service and delivery too, Thankyou
FAQs on Uppababy Vista Vs Baby Joggers City Select Strollers
Uppababy Vista
What is the difference between UPPAbaby Vista and Vista v2?
The Uppababy vista 2 offers more varying color options and the seat is bigger than just Vista so it can accommodate taller and bigger kids.
Is the Vista stroller worth it?
In my opinion, I think it's too pricey for the value it delivers while other parents have different thoughts about it. To some rich parents it's worth every penny they spend on it. If you're looking for a affordable stroller, maybe the Vista isn't your option.
City Select
Is the city select stroller worth it?
The baby jogger City Select stroller is an excellent stroller that comes with all features A-list strollers have at a very much affordable treasury. So if you're looking for one of the best affordable strollers on market, the City Select might be your best bet.
Is city select a jogging stroller?
The name might be misleading, the intent for manufacture is not jogging. Although, it is well equipped with plastic and foamy tire parts but jogging with it is highly discouraged.
Final Thoughts
Considering the price, comfortability, and accessories that come with the City Select I would say it's the best choice for your baby. Although Vista promises more than what almost all other strollers have. However, the price doesn't make up for it.
So I would say if you are looking for the Rolls Royce of strollers you should check out the Uppababy Vista stroller.
Important Reads: