Let's get this fact right. A baby doesn't have to be a burden to parents during travels or a distraction to their personal lives. Likewise, parents don't need to be bothered about how they are going to transport them in case of trips. Why?
Because you can help yourself out by getting a fantastic travel stroller. A stroller can bring you and your baby into a whole new world of traveling and comfort to the extent that you don't have to sweat about anything. How fascinating?
And yes, you don't need to sweat about anything. Another thing you are not going to sweat about is looking for the right baby stroller for your baby and travels.
In this UPPAbaby G lite vs G Luxe article, we shall be comparing two popular travel baby strollers from a great company.
UPPAbaby Strollers: Are They Good?
UPPAbaby offers a selection of some of the best strollers around. They are not only lightweight, but have unique designs, and come with features that will maximize the safety and comfort of your child. If you are looking for a great transporting experience with your baby, you should get a UPPAbaby stroller.
However, many parents find themselves in a state of utter confusion over which UPPAbaby stroller to choose between the UPPAbaby G Lite vs G Luxe. Both models are popular lightweight strollers and are similar in style and features. Still, they have distinct features and are slightly different in some aspects.
UPPAbaby G Lite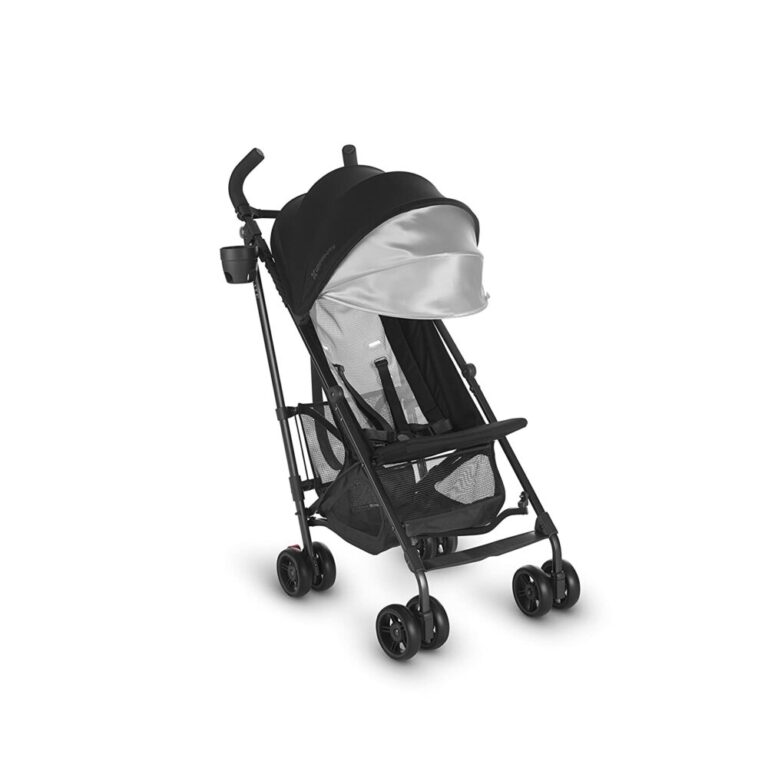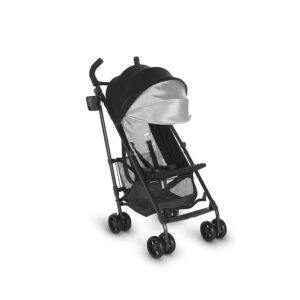 First on the list is the UPPAbaby G Lite. If you ask us what we think about the G LIte, we will say that it definitely lives up to the name. One thing we love about the G Lite is its lightweight feature, despite packing a bunch of features that will keep your baby comfortable and happy.
The stroller weighs 11.2 lbs. Of course, that's why it's called "lite". Babies that weigh up to 55 lbs can use this stroller. Older toddlers can travel in this stroller too. However, don't forget to examine their weights.
Another thing we like about this stroller is the fact that the seat is breathable and mesh-constructed. That means no matter how sweaty your baby is, the seat will remain spotless in humid and hot climates.
This travel stroller will solve the problems of your baby having his/her back soaked in sweat. The seat can recline slightly, but not deep down or to a flat level.
Also, the seat fabric is removable and washable, so even if it's stained by sweat or dirt, it's effortless to wash. The stroller folds quickly, and you can use one hand to do that. It has a strap and features a storage basket beneath the seat.
Accessories like a cup holder, rain shield, etc. are available for purchase if you want to add more things to the stroller.
Features
Lightweight frame
Comfortable adjustable handlebar
Convenient strap
Large storage basket
Multi-panel canopy
Pros
The seat is breathable and meshed, which makes it perfect for a hot climate.  Your baby will sweat less, and even if he/she sweats, the seat won't be stained by their sweat.
It's lightweight, making it ideal for transportation.
It's easy to fold.
The five-point harness ensures that the baby is safe.
Cons
When folded, the stroller doesn't stand, which may be inconvenient for the parent.
The seat doesn't recline to a flat level. Moreover, the seat isn't padded, which can make sitting slightly uncomfortable.
UPPAbaby G Luxe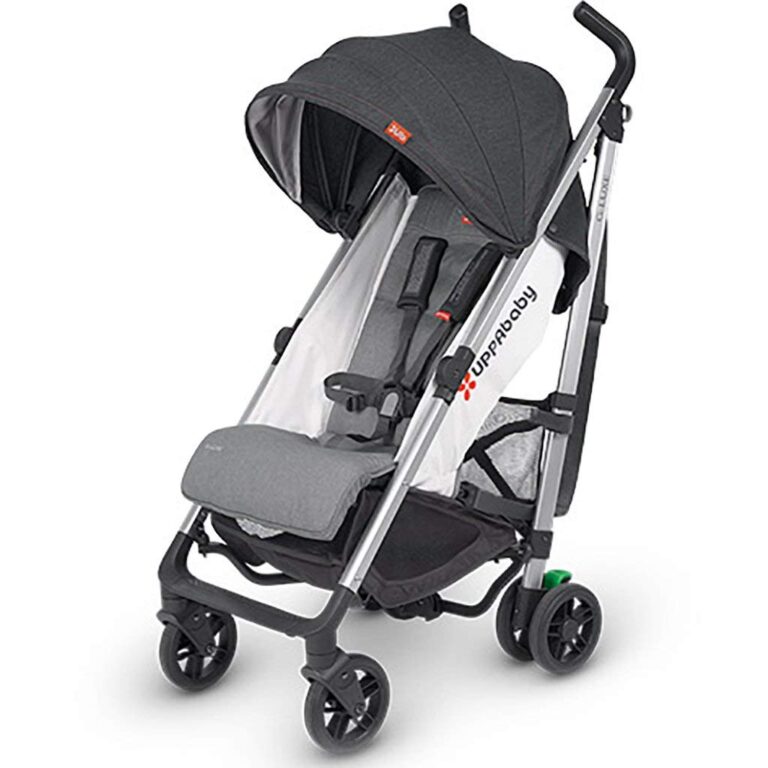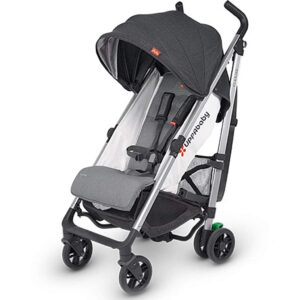 When it comes to sleekness and style, you can't take it away from this UPPAbaby stroller. Your child will be able to live the full life of luxury and comfort with its features and accessories. The maneuverability is also great.
Compared to the G lite and other baby strollers, the G Luxe is not the lightest of them all. You don't have to worry about the weight of the stroller and the baby because loading into a car or plane is easier. For babies that weigh about 55 lbs, this stroller would be a great option.
Comfort-wise, this stroller is excellent at it. The seat can recline to an almost flat level. It also comes with an adjustable footrest for the comfort of the legs. Your little one will be cozy and entertained, although.
The height of the seat is about 20 inches, with depth and width around 13 inches. That means your baby is assured of being in the most comfort zone. One more thing – the seat cover is removable and washable, so in case it gets stained in any way, you can remove and wash.
Folding is also easy. You can fold the stroller with hand triggers, and the best thing about the stroller is it can stand while being folded, unlike some baby strollers out there.
Underneath is a big storage basket that can contain a few essentials. If you want to beef up the stroller with some accessories, there are compatible accessories that can go with the UPPAbaby G Luxe, like a cup holder, rain shield, parent console, etc.
These accessories are available for purchase and are not included in the package.
Features
Reclining seat
Large storage basket
Ergonomic and comfortable handlebars
Five-point harness
Lightweight frame
Pros
This stroller can recline to an almost utterly flat level for the comfort of your baby.
The seat is padded, and the cover is removable and washable.
The canopy can be extended for better coverage.
It has an adjustable footrest to keep your baby from developing any leg pain during riding.
It's light and easy to fold, which makes transportation easy. It can also stand on its own when folded.
Cons
The stroller isn't compatible with an infant seat or other car seats for that matter. This means that it wouldn't be suitable for infants or newly born babies.
It becomes bulky when folded and takes up a large space.
Which Is a Better Travel Stroller?
UPPAbaby G Lite and the G Luxe are two great strollers that offer wonderful features. They are designed to provide convenience and make transportation easier. Having examined the features, pros, and cons, which stroller do you think is a better fit for a family?
Design
The two strollers have similar designs, so this shouldn't be a criterion for comparison. They have an all-wheel suspension system, comfortable handles, adjustable straps, etc. They make traveling and movement more comfortable.
Folding Mechanism
The G Lite can't be folded with one hand, unlike the G Luxe. You will need two hands to push a button and at the same time, pull the loop simultaneously. The G Luxe, on the other hand, is effortless to fold.
They have hand-level triggers that make it easy to fold with just one hand. This means that you can fold with one hand and go about doing another task with the other hand.
Safety and Sunshade
A five-point harness is present in both travel strollers. This means that your baby will be safe, irrespective of how rough or bumpy the terrain is. Both strollers also come with a UPF 50+ sunshade to protect your child from the scorching sun rays.
The G Luxe model allows you to extend the canopy so that it covers the baby till its knee level. The downside of these multi-level canopies is that they don't have a pee window through which you can monitor your child.
Size and Weight
Looking at the dimensions of both strollers, the G Luxe looks more prominent than the G Lite. Although the difference is slightly insignificant. In terms of weight, the G Luxe weighs five pounds more than that of G Lite, although, both have a maximum capacity of 55 pounds.
Brakes
The brakes on both models are average. The G Lite brakes are fairly easy to set and release, but you will need to apply some pressure to ensure to engage them. The G Luxe has one brake, which can be vexatious, unlike most strollers that have a brake on the back wheels.
However, the brakes are easy to use. With just one click, you can engage it. The G luxe wins in this aspect.
Seat
The seat on the G Luxe is padded and more comfortable than on the G Lite. In addition, there is a footrest to maximize the comfort of the baby. The seat reclines to an almost flat level, but it isn't meshed or breathable as on the G Lite.
Being breathable helps to keep your little one less sweaty, and also enables the stroller to be folded compactedly. The fabric is water-resistant, so you don't need to worry about your baby getting soaked after long hours of sitting.
The reclining power of the seat on the G Lite isn't as robust as that of the G Luxe. That's because the G Lite uses a zip recline function. Nevertheless, your baby can still enjoy a little bit of comfort and his/her nap hour.
Wheels and Maneuverability
The wheels on the G Luxe is slightly bigger than that of the G Lite. While the  Luxe rides on 5.5 inches diameter wheels, the G Lite is around 4.7 inches. This further proves the reason why the G Luxe weighs 16.3 pounds and the G Lite, 11.2 pounds.
In terms of maneuverability, the plastic wheels of the G Lite make it hard for the front wheels to move over uneven terrain. It becomes worse when the wheel hits a bump on the road.
The four wheels on the G Luxe is made of hard rubber, which makes it slightly easier for the stroller to move on uneven terrains. Thanks to the wheel suspension, your baby will have a smoother ride.
Storage Basket
The storage basket of the G Lite and G Luxe is large and can hold items worth 10 lbs. However, the basket of the G Lite is easy to access. On the other hand, the basket in the G Luxe is hard to access because the strap is in front of the basket. Moreover, the basket doesn't have small pockets for holding things like keys, wallet, etc.
Conclusion
No doubt, the G Luxe is a great option for travel due to its comfort and style. The seat can recline to an almost flat level, and it's easy to fold. The G Lite is a great option if you are looking for a lightweight stroller that won't put so much pressure on you.
Now that you have read this UPPAbaby G Lite vs G Luxe article, which stroller is better? Although there are similarities and differences, your choice of stroller depends on what you exactly need from a stroller.
Overall, the G Luxe has the edge over the G Lite when you factor storage, comfort, and maneuverability.
Read Also: