UPPAbaby G-LUXE lightweight umbrella stroller provides flexibility every parent needs. It is an ideal companion for running errands or the perfect ride for catching the sites while your little one reclines for a quiet nap, the G-LUXE has your travel needs covered At just 15lbs you can easily pick up and carry over your shoulder or fold to a standing position and tuck into the corner.
UPPAbaby G-LUXE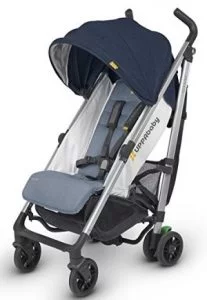 Lightweight aluminum frame with robust profile One-handed actuated recline and adjustable footrest High-performance, 5.75″ diameter wheels Shock-absorbing, 4-wheel suspension One-step brake Ergonomic.
PVC handles for comfort and easier pushing Hand-level folding triggers-no foot action required Large stretch knit canopy with extendable UPF 50+ sunshade for great sun and wind protection Stands when folded Easy to remove washable fabrics Convenient carry strap 5-point harness Updated large, easy-access basket with 10 lb. weight limit Removable cup-holder included
Features
The 2018 UPPAbaby G-Luxe also available in the Black+Silver combination.
Also available in Red+Silver beautiful combination.
Included cup holder.
Lightweight & breathable mesh sling seat.
Extendable UPF 50+ sunshade.
Prepared for spills- easy to remove fabrics.
Spacious storage.
Relax and recline.
Product dimension: 13 x 12 x 45 inches.
Product weight: 15.2 pounds.
Lockable front wheels for added stability.
Hand-level folding triggers-no foot action required.
Easy to remove fabrics.