GB or CYBEX car seat the Pockit+ turn s into a 2-in-1 travel system, suitable from birth – These attach easily thanks to separately available adapters. A comfortable, multi-adjustable backrest meets the needs of every child – From upright to reclined positions, the recline strap at the back of the seat unit allows for easy, customized adjustment of the seat angle.
GB Pockit Plus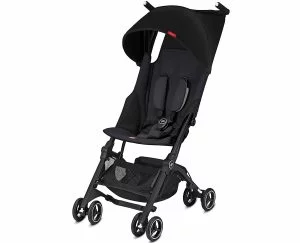 Front swivel wheels agile and effortless, swivel wheels make navigating busy streets and turning corners easy – They can be locked for stability on uneven surfaces. When folded, the automatic fold lock secures the Pockit+ in this position for easy transport or storage ONE-HAND PUSH: Convenient and effortless pushing and steering with one hand.
Meet the travel genius: lightweight comfort with an ultra-compact fold. With its exceptional design innovation, the GB Pockit+ is one of the smallest folding strollers and ideal for traveling. In only two steps the lightweight stroller turns into a package small enough to place it in overhead luggage compartments on planes and trains.
Features
Product dimensions: 15 x 12.6 x 7.9 inches.
Product weight: 10.8 pounds.
Bigger canopy: more shade for the baby.
Reclining backrest: comfortable napping.
Roomy seat.
Suitable for newborns.