The GB Pockit is the 2014 Guinness World Records' most compact stroller. When folded it is the smallest and most compact stroller currently available on the market, 12 x 7 x 14 inches to be precise.
GB Pockit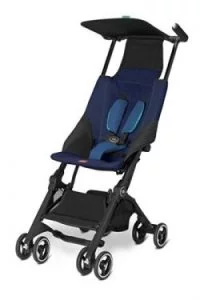 You can see why we call it the GB Pockit, The cleverly designed, compact fold uses the 2 x 2 D technique. This means that in only two steps the stroller becomes a compact and feather-light handbag shaped package (9.5 lbs), great for when you are on the move and practical and easy to stow away when you're not.
The GB Pockit is the quintessential choice. With the ability to switch from pushing to carrying within seconds, the Pockit is ideal for trips by train, plane, or simply visiting your favorite cafes. Adjustable harness system with shoulder pads.
GB Pockit is the world's smallest folding stroller, With its innovative two-step folding design, the Pockit is the 2014 Guinness World Records most compact stroller folding down to 11.8 inches x 7 inches x 13.8 inches and a weight of 9.5 pounds.
GB Pockit has a harness system that is really secure. With a 5-point harness system with a center release buckle. It will ensure comfortable riding for the baby. The straps are well-cushioned too.
For a super-portable and travel-friendly stroller like this, sun protection shade is a must. The good news is they provided it. Not so good news is the shade is too small to ensure 100% protection.
Features
Product dimensions: 28 x 17.5 x 39.8 inches.
Product weight: 9.5 pounds.
Maximum weight bearing capacity: 55 pounds.
Item model number: 616230017.
Comfy handlebars.
Smooth wheels.
Storage basket.
Sun protection.