With its exceptional design innovation, the Pockit is the 2014 Guinness world record? Most compact stroller. When folded, it is the smallest and most compact stroller currently available on the market, 11.8″ X 7″ x 13.8″ To be precise. 
Pockit Lightweight Stroller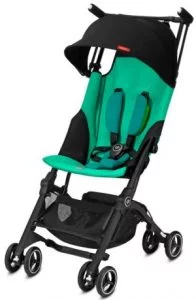 For parents with a passion for city travel and exploring, the Pockit is the quinte essential choice. With the ability to switch from pushing to carrying in seconds, it's ideal for trips by train, plane or simply visiting your favorite cafes.
Features
Folding Champion – With its innovative two-folding technique, you can switch from pushing to carrying in seconds.
Light as Feather – In two simple steps, the Pockit Stroller becomes a record-breaking small-sized package, weighing only 9.5 lbs.
Self-Standing when Folding – Cleverly designed to stand alone when folded, it can be conveniently put aside at your favorite cafe or restaurant.
Small in Size but Strong – Built using durable materials and expertly designed, it might be small, but the Pockit Stroller is built to last.
One-Hand Push – Convenient pushing and steering.
Two-step fold – Folds in seconds into a handbag shaped package.
Front swivel wheels – Can be locked for stability on an uneven surface.
Product dimensions – 22.8 x 16.5 x 39.8 inches.
Product weight – 9.5 pounds.