With its exceptional design, the GB Pockit+ Lightweight Baby Stroller is an absolute must-have for families on the go. Perfectly sized for babies and toddlers alike, this umbrella stroller supports children from 6 months old up to 55 pounds. The Pockit+ is one of the smallest folding strollers on the market and is destined to become your favorite traveling companion.
GB Pockit Plus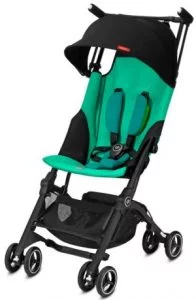 Lightweight convenience is paramount when it comes to travel strollers. Weighing in at only 9 ½ pounds, the Pockit+ stroller folds down into a neat little package in two simple steps, making it small enough for the overhead luggage compartments on planes and trains. Unfold it in a snap, and your little ones are ready to roll through the rest of the airport or train station in style.
Compatible with CYBEX infant car seats, the Pockit+ turns into a 2-in-1 travel system, suitable from birth (with adapters) and beyond. This car seat stroller combo makes traveling with your little ones a literal walk in the park. It's perfect for everyday use, and its flexible construction keeps wiggly bodies safe and happy.
From upright to reclined positions, the recline strap at the back of the seat unit allows for easy, customized adjustments of the seat angle. A height-adjustable safety harness with protective shoulder and bottom pads ensure your child's safety and comfort. And the UPF50+ sun canopy keeps the sun's rays at bay, keeping your little one cool and comfortable every step of the way.
Features
Canopy – The Pockit+Plus has a much better canopy than the previous model where it was barely there. Still, it does not provide much sun protection. It doesn't provide have a viewing window nor sunvisor.
Handlebar – It has interesting handlebars that are looking more outward and forward than usual. they are covered with nice soft foam. As you probably have guessed they are not adjustable. They are located 39″ from the ground which is an average height for non-adjustable handlebars.
Seat- The seat is very roomy and since the canopy is almost non-existent, you can fit in a very tall child. The seat is 11.5″ wide with 21″ seat back and measurement of 25″ from the back of the seat to the top of the canopy.
Basket Comparing to full-size strollers basket is much small but for such a compact stroller is not bad at all.
Wheels – It rolls on 4.5″ wheels with swivel front wheels that can be locked straight. These wheels are designed for flat surface only and not going t handle any other terrain.
Fold – The fold is super compact. You can almost put it in your pocket, It will fit into my large diaper space.
Product Dimensions –  28 x 18.5 x 39.8 inches.
Product Weight –  12.3 pounds.