Little One's Pad Pack N Play Crib Mattress Cover is one of the best waterproof crib mattress pads. It is designed particularly for the Pack n Play and Mini/Portable mattresses, which makes it very convenient to use.
Little One's Pad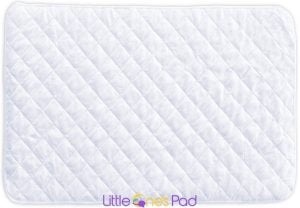 This pad is machine-washable and protected from shrinking. It is also very soft – it won't affect your child's comfort during the night. This pad is not treated with flame retardants. It also prevents dust mites.
Due to the high-quality materials, it is extremely durable and comfortable. I can list an ability to absorb, resistance to bacteria, odorless and hypoallergenic effect among other important features.
This cover fits most standard pack n play, mini crib, and portable mattress but because of the sheer variety of mattresses on the market, there are 3 exceptions.
It is too big for the special Travel LITE to pack 'n play models.
It is not a great fit on a square-shaped mattress
If used with a 1″ thin & foldable mattress, the cover may bunch up. In this case, a thicker mattress is recommended.
Features
Guaranteed to fit.
High quality.
Machine washable.
Ultra-soft.
Cozy and comfortable.
Product dimensions: 8.8 x 11 x 2.5 inches.
Product weight: 10.1 ounces.