Milliard Tri-Fold Pack N' Play high-quality mattress with rounded corners for perfect universal fit. Durable and soft foldable mattress, washable and waterproof polyester cover, and fire-resistant lining for added safety.
Milliard Tri-Fold Pack N' Play Mattress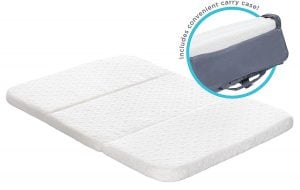 Milliard Tri-Fold Mattress comes with a bonus carry bag. Helps your child sleep better by replacing the thin, hard mattress that comes with the pack-n-play. Comes with a top-quality polyester cover that's both waterproof and washable.
Features
Maximum portability.
Product dimensions: 37.4 x 25.6 x 1.5 inches.
Product weight: 4.5 pounds.
Shipping weight: 5.35 pounds.
Manufacturer: Milliard.