The Evenflo Pivot Modular Travel System is the perfect multipurpose car seat and carriage combo. This sleek and versatile travel stroller and car seat feature the SafeMax Infant Car Seat and Safe Zone Base.
Evenflo Pivot Modular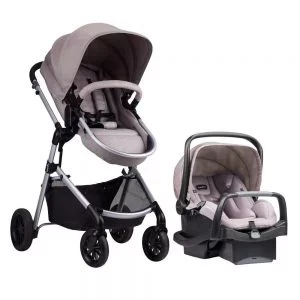 The SafeMax Infant Car Seat features an anti-rebound bar that limits the amount of rebound movement experienced in a frontal impact. This full-size travel stroller includes a modular frame with 6 modes of use. It's reversible, allowing the baby to face in or out, while the seat can easily convert to a carriage, travel system.
Evenflo goes the extra mile to ensure each of our baby transportation products exceeds safety standards. Our integrated belt lock-off system provides peace of mind that the base is securely and correctly installed. 
The SafeMax Infant Car Seat has been designed and tested for structural integrity at an energy level approximately two times the federal crash test standard and tested to simulate a side-impact and rollover event.
It also includes a stay-in-car base that allows for a quick and safe infant car seat connection from a stroller to car and vice versa. Large tires make it easy to navigate over multiple surfaces.
Features
The ideal infant travel system.
Sleek and versatile.
Easy infant car seat transfer.
Multiple handy features.
Trusted for nearly 100 years.
Product dimensions: 25.5 x 34 x 47 inches.
Product weight: 38 pounds.
Wheel type: Cruiser.