The Evenflo Pivot Modular Travel System is the multipurpose travel stroller you've been looking for. This exceptional multipurpose carriage, stroller, and car seat combo is a durable travel stroller that includes the Sarema Infant Car Seat and Safe Zone Base.
Evenflo Pivot Modular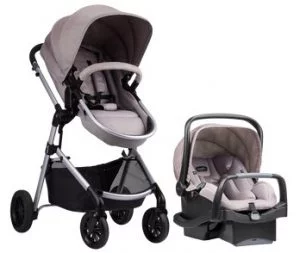 The Sarema Infant Car Seat features an anti-rebound bar that limits the amount of rebound movement experienced in a frontal impact. The Evenflo Pivot modular frame can be configured with up to 6 modes of use.
It is reversible, with a rear-facing height ranging from 17 to 32 inches, allowing the baby to face in or out, while the seat can easily convert to carriage, travel system, and frame stroller modes.
Evenflo Sarema Infant Car Seat with handle and multipurpose travel seat has been rollover and side-impact tested, while our integrated belt lock-off system provides peace of mind that the base has been securely and correctly installed. 
The Evenflo Sarema Infant Car Seat has been designed and tested for structural integrity at energy levels nearly two times the federal crash test standard. The stroller has a maximum weight of 50 pounds, with height recommendations of up to 38 inches 96 cm.
For nearly 100 years, Evenflo has been a trusted source of precision-manufactured, high-quality child-safety equipment engineered for real-life situations. Additionally, all Evenflo car seats and strollers include ParentLink customer-service perks like real-time chat and free live video installation support.
Features
Product dimensions: 25 x 34 x 47 inches.
Product weight: 38.5 pounds.
Item model number: 56011993.
Minimum weight recommendation: 4 pounds.
Maximum weight bearing capacity: 35 pounds.
Additional product features: Storage basket.
Style: Only Travel System.
Wheel type: Cruiser.
Shipping weight:44.1 pounds.